In de eerste aflevering van het televisieprogramma The Interior Project VIPS gingen de kandidaten aan de slag met het restylen van vakantiehuisjes op het kleinschalige vakantiepark Kastelenhof op de Veluwe. De vakantiehuisjes werden stuk voor stuk super leuk. We zagen dat honden welkom zijn dus hoog tijd voor een blog over deze toffe vakantiehuisjes!
Vakantiehuisjes met hond op de Veluwe
In The Interior Project VIPS gaan zes bekende Nederlanders de strijd met elkaar aan, allen met een passie voor interieur. Elke aflevering krijgen zij een andere opdracht. Tijdens de eerste aflevering gingen de deelnemers in duo's aan de slag met het restylen van 3 verouderde vakantiehuisjes. 
Het eerste vakantiehuisje werd gerestyled door Carolien Spoor en Ruth Jacott. Deze 6 persoons vrijstaande bungalow Staverden heeft een bijzondere bouw met een aflopend dak begroeid met gras. Hierdoor past de bungalow ook goed in zijn bosrijke omgeving. De woonkamer is comfortabel ingericht door Carolien en Ruth. Er is gebruik gemaakt van warme kleuren in de meubels en op de muren. Het plafond is afgewerkt met houten lamellen. De woonkamer heeft openslaande deuren naar buiten. Er zijn drie slaapkamers. Ook hier is volop geschilderd en behangen waardoor de slaapkamers er ook weer mooi uitzien!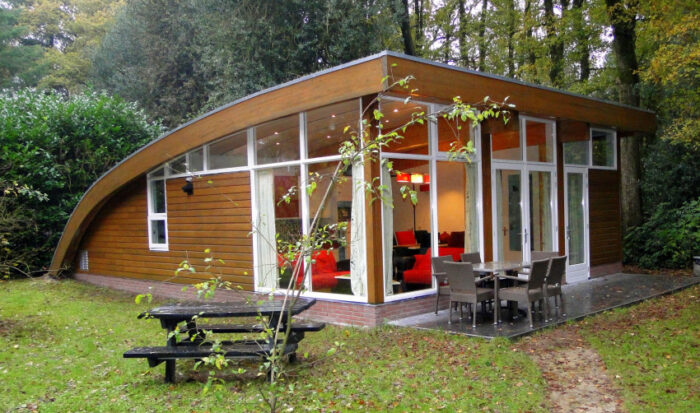 Vind je het ook een tof vakantiehuisje? Bekijk dan snel of je hier ook eens kunt slapen!
Het volgende vakantiehuisje is gerestyled door het duo Euvgenia Parakhina en Défano Holwijn. De 4-persoonsbungalow Middagten heeft een ronde vorm. Dat maakt het vakantiehuisje heel uniek. In dit vakantiehuisje vind je na The Interior Project een heuse boom in de woonkamer! Een andere opvallend detail is de mooie muurschildering in de woonkamer.  Verder zijn er openslaande deuren in de woonkamer en een open keuken. Er zijn drie slaapkamers. (1 tweepersoons en 2 eenpersoons). 
Vind je het ook een tof vakantiehuisje? Bekijk dan snel of het vakantiehuisje nog beschikbaar is!
Het laatste huisje is gerestyled door Shelly Sterk en Géza Weisz. Zij wonnen deze eerste aflevering met een wel heel stijlvol vakantiehuisje. Wij zouden hem zo boeken! De Gelderse Toren is een 4-persoonsbungalow met een volledig nieuwe uitstraling. De woonkamer is volledig geschilderd waardoor hij lekker licht aandoet. Ook de deuren en de slaapkamers zijn door het duo geschilderd in een zachtgroene kleur. De woonkamer beschikt verder over openslaande deuren naar een ruim overdekt terras.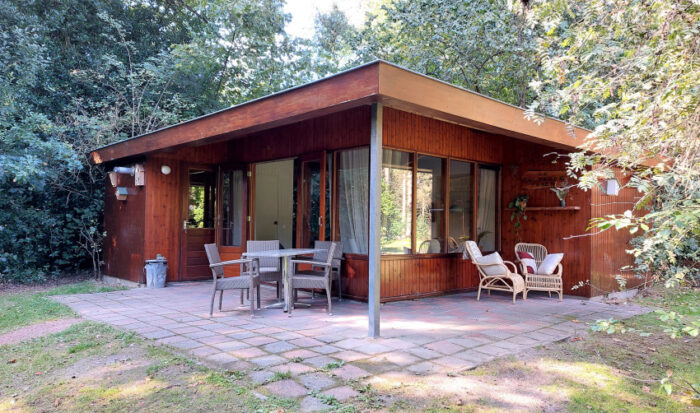 Ben je ook enthousiast over dit vakantiehuisje? Bekijk dan snel of je hem nog kan boeken dit jaar! 
Wandelen met de hond in het Speulderbos en Het Leesten
Tegenover het vakantiepark Kastelenhof ligt het Speulderbos. Dit is één van de mooiste wandelgebieden met de hond op de Veluwe. Er is ook een hondenlosloopgebied, ideaal dus! 
Nationaal Park Hoge Veluwe is ook nabij. Wil je lekker met de hond wandelen zonder dat je je zorgen hoeft te maken dat hij kan ontsnappen? Het Leesten is een prachtig natuurgebied. Er is een hondenbos met een hondenlosloopgebied én een natte neuzenroute. Omdat op de Veluwe je hond bijna overal aangelijnd moet zijn, is dit dus een hele fijne plek om naartoe te gaan.
Vakantiehuisjes met de hond op de Veluwe
Ben je op zoek naar andere vakantiehuisjes op de Veluwe? Bekijk dan het blog met toffe vakantiehuisjes met de hond in Gelderland.
Slaap je liever in tof hotel? Bekijk dan deze hotels op de Veluwe waar je hond ook meer dan welkom is.
Disclaimer: De foto's van de vakantiehuisjes in dit blog zijn eigendom van Kastelenhof.nl.