Blog update: 11 mei 2023
Op zoek naar een fijn vakantiehuis Zeeland met de hond? Wij vonden voor jou de tofste vakantiehuizen in Zeeland. 
Vakantiehuis Zeeland met de hond Noord-Beveland
Het vakantiehuis in Zeeland dat bovenaan ons lijstje staat is de luxe eco-cabin in Kats. Gelegen op het terrein van de Zeeuwse Oase. Dit is een creatieve buitenplaats met een restaurant en een rozenkwekerij. Ruim vier hectare aan bomen, planten, diverse rozensoorten en andere bloemen. Op dit terrein bevinden zich 6 luxe eco-cabins. Kleine vakantiehuizen voor 2 personen waar de hond meer dan welkom is. 
De Zeeuwse Oase ligt net buiten Kats op Noord-Beveland, tussen Goes en Zierikzee. Je vindt diverse stranden in de directe omgeving. Ideaal om te wandelen met je viervoeter. De eco-cabins zijn allemaal uniek ingericht. Wij kunnen niet kiezen welk tiny house we het allermooiste vinden! 
Luxe eco-cabin bruin van de Zeeuwse Oase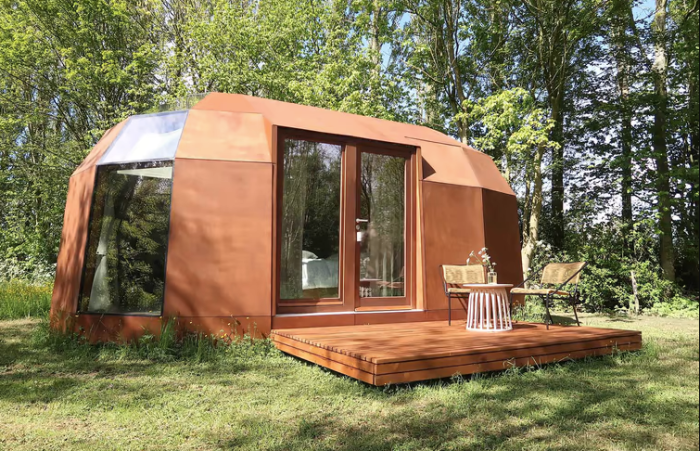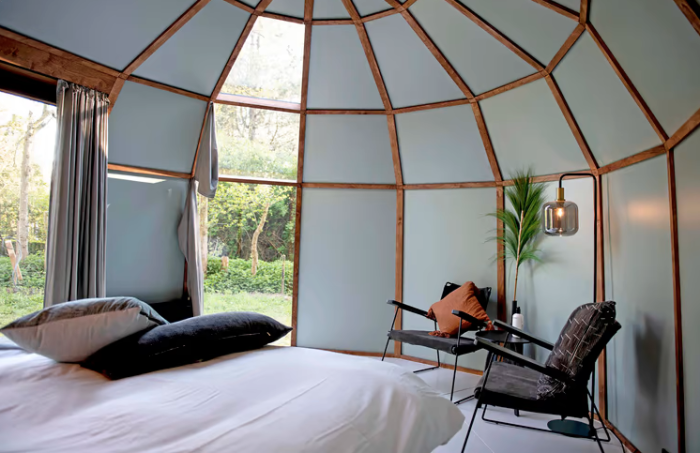 Luxe eco-cabin groen van de Zeeuwse Oase 
In Kamperland (Noord-Beveland) ligt dit prachtige natuurhuis voor 5 personen. 
Het is een chalet van 70m2. Het chalet heeft 2 slaapkamers (2 persoons en 3 persoons) en een ruime badkamer voorzien van een inloop-regendouche. Buiten vind je een groot terras (75m2) met bar, BBQ, hangmat en tuinmeubilair. Het chalet staat op een perceel van 800m2 en de tuin is begrensd door heuveltjes met siergras.
Het chalet is gelegen op een klein resort middenin de Onrustpolder. Op 2 km het chalet ligt het strand "De Banjaard": één van Nederlands mooiste en breedste stranden. Op loopafstand (0,5 km) ligt het natuurgebied "De Schotsman". Een bosrijk gebied voorzien van diverse  wandelpaden, 
Ook nabij ligt de Oosterscheldekering, het pronkstuk van de deltawerken, met daarop het eiland "Neeltje Jans". Hier is een informatie- en attractiepark voor jong en oud. Rustieke plaatsjes zoals Veere en Domburg liggen op korte rijafstand van het chalet. Kortom, een heerlijk huis op een prachtige locatie! 
Het volgende unieke huisje ligt in Kortgene (Noord-Beveland), is geschikt voor 4 personen en is gelegen aan de rand van het bos grenzend aan het Veerse Meer in Zeeland. Kortgene ligt op korte afstand van de Zeeuwse stadjes Goes, Middelburg, Veere en Zierikzee. Er is hier prachtige natuur om te fietsen, te wandelen of te varen. Op ongeveer een kwartiertje rijden ben je op het Banjaardstrand. 
Het vakantiehuis is ingebouwd in een hoog gelegen dijk, met een prachtig uitzicht over het Veerse meer. Het vakantiehuis is luxe ingericht en beschikt over 2 slaapkamers (met tweepersoonsbed) met elk een en suite badkamer. Aan zowel de voor- als achterkant van het vakantiehuisje vind je een terras met luxe loungemeubelen. De accommodatie is energiezuinig en circulair gebouwd. En het ziet er prachtig uit vinden wij!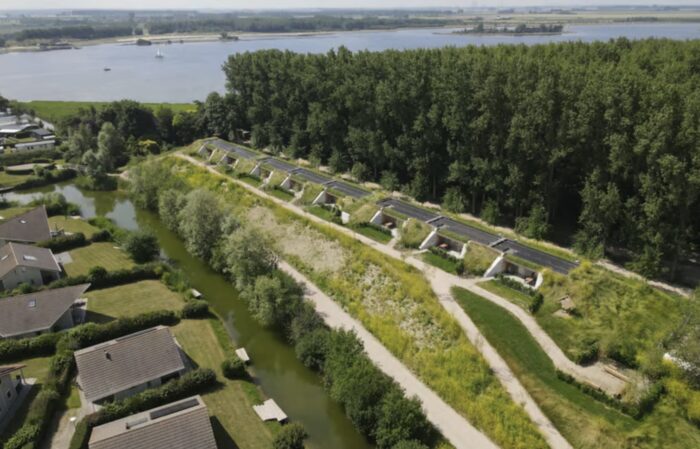 Vakantiehuis met de hond Schouwen-Duiveland
Nog een tof vakantiehuis in Zeeland om met de hond naar toe gaan is onderstaande vakantiewoning in Noordwelle, vlakbij Renesse. Dit vakantiehuis of loft is gevestigd in een monumentale boerderij. De inrichting is dan ook heel gaaf. Het vakantiehuis is geschikt voor 4 personen. 
Het vakantiehuis ligt op Schouwen-Duiveland. Het Noordzeestrand van Renesse met zijn brede strand ligt slechts op 10 minuten rijden. De vakantiewoning is heerlijk rustig en landelijk geleden.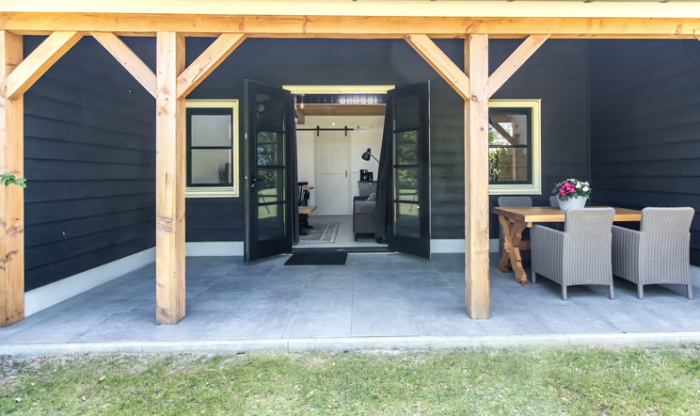 Centraal op het Zeeuwse eiland Schouwen-Duiveland ligt dit vakantiehuis in Kerkwerve. Gevestigd in een prachtige boerderij uit 1879. Dit sfeervolle appartement is gelegen aan de binnenplaats van de hoeve. Het appartement is in een landelijke stijl ingericht. Je hebt de beschikking over een eigen buitenplaats in een heerlijke, rustige omgeving.
Het strand is erg dichtbij! Op ongeveer 10-20 minuten rijden liggen prachtige stranden in Renesse en Burgh-Haamstede. 
Op aanvraag is het mogelijk om 1 huisdier mee te nemen. Hiervoor wordt wel een toeslag gerekend van €35.= voor extra schoonmaakkosten.
Vakantiehuis Zeeland met de hond: Zeeuws-Vlaanderen
De volgende vakantiewoning is gelegen in de polders van Groede op het eiland Zeeuws-Vlaanderen. 
Een nieuw ingericht vakantiehuis voor 5 personen middenin de natuur. Vanuit het huisje heb je een mooi uitzicht over de polders. Dat wordt lekker genieten van rust en ruimte en de mooie stranden bij Breskens of Cadzand. 
Het huisje ligt op een anderhalve hectare groot terrein met een uitgestrekte tuin en bos met diverse intieme zitjes om te genieten van het prachtige weidse landschap. Groede heeft een pittoresk centrum met smaakvolle restaurantjes. Zin in een dagje shoppen? Dan liggen plaatsen als Sluis, Brugge en Knokke op korte afstand. 
Het laatste vakantiehuis in Zeeland ligt in IJzendijke. Ben je op zoek naar een plek om even helemaal tot rust te komen? Deze knusse dijkwoning heeft een weids uitzicht en een grote tuin (niet omheind) en een ruim terras gelegen op het zuiden.
De ruime woonkamer is stijlvol en charmant ingericht. Op de bovenverdieping zijn 2 ruime slaapkamers. De vakantiewoning is geheel gerenoveerd in 2021 en voorzien van vloerverwarming zodat het ook in de winter heerlijk vertoeven is. Kortom, een fantastische plek!
Het dijkhuisje bevindt zich in de prachtige polder van IJzendijke, een pittoresk dorpje in West Zeeuws Vlaanderen. De perfecte plek om even helemaal tot rust te komen, te genieten van de natuur en de mooie omgeving. Het gezellige stadje Sluis ligt op korte rijafstand. 
Walcheren met de hond
In Vrouwenpolder (Walcheren) ligt deze luxe villa, gelegen op een klein landgoed. De villa ligt op een steenworp afstand van het strand, het Veerse bos maar ook leuke plaatsen als Middelburg, Veere en Domburg.
De villa is luxe en comfortabel ingericht. Er zijn 2 stijlvol ingerichte slaapkamers. Een mooi aangelegd terras met een ruime loungebank en heerlijke buitenhaard. Het uitzicht vanaf de villa is prachtig. 
Vakantiewoning Duinenburg ligt in Domburg. Een mooie badplaats met schone, brede stranden en gezellige strandpaviljoens. Het vakantiehuis ligt een paar minuten lopen van het strand. Duinenburg is leuk ingericht en van alle gemakken voorzien. De woning ligt in een rustig gedeelte van Domburg. Een ideale plek met de hond.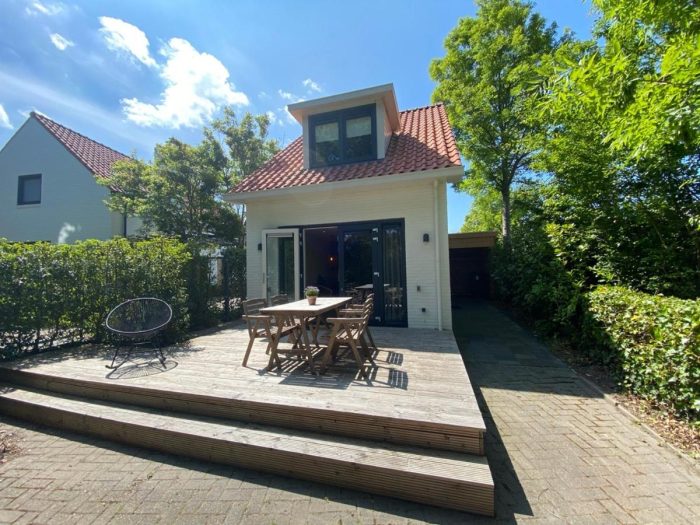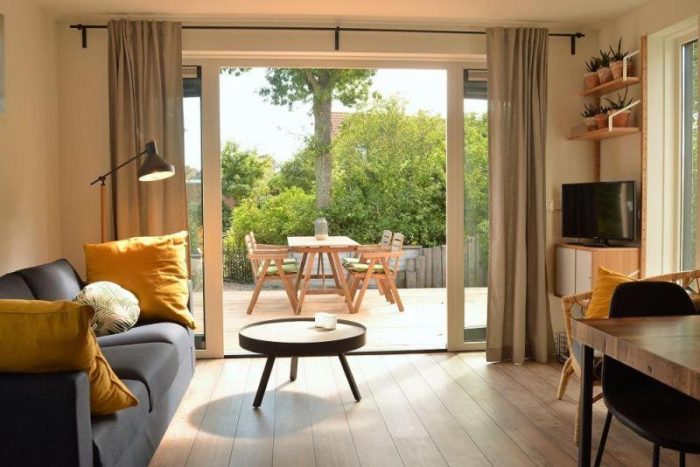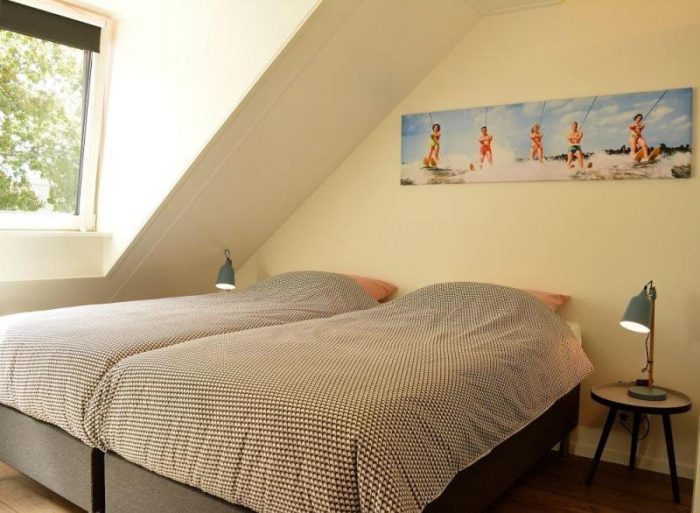 Het volgende vakantiehuis is 't Veldehof in Domburg. Dit is van oudsher een boerderij omgebouwd in 4 vakantiewoningen met een omheinde tuin. Het vakantiehuis ligt op nog geen 150 meter van het Noordzeestrand "Noordduine". Iedere vakantiewoning heeft een eigen omheinde tuin met een tuinset, loungeset en een mogelijkheid om te barbecueën in uw eigen buiten keuken op een echte Black Basterd. Zo kan optimaal genoten worden van het buitenleven. 
Ben je op zoek naar een andere locatie in Nederland, we hebben ook andere toffe plekken aan zee voor jou gevonden. Of geniet van een weekendje of vakantie op de Waddeneilanden met de hond.
Disclaimer: De foto's in dit blog van toffeplekken.nl zijn eigendom van Natuurhuisje.nl, Booking.com en Landal.nl. In onze blogs worden affiliate links gebruikt. Het aanklikken van deze links brengt je direct naar de desbetreffende site. En kost jou als bezoeker niets.