Het Pieterpad is wellicht het bekendste wandelpad van Nederland. Het Pieterpad loopt van Pieterburen in de provincie Groningen naar de Sint Pietersberg in Maastricht. De Pieterpad route bestaat uit maar liefst 26 etappes. De meeste wandelaars starten in het Noorden en vervolgen de route dan zuidwaarts. Maar je kunt natuurlijk ook andersom of 1 of enkele etappes lopen. Wil je een paar dagen op pad met de hond? Het Pieterpad lopen met de hond is heel goed te doen. Je kunt etappes ook makkelijk opsplitsen, mochten sommige dagen te lang worden. Tijdens onze poll op Instagram reageerden jullie heel enthousiast op het idee om een deel van het Pieterpad te lopen met de hond. 
In dit blog vind je de fijnste overnachtingsplekken aan de mooiste etappes van het Pieterpad waar de hond ook welkom is. We hebben gekozen voor de kortere etappes die samen met de hond meer geschikt zijn om te lopen. Alle informatie over het start en eindpunt van alle etappes en tips voor het openbaar vervoer per etappe vind je uitgebreid beschreven op de officiële site van het Pieterpad. 
Pieterpad met hond: Etappe 11 van Hellendoorn naar Holten
Een van de mooiste Pieterpad-etappes is de 11e etappe van Hellendoorn naar Holten van 16 kilometer. Hoogtepunten van de etappe zijn de Sallandse Heuvelrug, de Holterberg en de Schaapskooi Groot Twilhaar. 
Wil je vroeg starten vanuit Hellendoorn, maar woon je niet in de buurt. Dan kunnen we Landgoed De Uitkijk in Hellendoorn adviseren. Het hotel is prachtig gelegen in een uitgestrekt bos. De Uitkijk is een hotel en restaurant waar je heerlijk kunt eten. De hond mag niet in het restaurant. De kamers zijn heerlijk ruim met eigen badkamer. Het hotel ligt slechts 200 meter van de route van het Pieterpad.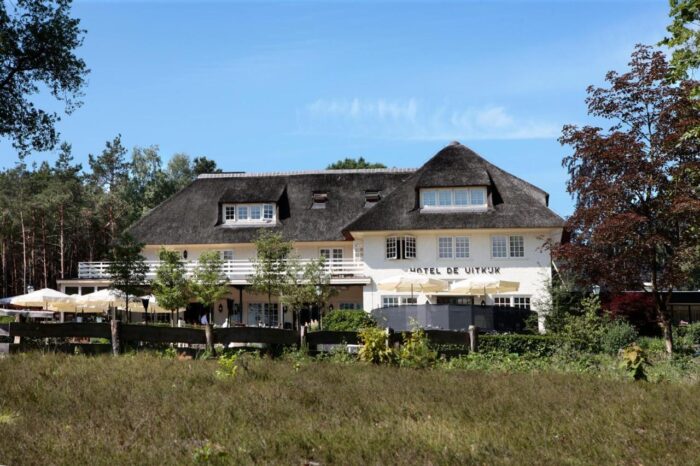 Op 1 kilometer voor het eindpunt van de 11e etappe in Holten ligt Restaurant & Hotel Hoog Holten. Het hotel ligt aan het Pieterpad dus het valt niet te missen! 
Hotel Hoog Holten is een heel charmant hotel dat is gevestigd in een voormalig jachthuis. Het hotel is zeer stijlvol ingericht. Een luxe plek om na een lange wandeldag helemaal te ontspannen. Groot pluspunt is dat het ook nog eens beschikt over een sauna, een stoombad en een solarium. Er is ook een restaurant waar je heerlijk kunt eten. Wij hebben hier zelf niet overnacht maar als ik andere reizigers mag geloven is dit een heel hondvriendelijke plek om te overnachten! Zie bijvoorbeeld onderstaande reviews: 
"Het hotel ligt heel goed voor een bezoek aan de Sallandse heuvelrug met legio wandelingen in de buurt. Ook aan onze hond was gedacht; zijn voerbak stond al klaar en hij kreeg iets lekkers bij aankomst. De kamer was keurig, de bedden waren goed, het was er rustig, comfortabele badkamer. Het ontbijt was uitstekend; veel keuze en alles werd op tijd aangevuld. De hond mocht niet in het restaurant maar wel in de serre en dat was voor ons prima. Al met al een geslaagd verblijf, wij komen zeker nog eens terug."
"Het personeel was uitermate vriendelijk. Ook voor de hond. Hondvriendelijk mag van mij met hoofdletters op de website vermeld worden! Het diner was voortreffelijk. Helaas hadden we maar voor 1 nacht geboekt, maar we komen hier zeker nog eens terug!
Etappe 17: van Millingen aan de Rijn naar Groesbeek 
De 17e etappe van het Pieterpad begint in Millingen aan de Rijn. Vanaf Millingen wandel je al snel tussen de akkers, over stille landweggetjes en graspaden. Vervolgens gaat de route door het Rijk van Nijmegen door oude bossen met flink wat stijgen en dalen. Vlak voor Groesbeek passeer je een Canadese begraafplaats met 2600 graven van soldaten die sneuvelden tijdens de bevrijding in 1944-1945.
De etappe is in totaal 20 kilometer lang. Deze is ongeveer 5 kilometer in te korten als je eerder stopt en overnacht ten noorden van Groesbeek.  Hier staat een kleine blokhut waarin je tot rust kan komen en veelal wordt gebruikt als overnachtingsplek tijdens het Pieterpad. Douche en toilet vind je in het hoofdgebouw op 25 meter afstand van de blokhut. Beddengoed, handdoeken en ontbijt zijn optioneel bij te boeken. 
De blokhutten bevinden zich midden op de beroemde Zevenheuvelenweg, waar de Nijmeegse Vierdaagse en de Zevenheuvelenloop overheen komen. 
Wil je wel helemaal doorlopen tot Groesbeek dan adviseren we B&B Bosrand. Je beschikt dan over een klein appartement met een eigen keuken en badkamer en een privé zitje in de tuin. En de hond is hier natuurlijk ook weer welkom! 
Etappe 18: van Groesbeek naar Gennep
De 18e etappe van Groesbeek naar Gennep staat bekend als een van de mooiere etappes van het Pieterpad. De Pieterpad etappe van Groesbeek naar Gennep is 14 kilometer lang. Hoogtepunten tijdens deze etappe zijn het Rijk van Nijmegen, het Zevendal, de Sint Jansberg en de uiterwaarden van de rivieren Maas en Niers. De route is met 14 kilometer wat korter maar het is af en toe wel flink klimmen.
Op de route passeer je na ongeveer 9 kilometer het dorp Milsbeek. Ten noorden van Milsbeek, aan het Pieterpad kun je overnachten in een blokhut gelegen aan een meertje en direct aan het bos. Op het terrein zijn in totaal 4 blokhutten gelegen. De blokhutten bestaat uit 2 slaapkamers en een slaapzoldertje. Een slaapkamer met 2 persoons box spring bed en een slaapkamer met stapelbed. Een eigen badkamer, woonkamer en kleine eenvoudige keuken (met één kookpit). Er is een mooi terras voor de blokhut met uitzicht op een meertje. Op het terrein is ook een eethuis (op maandag en dinsdag gesloten) én als je wilt kun je er ook ontbijt bestellen. Een ideale plek om na een lange wandeldag dus even helemaal te ontspannen. 
.         
Wil je nog even verder doorlopen richting het eindpunt van deze etappe? Dan bevindt zich voorbij Milsbeek, ongeveer 3 kilometer voor Gennep direct aan het Pieterpad deze unieke containerwoning! Ook hier zijn honden welkom. Het vakantiehuis beschikt over 1 slaapkamer en is dus alleen geschikt voor 1 of 2 personen. De containerwoning  beschikt niet over een kookmogelijkheid, maar in het dorpje Milsbeek bevinden zich wel diverse eetgelegenheden. Het uitzicht vanuit de containerwoning is schitterend. 
Dit blog is de eerste in een serie blogs waarin ik fijne overnachtingsplekken aan het Pieterpad met jullie deel. Heb je vragen? Neem dan contact op of plaats een reactie. 
Ben je op zoek naar andere plekken om te overnachten met de hond in Nederland? Bekijk dan eens onze blogs met tips voor natuurhuisjes of huisjes in het bos met een omheinde tuin. 
Disclaimer: De foto's in dit blog van toffeplekken.nl zijn eigendom van Booking.com en Natuurhuisje.nl. In onze blogs worden affiliate links gebruikt. Het aanklikken van deze links brengt je direct naar de desbetreffende site. En kost jou als bezoeker niets.