Het Pieterpad is wellicht het bekendste wandelpad van Nederland. En bestaat deze maand zelfs 40 jaar! Het Pieterpad loopt van Pieterburen in de provincie Groningen naar de Sint Pietersberg in Maastricht. De Pieterpad route bestaat uit maar liefst 26 etappes. De meeste wandelaars starten in het Noorden en vervolgen de route dan zuidwaarts. Maar je kunt natuurlijk ook andersom of 1 of enkele etappes lopen.
Wil je een paar dagen het Pieterpad met de hond lopen? Je kunt etappes ook makkelijk opsplitsen, mochten sommige dagen te lang worden. Al eerder beschreef ik etappes van Hellendoorn naar Holten, van Millingen naar Groesbeek en van Groesbeek naar Gennep. In dit blog vind je tips voor de laatste twee etappes van het Pieterpad: van Sittard naar Strabeek en van Strabeek naar het eindpunt van het Pieterpad de Sint Pietersberg! 
Pieterpad met de hond: Etappe 25 van Sittard naar Strabeek
Deze etappe start op de markt in Sittard. Kom je met het openbaar vervoer? Vanaf het treinstation is het ongeveer 1 km lopen naar de markt. Zoek je een plek om te overnachten? Er zijn in Sittard niet veel mogelijkheden om te overnachten met de hond. Er is op de markt één hotel waar honden toegestaan zijn. 
De etappe tussen Sittard en Strabeek staat bekend als erg  afwisselend, het pad loopt door glooiend heuvellandschap, bossen, oude, prachtige dorpjes en uitgestrekte landerijen. De totale afstand is 22 kilometer. 
Eindpunt van deze etappe is Strabeek, gelegen in Valkenburg. Vanuit Valkenburg start ook de laatste etappe van het Pieterpad: etappe 26 van Strabeek naar Sint Pietersberg. 
Etappe 26 van Strabeek naar Sint Pietersberg
Valkenburg is een ideale uitvalsbasis om van hieruit beide etappes te lopen. Je kunt etappe 25 natuurlijk ook van zuid naar noord lopen en in Valkenburg starten. Met het openbaar vervoer ga je vervolgens weer terug naar je startpunt. Etappe 26 loopt van Strabeek/Valkenburg naar het eindpunt op de Sint Pietersberg in Maastricht. Deze etappe is 17 km lang en gaat langs mergelgroeves en door oude bossen. Uiteindelijk kom je in de buitenwijken van Maastricht uit. Vanuit daar gaat het Pieterpad, via Maastricht CS door de oude binnenstad naar de Sint Pietersberg.
Onderstaand natuurhuisje ligt op 3 kilometer van het gezellige centrum van Valkenburg. Het huisje is stijlvol ingericht. Zo beschikt het vakantiehuis over een sauna, comfortabele Swiss Sense boxsprings, een luxe stortdouche en als kers op de taart een Finse houtgestookte hottub in de tuin. 
Het vakantiehuisje beschikt over een omheinde tuin. De tuin is gelegen op het zuiden met voldoende ruimte voor de hond. Verder is er ook nog een jeu de boules baan. 
Eveneens op 3 kilometer van Valkenburg midden in de dorpskern van Sibbe en aan de voet van het prachtige Gerendal ligt het volgende natuurhuisje. Het vakantiehuis is gelegen in een afgesloten tuin op het erf van de eigenaren. Het huisje is geschikt voor 2 personen en is ontzettend sfeervol ingericht. Honden zijn, in overleg, van harte welkom in dit vrijstaande huisje!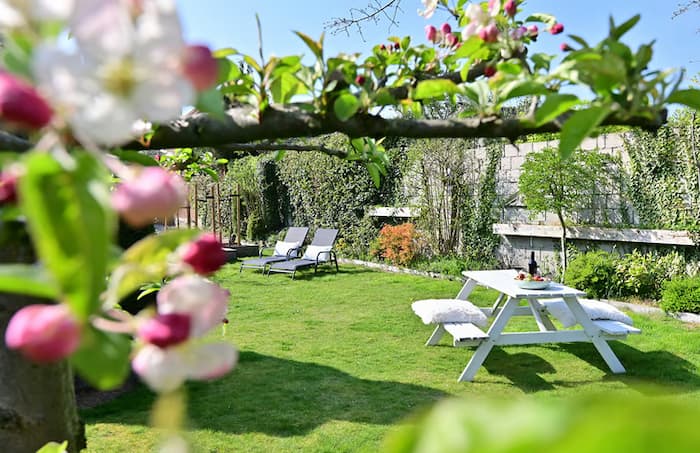 Op 5 minuten lopen van het centrum van Valkenburg ligt Landal park: Kasteeldomein de Cauberg. Kasteeldomein de Cauberg is gelegen op de top van de Cauberg. Het park bestaat uit sfeervolle villa's en appartementen. 
Kasteeldomein de Cauberg beschikt over diverse appartementen en vakantiehuizen waar honden toegestaan zijn. Zoals deze 6-persoons luxe villa met 3 slaapkamers. 
Er zijn diverse villa's op Kasteeldomein de Cauberg. Zo zijn er ook villa's voor 4 personen, 8 personen, en 10 personen.
Ga je het Pieterpad met de hond lopen? Hopelijk vond je dit een handig blog en heb je een fijne overnachtingsplek gevonden! Dit blog was de tweede in een serie blogs waarin ik fijne overnachtingsplekken aan het Pieterpad met jullie deel. Heb je vragen? Neem dan contact op of plaats een reactie. 
Disclaimer: De foto's in dit blog van toffeplekken.nl zijn eigendom van Booking.com, Landal.nl, Berkenrhode.nl en Natuurhuisje.nl. n de blogs wordt gebruik gemaakt van affiliate links. Het aanklikken van deze links brengt je direct naar de desbetreffende site waar je kunt boeken. Vanuit het boekingsplatform ontvangt deze website een kleine commissie als er een boeking plaatsvindt. Voor jou als boeker betaal je gewoon de reguliere prijs, en zijn er geen extra kosten.