Blog update: 28 april 2023
Ga je lekker op vakantie naar België en zoek je een tof vakantiehuis met omheinde tuin? Wij vonden een aantal heerlijke huisjes middenin in de natuur. Allemaal beschikken ze over een tuin die omheind is. Ideaal natuurlijk voor de hond! En fijn voor jou zo hoef je niet voortdurend je hond in de gaten te houden. 
Vakantiehuis omheinde tuin Oost-Vlaanderen
Het eerste vakantiehuis is gelegen in Ursel een kleine plaats tussen Brugge en Gent. Dus een uitstapje naar deze twee steden is zeker de moeite waard. De kustplaatsen Knokke, Oostende of Cadzand liggen op ongeveer een halfuur rijden van het huis. Dichter bij het boshuisje ligt het mooie Landschapspark Drongengoed. Het is het grootste aaneengesloten bos in Oost-Vlaanderen. Het Agentschap Natuur en Bos werkt er hard om het bos er te laten uitzien zoals duizenden jaren geleden. Zo zorgen vrij grazende koeien en paarden mee voor het bosbeheer.
Tussen dat alles kun je heerlijk wandelen, vaak wel met de hond aangelijnd vanwege de wilde dieren. Naast de Drongengoedhoeve ligt een prachtige losloopweide in de historische boomgaard.
Het boshuisje in Ursel is geschikt voor 4-5 personen. De tuin is omheind en beschikt over een infrarood sauna en jacuzzi. Dat wordt dus heerlijk relaxen! Het huisje is comfortabel en knus ingericht, heeft een ruime keuken en buiten een overdekt terras. Zo kun je al snel genieten van het zonnetje. 
Vakantiehuis West-Vlaanderen
Het tweede vakantiehuis ligt in Voormezele. Het natuurhuisje staat in het Elzenwallebos op 5 km van het centrum van Ieper. Het is een knus chalet  gebouwd in 2020 op een perceel van 500 m². De tuin is omheind. In de directe omgeving vind je tal van wandel -en fietsroutes. 
Het boshuisje in Voormezele is van alle gemakken voorzien en is smaakvol ingericht. In de tuin is ook nog een schommel voor kinderen. 
Vakantiehuis Ardennen
In Oignies-En-Thiérache ligt een parel voor de echte natuurliefhebber! Ben je een verwoed wandelaar? Hier kom je aan je trekken met kilometerslange wandelroutes midden in de bossen. 
Het natuurhuisje Oignies-En-Thiérache is een ruime, gezellige chalet voor vier personen, met een afgesloten terras voor de  viervoeter. Het chalet is voorzien van alle comfort. Een goed ingerichte keuken, gezellige woonkamer met houtkachel, een ruim terras en in de gezellige achtertuin een houtgestookte barrelsauna. Het chalet beschikt over 2 slaapkamers en is geschikt voor 4 personen.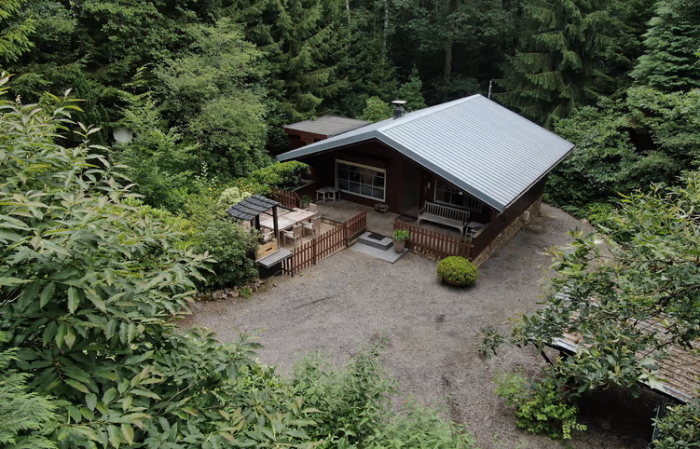 Vakantiehuis Belgisch Limburg
Het laatste vakantiehuis met omheinde tuin ligt in Zutendaal, in het glooiende landschap van Belgisch Limburg. Het is een sfeervol natuurhuisje voor 2-4 personen op een eigen stuk bosgrond van maar liefst 1000 m². 
De omheinde tuin beschikt over een vuurplaats, buitenbarbecue en een trampoline. Aan de voorzijde is een grote veranda. Het vakantiehuis is smaakvol ingericht in een landelijke/ bohemian woonstijl. Natuur en omgeving
Het boshuisje in Zutendaal staat aan de rand van een bos met heel veel groen, weinig verkeer en veel privacy. Gelegen vlakbij Nationaal Park Hoge Kempen. Hier zijn diverse mogelijkheden voor wandelingen. Ook wordt goed aangegeven op welke routes de hond los mag lopen in Nationaal Park Hoge Kempen. 
Op loopafstand (500 meter) is het bezoekerscentrum De Lieteberg, met een blotevoetenpad, een insectenmuseum, een uitkijktoren en veel info over Zutendaal en omgeving. Het centrum van Maastricht is met 20 minuten autorijden ook dichtbij!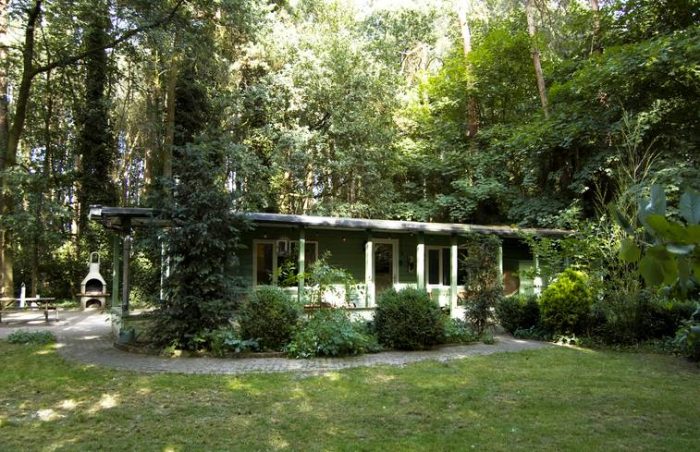 Vakantiehuis omheinde tuin regio Antwerpen
Deze
tiny house
 is rustig gelegen volledig omgeven door bos. Het domein heeft een totale grote van 1 hectare, helemaal voor jou alleen. Op het domein is ook een Finse sauna en koudwaterbad aanwezig. De tiny house is geschikt voor 3 volwassenen of een gezin met 2 kinderen. 
Het vakantiehuis ligt in de regio Brasschaat / Kalmthout, Antwerpen ligt op 20 km afstand. In de omgeving zijn talrijke knooppunten voor fietsers en wandelaars. Dichtbij dit vakantiehuis bevindt zich het domein Klein Schietveld en de Kalmthoutse Heide. 
De
tiny house
is heel sfeervol en efficiënt ingericht en is van alle gemakken voorzien.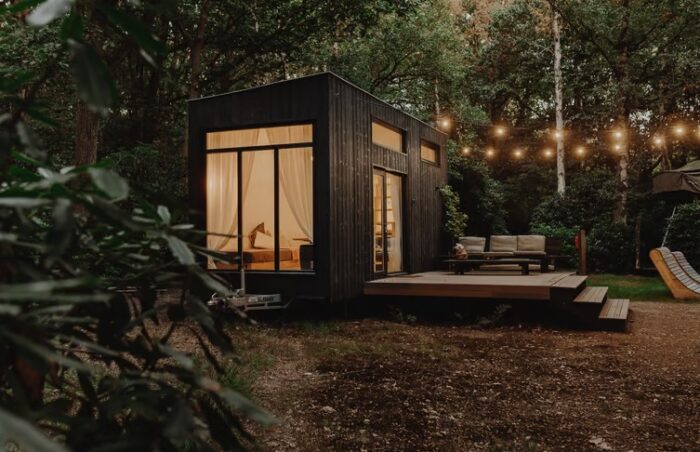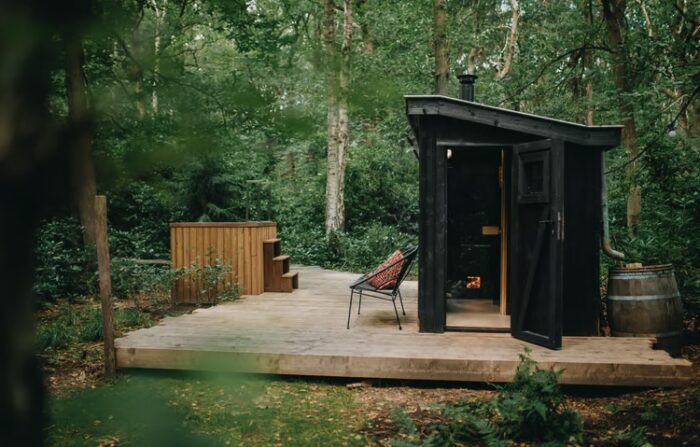 Ben je op zoek naar andere vakantiehuizen in België? We hebben ook toffe vakantiehuizen gevonden in de
Ardennen
. Weet jij al welk vakantiehuis je gaat boeken? Laat het ons weten via de opmerkingen! 
Disclaimer: De foto's in dit blog van toffeplekken.nl zijn eigendom van Natuurhuisje.nl. In onze blogs worden affiliate links gebruikt. Het aanklikken van deze links brengt je direct naar de desbetreffende site. En kost jou als bezoeker niets.