Wil je genieten in een wellness huisje en wil je de hond ook meenemen? Geen probleem! Wij vonden een aantal toffe huisjes met privé sauna en/of jacuzzi midden in een prachtige omgeving. Nadat je een dag op pad bent geweest en lekker hebt gewandeld in de natuur, kun je heerlijk terugkomen in je huisje met sauna of jacuzzi.
Friesland
In Weidum staan op een groot landgoed 10 prachtige hotel-cubes. 
Elk cube bestaat uit één luxe hotelkamer voor maximaal 2 personen met veel privacy en panoramisch uitzicht. Door de glaswand heb je gelijk het buitengevoel en een prachtig uitzicht over de weilanden. De cubes in Weidum zijn luxe, modern en comfortabel ingericht. Denk aan ruim tweepersoons boxspringbed en meubels van Corbusier. 
Het landgoed heeft een zeer rustige ligging. Gelegen op zes kilometer ten zuiden van Leeuwarden aan de Zwette (elfstedentochtroute). Op het landgoed is ook een restaurant gevestigd. En uiteraard kun je hier gebruikmaken van een Finse sauna.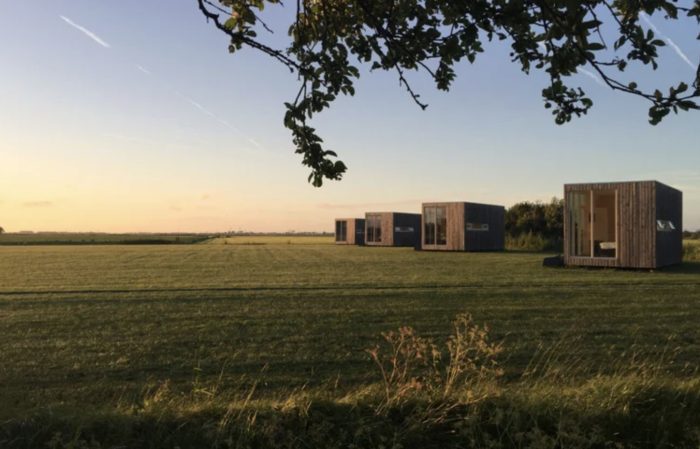 De volgende tip voor een heerlijk wellness huisje met de hond is ook gelegen in Friesland. Wat denk je van dit boomhuis in Oostrum/Dokkum? Gelegen midden tussen de groene bomen en natuur! De boomhuizen zijn ideaal voor 4 personen. Je beschikt over een eigen veranda met uitzicht over het water! De wellness bij het huisje bestaat uit een hout gestookte sauna en hottub, stortemmer, handdoeken en badjassen. 
De boomhuizen liggen aan het water van de Dokkumer Grootdiep. Gelegen middenin de natuur en op loopafstand van het gezellige stadje Dokkum. Nationaal Park Lauwersmeer ligt op 15 minuten rijden. Een dagtrip naar Schiermonnikoog is ook een leuk uitstapje, Lauwersoog ligt eveneens op een kwartier rijden.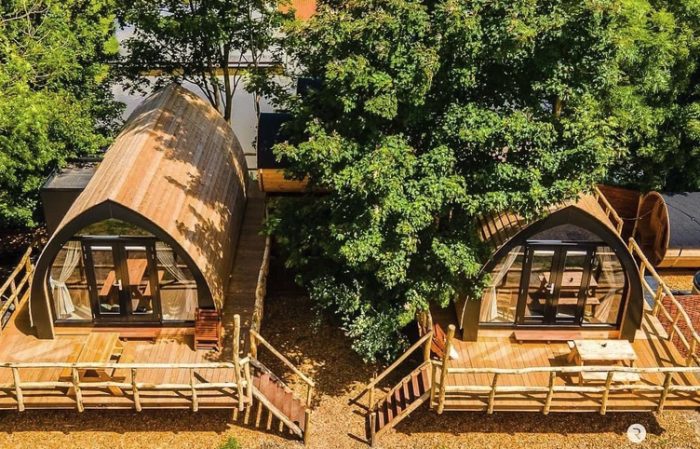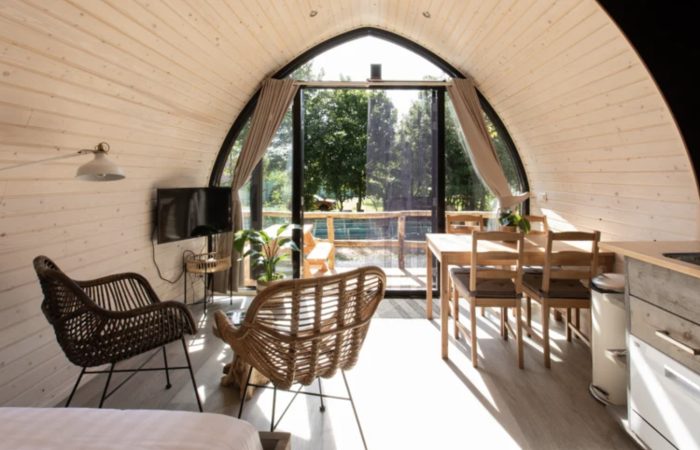 Wellness huisje met de hond in Drenthe
In Wapserveen vonden we deze prachtige wellness lodge geschikt voor 8 personen! 
Het vakantiehuis is gelegen aan het van oorsprong boeren lintdorp Wapserveen in Zuidwest-Drenthe. Het 7,5 hectare grote terrein wordt in het midden gescheiden door een bos. Achter dit bos liggen de natuuurlodges met uitzicht op het Holtingerveld. Je wandelt zo dit prachtige natuurgebied in. Hier zijn speciale hondenlosloopgebieden ingericht! 
Het vakantiehuis heeft een bijzondere uitstraling en komt een beetje Scandinavisch over.  De ligging van het natuurhuis is fantastisch. De inrichting is comfortabel en luxe. Er is een houtgestookte hottub en een Finse sauna. Er zijn 2 tweepersoons slaapkamers en er is een vide met twee slaap/bedsteekasten met vier slaapplaatsen. 
Bekijk ook eens de reviews van dit vakantiehuis in Wapserveen! 
Overijssel
In het plaatsje Enter vonden we het volgende fijne wellness huisje. Gelegen op het terrein van een oude boerderij. 
De huisjes heten Reggehooibergen. Deze vakantiehuisjes staan op een unieke plek. Vanaf je terras heb je prachtig uitzicht op de weilanden. In de zomer graast hier een kudde Angus koeien. Ook kun je vanuit je huisje reeën spotten! Je proeft hier de sfeer van het echte boerenleven midden in de natuur van Twente. De vakantiehuisje zijn in een landelijke stijl ingericht en voorzien van alle gemakken. De huisjes zijn voorzien van een heerlijke Finse sauna! 
De vakantiehuisjes liggen nabij de Regge waar je goed kunt kanoën, wandelen, vissen of fietsen. Enter is een bijzonder mooi gebied om wandelend met je viervoeter te ontdekken. 
Wellness huisje met de hond in Gelderland
Verscholen in de bossen van de Hoge Veluwe ligt Park Berkenrhode. Dit kleinschalige vakantiepark ligt in het plaatsje Wekerom, op 5km van Otterlo. Een rustig vakantiepark met een eigen, goed restaurant, wandelmogelijkheden direct vanuit het park én een fijn buitenzwembad. 
De Boslodge is geschikt voor 4 personen en beschikt over 2 slaapkamers. Deze duurzame lodge is comfortabel ingericht en heeft een omheinde tuin. De tuin beschikt over een ruim gemeubileerd terras en een Finse sauna. Extra kosten hiervoor bedragen 50 euro voor 2 dagen. Uit ervaring weten we dat dit zeer de moeite waard is! Het is een duurzaam huisje, volledig van het gas af en voorzien van een warmtepomp. Er zijn max. 2 huisdieren toegestaan in het huisje. De duurzame Heidelodge en de Woodlodge beschikken ook over wellness faciliteiten zoals een sauna, een hottub of een jacuzzi. Ook in dit huisje zijn max. 2 huisdieren toegestaan.
Wil je in een kleiner type vakantiewoning verblijven met 2 personen en een hond? Dan raden we de Tiny houses aan. Deze hebben geen omheinde tuin, maar beschikken wel over een sauna. En deze huisjes zijn ook zeer sfeervol ingericht. Je hebt een eigen terras en een fijne, mooie aangelegde tuin met privacy.
Nationaal Park Hoge Veluwe is nabij. Wil je lekker met de hond wandelen zonder dat je je zorgen hoeft te maken dat hij kan ontsnappen? Het Leesten is een prachtig natuurgebied in de buurt van Park Berkenrhode. Er is een echt hondenbos met een hondenlosloopgebied én een natte neuzenroute. Omdat op de Veluwe je hond bijna overal aangelijnd moet zijn, is dit dus een hele fijne plek om naartoe te gaan.
In Altforst vonden we de volgende wellness huisjes middenin in de natuur. Ideaal voor 2 personen en een hond! 
Altforst is centraal gelegen in het Land van Maas en Waal tussen de steden Nijmegen en Tiel. De wellness huisjes liggen in een bos van 2,5 ha. aan "de Wetering". Op het kleinschalige terrein bevinden zich ook nog glampingtenten en een vakantiewoning.  Op korte rijafstand (circa 10 minuten) ligt het gezellige centrum van Beneden-Leeuwen. 
De wellness huisjes zijn sfeervol ingericht en beschikken over een eigen hout gestookte hottub, direct naast je natuurhuisje!  Je kunt beschikken over een eigen barbecue en vuurschaal voor een sfeervol kampvuurtje. De huisjes zijn voorzien van vloerverwarming, eigen sanitair, er is een koelkastje en zelfs een Nespresso apparaat. Je kunt ook gebruikmaken van een gezamenlijke en sfeervolle buitenkeuken. Voorzien van een inductiefornuis, spoelbakken, oven, extra koelkast etc.
Noord-Brabant
In Ossendrecht aan de rand van het dorp Hoogerheide vonden we dit fijne wellness huis. Het is geschikt voor 4 personen en is voorzien van een luxe badkamer en heerlijke Finse sauna. De keuken is voorzien van alle gemakken. Er is vloerverwarming en een heerlijke houtkachel. Er is een ruim, overdekt terras met een BBQ en een buitenkachel. 
Het vakantiehuis ligt midden in de natuur. Vanuit het huis kun je direct wandelingen maken in de omgeving. Je wandelt zo het natuurgebied de Brabantse Wal in. Hier kun je met de hond prachtige wandelingen maken. Ook Zeeland ligt op korte rijafstand. Vissersdorpen zoals Yerseke maar ook het badstrand Oesterdam en Krabbendijke Strandje zijn snel te bereiken.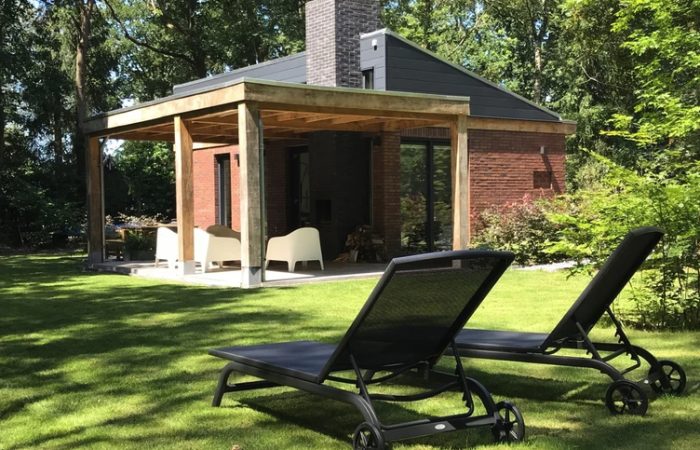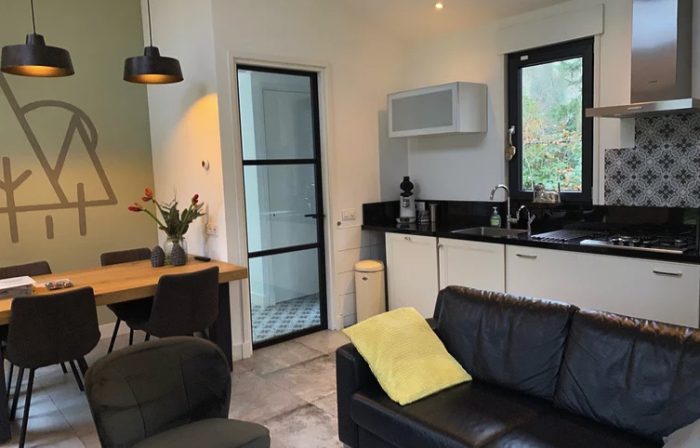 Wellness huisje met de hond in Zuid-Holland 
Met de hond naar een wellness huisje direct aan zee? Op loopafstand van de prachtige kustlijn van Goeree-Overflakkee ligt Landal Strand Resort Ouddorp Duin. Het eiland Goeree-Overflakkee ligt in Zuid-Holland, maar wordt vaak gezien als het noordelijkste van de 'Zeeuwse' eilanden.  
Landal Strand Resort Ouddorp ligt op 100 meter van het strand, dus je wandelt hier heerlijk met je hond! Er zijn huisjes met (infrarood) sauna en sunshower dus na een lange strandwandeling is het hier heerlijk ontspannen. 
Er zijn luxe vakantiehuizen voor 4, 6, 8 en 10 personen waar honden zijn toegestaan. Let goed op of je bij het boeken wel huisdieren hebt ingevuld. 
De vakantiehuizen zijn modern en comfortabel ingericht. Er is een overdekt zwembad op het park. Je kunt er ook heerlijk op uittrekken met de fiets en de natuurgebieden in de buurt ontdekken. Zin in ontspanning en entertainment? Ga dineren bij Restaurant bij Marc of geniet van een voorstelling in Strandtheater de Houten Kaap. 
Ben je niet op zoek naar een wellness huisje? Maar wil je wel graag overnachten in de natuur? Bekijk dan onze natuurhuisjes waar honden ook welkom zijn. 
Disclaimer: De foto's in dit blog van toffeplekken.nl zijn eigendom van Natuurhuisje.nl, Landal.nl en Berkenrhode.nl. In onze blogs worden affiliate links gebruikt. Het aanklikken van deze links brengt je direct naar de desbetreffende site. En kost jou als bezoeker niets.