Artikel update op 17 november 2023
Op zoek naar toffe vakantiehuisjes in Gelderland met de hond? Gelderland is één van de populairste vakantie regio's van Nederland. Heel populair is natuurgebied 'Nationaal Park De Hoge Veluwe'. Maar Gelderland heeft meer te bieden dan alleen dit natuurgebied! Bezoek Arnhem, Burgers Zoo, Paleis het Loo en het Openluchtmuseum Arnhem of Nijmegen en omgeving.
Wij vonden toffe vakantiehuisjes waar je de hond ook mee naartoe kan nemen!
Unieke boomhut in Arnhem
Midden op de Veluwe, ten noorden van Arnhem, ligt het voormalige
kazerneterrein Buitenplaats Koningsweg. Gecamoufleerd door de natuur vind je hier een prachtige boomhut: Spothut De Joffers. Het is een unieke tiny house geheel van hout en onder architectuur gebouwd. Ideaal voor 2 personen en natuurlijk een hond! Op het terrein bevinden zich nog een aantal folly's (bizarre bouwwerken), allemaal voor recreatief gebruik. 
De boomhut bestaat uit 3 lagen: de zomer/buitenkeuken (is open) met pizza/buitenoven. Met een buitentrap bereik je de eerste verdieping. Hier bevindt zich de masterbedroom, badkamer en toilet. Via de binnentrap ga je naar de tweede verdieping met een prachtige keuken en woonkamer. Ook heb je hier door de vele ramen een panoramisch uitzicht op de omliggende natuur. Ideaal om dieren te spotten!
De boomhut wekt energie op van zonnepanelen en is dus volledig van het gas af. Ook op koude dagen en in de winter is deze Spothut een heerlijk verblijf. Alles is centraal verwarmd.
Wakker worden hoog tussen de bomen? Dit is echt een unieke plek in de natuur, dichtbij Nationaal Park De Hoge Veluwe. De hut is heel stijlvol en luxe ingericht. Wat mij betreft een unieke ervaring! Beoordeel zelf maar! 👌🏻
Vakantiehuisje in Putten met omheinde tuin
Dit mooie vrijstaande natuurhuisje ligt in het bosrijke buitengebied van Putten. Het vakantiehuis is gerenoveerd en opgeknapt in 2021. Het is een vrijstaand vakantiehuis met een grote afgesloten tuin. Ideaal voor als de hond meegaat! Er is een groot zonnig terras en is een BBQ aanwezig. Het vakantiehuisje ligt op loopafstand van het bos.
Het huisje is stijlvol en gezellig ingericht. De keuken is helemaal nieuw. Het vakantiehuis beschikt over 2 slaapkamers en is geschikt voor 4 personen.
Groot voordeel van dit huis is de vele wandelmogelijkheden in de directe omgeving. Zo is er een hondenlosloopgebied in het Speulderbos. En het strand van Nulde ligt ook op korte rijafstand.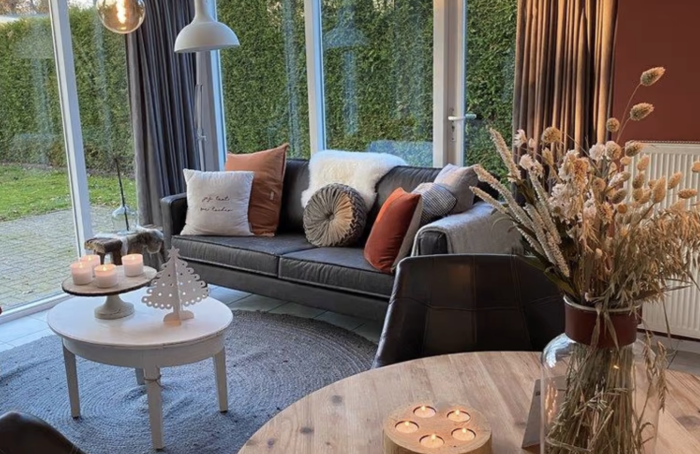 Vakantiehuis Veluwe (Kootwijkerbroek)
Dit vakantiehuis in Kootwijkerbroek is een wijnlodge. Je slaapt in een heerlijk bed in een voormalig wijnvat van 7000 liter. Hoe bijzonder is dat? Je hebt uitzicht op de wijngaard op jouw besloten terras. Deze luxe 6-persoonswoning heeft de beschikking over een woonkamer met het 2-persoons"wijnvatbed", een aparte slaapkamer met 4 vaste bedden, een toilet, badkamer met alle voorzieningen en een ruime keuken met veel apparatuur en een zit-eiland.
De wijnboerderij is gelegen aan de rand van de Veluwe. Wandelen? Probeer dan eens van de vele 'klompenpaden' in de omgeving. Dit zijn avontuurlijke, gemarkeerde wandelpaden door bos, ongerepte natuur en over boerenerven. Of bezoek het gebied bij Radio Kootwijk en wandel de heideroute, een grote aanrader!
Vakantiehuisjes Veluwe met de hond
Dit vrijstaande vakantiehuis geschikt voor 4 personen is gelegen in Otterlo. Het huisje is knus ingericht. Het is gelegen aan een rustiek zandpad op een unieke locatie midden in het bos net buiten het dorp Otterlo. Het huisje is onlangs volledig gerenoveerd en voorzien van alle comfort en luxe.
Het vakantiehuis ligt op loopafstand van een prachtig heideveld en de zandverstuiving 'De Zanding'. Tevens ligt het huis nabij de ingang van het Nationaal Park Hoge Veluwe. Onze tip voor je bezoek aan Nationaal Park de Hoge Veluwe: huur een bakfiets zodat je hond lekker mee kan. Plezier gegarandeerd, zowel voor baas als hond.
Vakantiehuis met omheinde tuin Veluwe
Verscholen in de bossen van de Hoge Veluwe ligt Park Berkenrhode. Dit kleinschalige vakantiepark ligt in het plaatsje Wekerom, op 5km van Otterlo. Een rustig vakantiepark met een eigen, goed restaurant, wandelmogelijkheden direct vanuit het park én een fijn buitenzwembad. Wij zijn er zelf ook al eens op vakantie geweest. En dat beviel erg goed! Het park is huisdiervriendelijk en heeft diverse huisjes met omheinde tuin. Sommige huisjes hebben ook wellness faciliteiten zoals een hottub of een Finse sauna.
De Boslodge is geschikt voor 4 personen en beschikt over 2 slaapkamers. Deze duurzame lodge is comfortabel ingericht en beschikt over een omheinde tuin. De tuin beschikt over een een ruim gemeubileerd terras en een Finse sauna. Het is een duurzaam huisje, volledig van het gas af en voorzien van een warmtepomp. Er zijn max. 2 huisdieren toegestaan in het huisje.
De duurzame Heidelodge is eveneens geschikt voor 4 personen en beschikt ook over 2 slaapkamers. Ook deze tuin is omheind. In de tuin kun je beschikken over diverse wellness faciliteiten: een sauna met een hottub of jacuzzi. Dit verschilt per huisje en kun je zelf van tevoren kiezen. 
De Woodlodge is ook geschikt voor 4 personen en heeft tevens 2 slaapkamers. Deze lodges beschikken ook over wellness faciliteiten zoals een sauna, een hottub of een jacuzzi. Ook in dit huisje zijn max. 2 huisdieren toegestaan.
De type Boslodge, Heidelodge en Woodlodge zijn ook groter beschikbaar. Ze zijn dan geschikt voor 6 personen.
Wil je in een kleiner type vakantiewoning verblijven met 2 personen en een hond? Dan raden we de Tiny houses aan. Deze hebben geen omheinde tuin, maar beschikken wel over een sauna. En deze huisjes zijn ook zeer sfeervol ingericht. Je hebt een eigen ruim terras en een fijne, mooie aangelegde tuin met privacy.
Nationaal Park Hoge Veluwe is nabij. Wil je lekker met de hond wandelen zonder dat je je zorgen hoeft te maken dat hij kan ontsnappen? Het Leesten is een prachtig natuurgebied in de buurt van Park Berkenrhode. Er is een echt hondenbos met een hondenlosloopgebied én een natte neuzenroute. Omdat op de Veluwe je hond bijna overal aangelijnd moet zijn, is dit dus een hele fijne plek om naartoe te gaan.
Natuurhuisje in Etten
Het volgende vakantiehuisje in Gelderland waar je met de hond naartoe kan is dit gloednieuwe luxe vakantiehuisje in Etten. Het huisje is landelijk gelegen en heeft een prachtig uitzicht! Het huis ligt op eigen erf, naast een eigen bosperceel. Het heeft een grote tuin en prachtig uitzicht over de weilanden.
In het bijgebouw staat een heerlijk grote 6 persoons jacuzzi. De luxe keuken is van alle gemakken voorzien. Het huisje beschikt over 2 slaapkamers voorzien van heerlijke aupingbedden. De bedden zijn bij aankomst voor je opgemaakt!
Vakantiehuis in Epe met omheinde tuin
Geniet van de rust en de luxe van deze vakantiewoning in Epe. De vakantiewoning ligt vrij, prachtig en rustig aan het bos op de rand van de Veluwe en is in 2021 helemaal opgeknapt. Het is een vrijstaand huis gelegen op een erf met eigen terrassen en opgang. Het charmante huis is rietgedekt en volledig geïsoleerd. Je kan hier met maximaal vier personen verblijven.
Laat je verrassen door het heuvelachtige natuurgebied de Renderklippen op de Veluwe, met een losloopgebied voor honden. Gelegen op 15 minuten lopen vanaf het huis.
Natuurhuisje in Megchelen
In Megchelen ligt deze prachtige koepeltent. De tent is opgebouwd in geometrische vormen. Vanuit je bed kijk je naar de sterren! Wie wil dat niet?
De koepeltent staat op het zuidelijkste stukje van de Achterhoek. Op hetzelfde terrein bevindt zich een ruim opgezette theetuin. Een prachtige tuin met veel bloemen, planten en bomen. Tijdens je verblijf kun je gebruikmaken van het sanitair en de keuken van het theehuis. De Achterhoek is bij uitstek geschikt voor fiets- en wandeltochten, het fietsknooppuntennetwerk loopt langs ons adres en er zijn vele andere routes uitgestippeld.
Als je hier verblijft heb je een goede kans om in de verte de reeën door het land te zien lopen. Wij vinden het een plaatje deze koepeltent!
Een hele verzameling toffe vakantiehuisjes in Gelderland met de hond! Hopelijk zit er iets tussen waar je ook graag naartoe gaat!
Ben je niet op zoek naar vakantiehuisje in Gelderland met de hond maar een fijn hotel op de Veluwe waar de hond welkom is? Bekijk dan ook eens onze tips voor een hotel op de Veluwe met de hond.
Disclaimer: De foto's in dit blog van toffeplekken.nl zijn eigendom van Natuurhuisje.nl en Berkenrhode.nl. In onze blogs worden affiliate links gebruikt. Het aanklikken van deze links brengt je direct naar de desbetreffende site. En kost jou als bezoeker niets.