Wil je met de hond op vakantie naar Zwitserland? De natuur in Zwitserland is mooi en nog niet super druk met toeristen. Toch zijn de Zwitserse Alpen een ideale bestemming voor een fijne vakantie met de hond. Wij vonden 4 hele toffe plekken!
De mooiste gebieden voor een natuurvakantie zijn Graübunden en Wallis. Wij hebben in deze gebieden hele toffe plekken gevonden als je met de hond op vakantie naar Zwitserland gaat.
Wallis
De natuur in Wallis is prachtig. Hier vind je de hoogste bergtoppen van Zwitserland, de bekendste is de Matterhorn (4.478), zeer geliefd bij geoefende bergbeklimmers.
De eerste accommodatie is Studio SWISSPEAK Resorts Diablons in Zinal.
Zinal ligt verscholen tussen de hoogste bergtoppen van de Alpen in het Zwitserse Val d'Anniviers. Het plaatsje staat bekend als bergbeklimmersdorp vanwege onder andere de Matterhorn, Dent Blanche en Weisshorn.
De appartementen van Studio SWISSPEAK zijn comfortabel en sfeervol ingericht in moderne Alpen stijl. Er zijn appartementen met 1, 2 of 3 slaapkamers. Sommigen hebben een balkon, anderen een ruim terras. De accommodatie ligt in het dorp. Vanuit de locatie maak je prachtige bergwandelingen in de omgeving.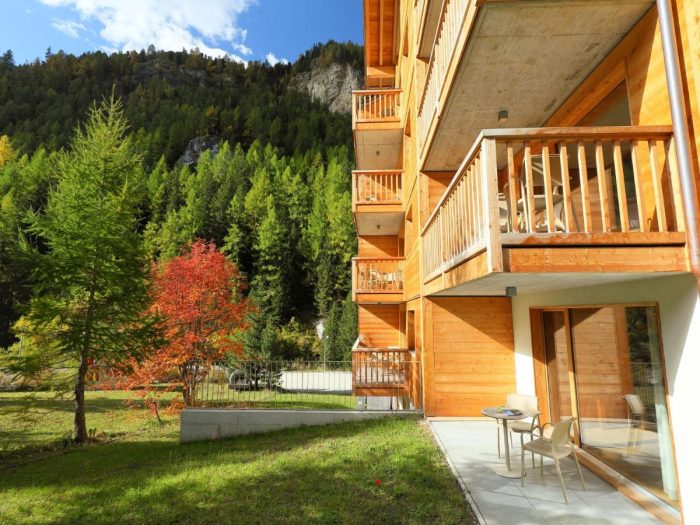 De tweede accommodatie ligt ook in Wallis, in de plaats Zermatt: Haus-Ascot-Zermatt.
Zermatt is een dorp aan de voet van de iconische Matterhorn in het zuiden van Zwitserland. Het ligt op ongeveer 10 km van de grens met Italië. Zermatt is een prachtige plek voor een fijne natuurvakantie. Met 400 kilometer aan wandelpaden is er voor beginners en gevorderden voldoende keuze!
In Zermatt vonden we de appartementen van Haus-Ascot-Zermatt. Er zijn studio appartementen voor 2 personen, maar er zijn ook appartementen met 2 of 3 slaapkamers. Stuk voor stuk zijn ze heel modern en smaakvol ingericht. De appartementen voor 4 of 6 personen beschikken ook allemaal over een balkon. Vanuit je appartement heb je een fantastisch uitzicht op de Matterhorn.
Graubünden
Ook Graubünden, het meest oostelijk gelegen kanton van Zwitserland, heeft heel veel bergen en biedt tal van mogelijkheden voor een actieve vakantie. Het gebied telt maar liefst 937 bergtoppen, 150 mooie dalen en ruim 600 meren.
In Lenzerheide ligt onze eerste toffe plek. Lenzerheide, gelegen in een alpenvallei, beschikt over 4 kabelbanen die de hele zomer open zijn. Er is ongeveer 140 kilometer aan wandelroutes. Wandelpaden leiden naar nabijgelegen attracties zoals de hoge waterval van Sanaspans. De Heidsee, een meer dat populair bij zwemmers en windsurfers, ligt nabij.
In Lenzerheide ligt Alpine Lodge Lenzerheide van Landal Greenparks. In de comfort appartementen voor 4 personen zijn huisdieren toegestaan. De appartementen zijn comfortabel ingericht en voorzien van 2 slaapkamers. Ook beschikken ze over een balkon.
Het voordeel van deze locatie is dat er ontzettend veel faciliteiten en activiteiten zijn. Dat maakt deze plek voor gezinnen ook een ideale bestemming. Alpine Lodge Lenzerheide beschikt over restaurants, een mini-shop, ontbijtservice, een overdekt zwembad, een ligweide, een fitnessruimte en beauty & wellness.
De volgende toffe plek is ook gelegen in de regio Graubünden. Engadin Lodge ligt in Samnaun. Samnaun is een kleine gemeente in het Zwitserse kanton Graubünden, en ligt vlakbij het Oostenrijkse Ischgl.
Samnaun heeft minder dan duizend inwoners, en is door zijn mooie wandelgebied erg populair onder wandelaars. Het wandelgebied bestaat uit meer dan 1500 kilometer aan wandelpaden!
Engadin Lodge is rustig gelegen aan de rand van het dorp. De lodge beschikt over diverse appartementen, met allemaal een balkon en prachtig uitzicht over de bergen rondom Samnaun. De appartementen zijn modern en in een chalet stijl ingericht. De ruimere appartementen beschikken ook over een sauna!
De beoordelingen van deze lodge zijn voortreffelijk met een 9,8 😃. Honden zijn ook zeer welkom en ontvangen zelfs een klein welkomstpakket. Daar worden wij altijd blij van!
Ga je deze zomer met de hond op vakantie naar Zwitserland? Dan hopen we dat er een toffe plek voor je tussenzit! Ga je liever naar Oostenrijk? Kijk dan ook eens naar onze tips voor Tirol en SalzburgerLand.
Disclaimer: De foto's in dit blog van toffeplekken.nl zijn eigendom van Booking.com. In onze blogs worden affiliate links gebruikt. Het aanklikken van deze links brengt je direct naar de desbetreffende site. En kost jou als bezoeker niets.