Op vakantie naar Luxemburg met de hond is een hele goede keuze! Het is een ideaal land om met de hond naartoe te gaan. Het landschap is gevarieerd en er zijn pittoreske dorpjes.
Luxemburg bestaat uit een aantal prachtige natuurgebieden. De Luxemburgse Ardennen vormen de grens met België. Het gebied Müllerthal met Luxemburgs Klein Zwitserland is ook een mooie streek.
In onze zoektocht naar een leuk vakantiehuis in Luxemburg met de hond, ontdekten we de volgende toffe plekken.
Wiltz
Camping Kaul is gelegen in Wiltz en wordt omgeven door bossen. De camping beschikt over een buitenzwembad, een tennisbaan, een skatebaan, een speeltuin en een eigen bistro. Er is voor kinderen dus ook genoeg te beleven. Omdat de camping direct aan het bos ligt, is het ook een fijne plek om met de hond naartoe te gaan.
Camping Kaul beschikt over veel soorten accommodaties. Buiten een camping met kampeer -en caravanplaatsen zijn er chalets voor 2, 4 of 6 personen. De chalets zijn voorzien van een patio (bij een aantal chalets afsluitbaar) met tuinmeubels, een volledig uitgeruste keuken, een woonkamer en een eethoek binnen en zitgelegenheid buiten.
In de omgeving van de camping zijn talloze wandelroutes. De camping bevindt zich verder op 800 meter van het centrum van Wiltz en op 1 uur rijden van de stad Luxemburg.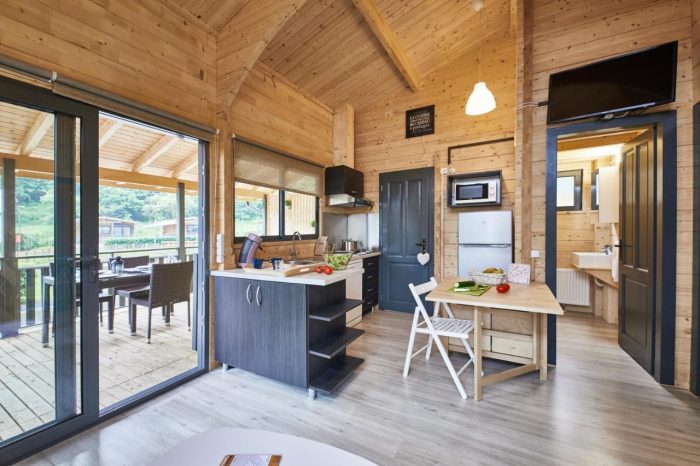 Clervaux
In het Ourdal, middenin de Luxemburgse Ardennen ligt het nieuwe EuroParcs Kohnenhof. Het vakantiepark heeft een fantastische ligging pal aan de rivier Our.
Kohnenhof is een ideaal startpunt van diverse wandel -of fietsroutes. Het park is gelegen in de regio Éislek, ook wel de Luxemburgse Ardennen, genoemd. De regio staat bekend om ruige dalen, hoogvlaktes en bossen en eindeloze wandelmogelijkheden. Net als de regio Müllerthal, gelegen op 40 minuten rijafstand.
Op het park zijn ook verschillende faciliteiten voor kinderen. Zo is er een speeltuin, zijn er tafeltennis faciliteiten en kunnen er kano's, fietsen en mountainbikes gehuurd worden.
De chalets zijn modern en stijlvol ingericht. Er zijn chalets voor 4 personen maar ook voor 6 personen. De woonkamer en eetkamer zijn ruim en comfortabel. De chalets beschikken over modern sanitair. Alles is heerlijk nieuw. De terrassen zijn ook gemeubileerd. Een heerlijke plek om te verblijven! Let op: er worden nog een aantal chalets gebouwd op het park. Houd hier dus rekening mee.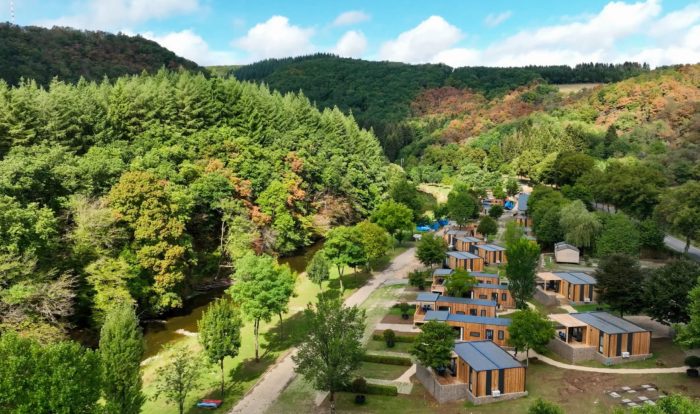 Bourscheid
Camping du Nord ligt in het hartje van de Luxemburgse Ardennen, in het dal van de Sûre nabij Bourscheid. De camping staat bekend om zijn mooie natuur en vooral de rust die er heerst. De camping ligt aan de rivier Sûre in Goebelsmühle in het rustige natuurpark Obersauer in de Luxemburgse Ardennen. De groene vallei ligt in een bosrijke omgeving aan een van de mooiste en de meest onaangetaste rivierenstreken van Luxemburg.
Camping du Nord beschikt over diverse accommodaties waaronder chalets, vakantiehuizen, lodgetenten, maar je kunt er ook gewoon terecht met camper of caravan. Met huisdieren ben je welkom in de Leaf chalets. Dit zijn kleine, knusse chalets voor 2 – 4 personen.
De 2 persoons Leafs zijn voorzien van een terrasje, verwarming, comfortabele bedden, dekbedden en kussens. Binnen is ook een zithoekje. Er is een dolce gusto koffiezetapparaat aanwezig en servies voor 2 personen. Er is geen keuken aanwezig.
Ben je met 4 personen? Dan zijn er recent ook een aantal maxi Leafs te huur. Deze beschikken ook over een keukentje met 4 gaspitten en een koelkastje. Ook beschikken deze type Leafs over een toilet.
De Leafs zijn goed geïsoleerd, en geschikt voor alle jaargetijden. Ideaal voor een kort verblijf of als tussenstop tijdens één van de talrijke wandelingen. Voor wandelaars is de directe omgeving een uitkomst. Zo komt de bekende Escapardenne Lee Trail, een populaire wandelroute, langs de camping. Ook zijn er ruim 20 nationale wandelpaden met routes van 15 tot 68 km lang.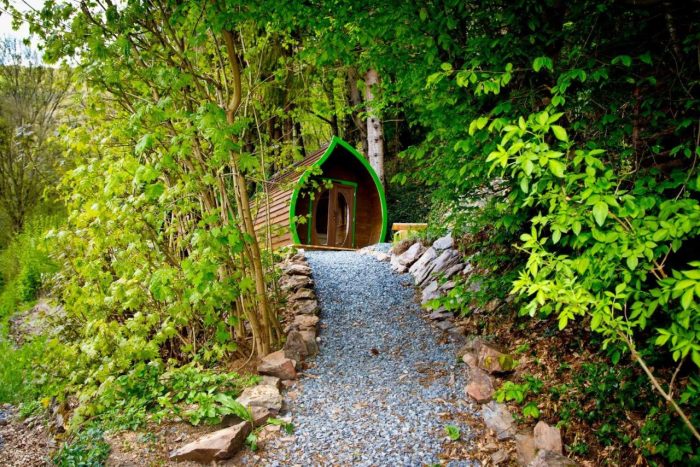 Verblijf je liever in een hotel? Dan hebben we twee prachtige hotels gevonden aan de rivier de Sûre.
Het Cocoon Hotel Belair ligt in Bourscheid. En heeft een prachtig uitzicht op het kasteel Bourscheid. In dit hotel zijn huisdieren toegestaan. Er is een restaurant, een fitnessruimte en een tuinterras. Het Cocoon Hotel Belair beschikt over een speeltuin en een tennisbaan. Er is tevens een fietsverhuurservice.
De superior hotelkamers beschikken over een balkon. Het zijn ruime kamers van ongeveer 30m2. Rustiger gelegen zijn de geschakelde cottages. Deze zijn gelegen direct naast het hotel en hebben meer ruimte dan een hotelkamer, namelijk circa 50m2. Ook is er een afgesloten terras bij de cottage. De cottages zijn luxe en stijlvol ingericht.
Het centrum van Bourscheid bevindt zich op 6 km van de accommodatie. De mooie stadjes Clervaux en Vianden liggen op 20 kilometer rijafstand. Ook in de omgeving van Bourscheid zijn weer diverse wandelroutes voor een fijne vakantie met je viervoeter.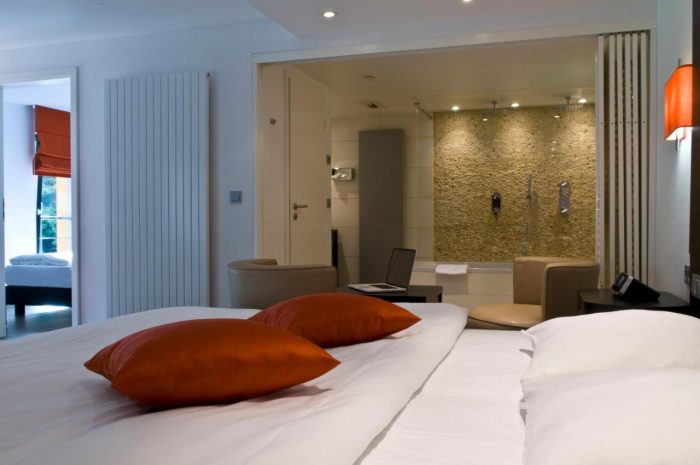 Het Cocoon Hotel La Rive ligt eveneens aan de oevers van de rivier de Sûre, slechts een paar honderd meter van Cocoon Hotel Belair.
De moderne kamers zijn eenvoudig, maar comfortabel ingericht, ze beschikken niet over een balkon. Ook dit hotel beschikt over geschakelde cottages. Deze zijn gelegen direct naast het hotel en zijn ruim en comfortabel opgezet.
Hotel La Rive beschikt over diverse faciliteiten, waaronder een tennisbaan, een ruime wellness met een sauna, zonnebanken, een aroma stoombad en een Turks bad. Ook is in het hotel een gastronomisch restaurant gevestigd.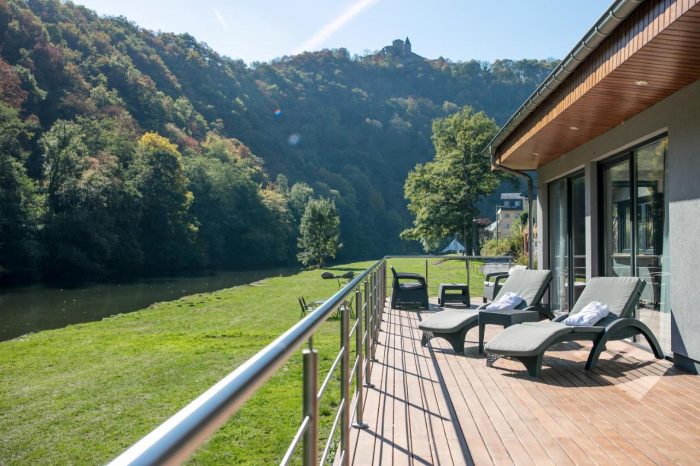 Heb jij je favoriete plek al gevonden? Of ben je op zoek naar een fijn vakantieadres dichter bij huis? Bekijk dan ook eens onze toffe plekken in Limburg.
Disclaimer: De foto's in dit blog van toffeplekken.nl zijn eigendom van Booking.com en EuroParcs. In onze blogs worden affiliate links gebruikt. Het aanklikken van deze links brengt je direct naar de desbetreffende site. En kost jou als bezoeker niets.