Op vakantie naar Schotland met de hond? Dat moet je zeker doen. In Schotland zijn honden meer dan welkom. Honden zijn op heel veel plekken toegestaan en er zijn ontelbare schilderachtige wandelroutes. Je hond voelt zich in Schotland zo thuis!
Met de ferry naar Schotland
De makkelijkste manier om met je hond naar Schotland te reizen is met de ferry. De ferry vertrekt in IJmuiden en na een nacht varen kom je aan in Newcastle. Op de route IJmuiden – Newcastle zijn er de volgende mogelijkheden. Ten eerste kan je je hond in de auto laten en om het uur een bezoek brengen aan je hond. Het is ook mogelijk om een kennel te reserveren of je boekt een hut! 
Vakantie Schotland met de hond voorbereiden
Als je met je hond naar Schotland gaat, zijn er een paar regels waar je aan moet voldoen. Je hebt het volgende nodig:
Een dierenpaspoort en micro-chip.
Een rabiës-vaccinatie (deze moet minimaal 21 dagen voor vertrek).
Een behandeling tegen lintworm (dit moet tussen de 24 en 120 uur (1 tot 5 dagen) voor aankomst in England en Schotland).
Honden mag je niet vervoeren los op de achterbank. Een gordel of een bench is dan verplicht. 
Vakantie Schotland met de hond
In Schotland zijn in verhouding in veel meer vakantiewoningen honden toegestaan. Dat laat nogmaals zien dat Schotland een hondvriendelijk vakantieland is. 
Western Highlands met de hond
De Western Highlands zijn onderdeel van de bergachtige hooglanden van Schotland. 
RiverBeds Lodges with Hot Tubs ligt nabij Glencoe. De mooie RiverBeds Lodges zijn gelegen op een privé landgoed en golfterrein middenin de Glencoe-vallei. Glencoe is een adembenemend mooie vallei omringd door mooie bergen. De vallei heeft een mysterieuze sfeer en is vaak een filmlocatie geweest voor onder andere James Bond en Harry Potter-films. 
Fort William bevindt zich op 15 km afstand. Dit is één van de populairste toeristische bestemmingen in de Schotse Hooglanden. Dit komt o.a. door de berg Ben Nevis en 'The Jacobitetrain'. Daarnaast ligt Fort William ook nog eens aan de West Highland Way. Een populaire lange afstandswandelroute van het Verenigd Koninkrijk.
Elke RiverBeds lodge heeft een eigen hot-tub en een omheind terras. Vanuit de accommodatie wandel je direct naar een nabijgelegen bos, er zijn mooie bergpaden en je kunt wandelen langs de rivier. Elke lodge heeft een eigen badkamer en beschikt over een kitchenette. 
Noordoost Schotland met de hond
Aan de noordkust van Aberdeenshire in het noordoosten van Schotland ligt het kustdorpje Pennan. Mill Of Nethermill Holidays biedt charmante cottages in de buurt van Pennan en met uitzicht op de afgelegen baai van Cullykhan. Deze accommodatie dateert uit 1841 en heeft een tuin en een privégedeelte op het strand. 
Mill Of Nethermill Holidays beschikt over diverse cottages met 1, 2 of 3 slaapkamers. De cottages zijn typisch Schots ingericht en hebben een landelijke stijl. 
De prachtige kustlijn van Banffshire is ideaal om te vissen en te wandelen. De baai naast de cottages is een beschermd gebied en je kunt hier soms ook dolfijnen en zeehonden spotten.
Reizigers die hier met een hond hebben gelogeerd, laten goede reviews achter: 
"Ons verblijf was zeer comfortabel. De inrichting was prachtig, oude charme gemengd met nieuw.
Het strand ligt direct voor de deur. De cottage is rustig gelegen en het landschap is gewoon geweldig. 
We brachten onze 2 hondjes mee, ze genoten van de stranden en de wandelingen in de omgeving."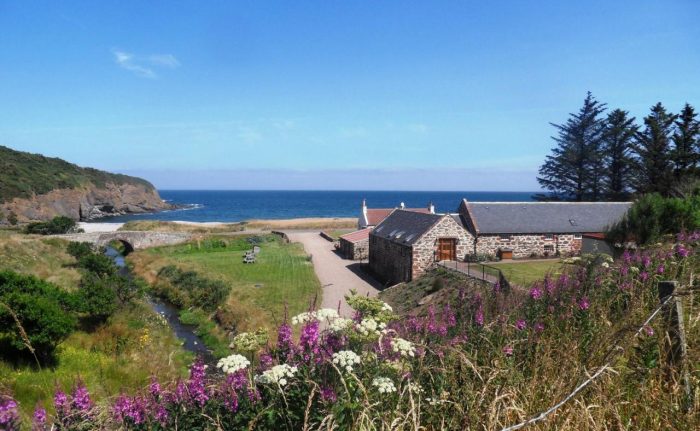 Zuidwest Schotland met de hond
Zuidwest Schotland is wellicht wat minder populair en bekend bij toeristen. Maar ook dit deel van het land beschikt over een prachtige natuur.
No 1 Ramageton ligt in Hurlford, op 18 km van het kuststadje Ayr. Het vakantiehuis ligt op het landgoed Carnell Estates een landgoed van 2000 hectare in Hurlford. Een fijne locatie om het Ayrshire gebied te verkennen. Vanaf de kust van Ayrshire kun je de oversteek maken naar Brodick op het eiland Arran. Een prachtig eiland. En de oude stad Glasgow ligt op slechts 30 minuten rijden. 
No 1 Ramageton is comfortabel en gezellig ingericht. De cottage beschikt over 1 slaapkamer. Er is ook een terras bij het huis met BBQ faciliteiten en een geweldig uitzicht over de rustige omgeving. Aan de hond wordt ook gedacht, er staat een heus welkomstpakket en een mand voor je viervoeter klaar! In de directe omgeving kun je prachtig wandelen. 
Op hetzelfde landgoed Carnell Estates bevindt zich Bothy Cottage. Deze cottage is geschikt voor 2 personen, er is 1 slaapkamer. Er is een gezellige woonkamer, een keuken voorzien van alle gemakken en een terras met zitjes. 
Ook hier word je viervoeter verwend met een welkomstpakket en een hondenmand. In de cottage zijn ook diverse spellen, boeken en dvd's beschikbaar. 
Boggle Dyke Cottage ligt in Thornhill in de regio Dumfries en Galloway. Dumfries & Galloway staat bekend om de rots- en zandkust die mijlenver over de zee uitkijkt, tot het weelderig groene binnenland met bossen en heuvels, een prachtige regio! In de regio Dumfries en Galloway zijn er vele mooie wandelingen te maken. 
De cottage ligt ook in een prachtig wandelgebied. Het vakantiehuis is geschikt voor 2 personen en een hond. Er is een omheinde tuin en het huis beschikt over barbecuefaciliteiten. 
Het kasteel van Drumlanrig ligt op 4,6 km afstand van de cottage. 
Ga jij binnenkort op vakantie naar Schotland met de hond? Misschien vind je deze plekken ook perfect voor jouw vakantie. Nog niet gevonden wat je zocht? Dan kun je bij ons sinds kort ook een zoekvraag indienen, vul je wensen in en dan gaan wij voor jou op zoek! 
Disclaimer: De foto's in dit blog van toffeplekken.nl zijn eigendom van Booking.com. IIn de blogs wordt gebruik gemaakt van affiliate links. Het aanklikken van deze links brengt je direct naar de desbetreffende site waar je kunt boeken. Vanuit het boekingsplatform ontvangt deze website een kleine commissie als er een boeking plaatsvindt. Voor jou als boeker betaal je gewoon de reguliere prijs, en zijn er geen extra kosten.