Op zoek naar een fijn vakantiepark met de hond? Wij geven in dit blog tips voor de tofste vakantieparken met de hond in Nederland.
Op alle vakantieparken in dit blog zijn honden toegestaan en alle parken bevinden zich op mooie locaties verspreid over Nederland. Ben je op zoek naar een fijn vakantiepark aan zee om samen met de hond heerlijke strandwandelingen te kunnen maken of zoek je een vakantiepark in nabij bos en heide? In dit blog vind je vast een park dat bij je wensen past. We hebben gelijk een selectie gemaakt van parken die we écht het allerbeste vinden omdat we dat zelf hebben ervaren of hele goede ervaringen over hebben gehoord.
Vakantiepark met de hond Texel
Landal Sluftervallei op Texel ligt midden in de duinen. Met een restaurant, overdekt zwembad, speeltuin en waterspeelplaats hoef je je op het park ook zeker niet te vervelen.
De Sluftervallei ligt midden in de duinen en grenst aan Natuurgebied De Slufter en de Eierlandsche Duinen. Vanaf het vakantiepark maak je direct de mooiste wandelingen.
Op het park zijn diverse accommodaties beschikbaar waar een hond ook welkom is. Er zijn kleinere accommodaties voor 4 personen, maar er zijn ook 6, 8, 10 en 12 persoons bungalows. De luxe bungalows zijn voorzien van een sauna en/of een bubbelbad. De accommodaties zijn comfortabel, luxe, sfeervol en fris ingericht. Echt heerlijke vakantiehuizen om met de hond te verblijven! Ben je op zoek naar een luxe vakantiepark met de hond? Dan is Landal Sluftervallei ideaal voor jou.
Vakantiepark Terschelling
In Midsland op Terschelling ligt het kleinschalige vakantiepark Landal Schuttersbos. Landal Schuttersbos beschikt over 40 comfortabele rietgedekte cottages.
De locatie van het park is perfect. Het park ligt aan de rand van het duin -en bos gebied, centraal op het eiland, op korte fietsafstand van het gezellige dorp Midsland. Wandelen met de hond kan direct vanuit het park, je staat direct in de bossen en de duinen.
In de 4-6 persoonscottages zijn honden toegestaan. De cottages  beschikken over een tuin en terras. Ben je op zoek naar een rustig gelegen vakantiepark met de hond? Dan is dit de perfecte plek.
Vakantiepark Friesland
In Dokkum bevindt zich een kleinschalig vakantiepark met tiny houses. De tiny houses zijn vrij gelegen en van alle gemakken voorzien. Er is een luxe badkamer, een kleine keuken, een tweepersoonsbed en een zithoek met televisie. In de open loft is nog eens plek voor 2 slapers.
Het park ligt gelegen aan de rand van Dokkum. Het Unesco Wadden werelderfgoed ligt op 15 km afstand en is ideaal voor heerlijke wandelingen. Het park zelf beschikt over een restaurant, sloepverhuur(elektrisch), speeltuin, kanoverhuur en rondvaarten in Dokkum. 
Landal Elfstedenhart is een kleinschalig park met 58 duurzame luxe, comfortabele vakantiewoningen. Het park ligt aan de historische Elfstedentochtroute, tussen Harlingen en Bolsward. Deze route kun je (deels) wandelen, varen of fietsen. Een aanrader is het huren van een sup het park. Een uitstapje naar het historische Harlingen of een dagje naar één van de Waddeneilanden is ook een aanrader.
Op het park zijn diverse accommodaties beschikbaar waar een hond ook toegestaan is. Honden zijn welkom in de comfort accommodaties voor 4 of 6 personen en de luxe 6 persoonswoningen. 
Vakantiepark met de hond in Drenthe
Middenin het bos gelegen aan Nationaal Park Drents Friese Wold ligt The Forest Cabins Drents Friese Wold. Een kleinschalig park met zestien sfeervolle Tiny Houses. 
Het Drents Friese Wold is een prachtig natuurgebied waar je prachtige wandelingen kunt maken en tot rust kan komen. De Tiny Houses beschikken over alle gemakken. Er is een slaapvide met een comfortabel bed, een keuken(tje), een badkamer(tje) en een sfeervol woongedeelte. 
Het is een ideale plek voor twee personen, en er mag ook een hond mee! Je kunt ook gebruikmaken van een gemeenschappelijke sauna en een buitenzwembad in de zomer. 
Vakantiepark Gelderland
Op een kleinschalig landgoed in Voorthuizen bevindt zich deze Wellness Lodge voor 2 personen.  De Wellness Lodges zijn super luxe. Je kunt genieten van een fijne sauna, een sunshower én een vrijstaand ligbad. 
De lodges beschikken over een volledig uitgeruste keuken en de huisjes zijn gezellig en stijlvol ingericht met meubels van By Boo! 
Op het landgoed kun je o.a.  gebruikmaken van fietsverhuur, een binnen -en buitenzwembad, bowlingbanen en een wellness salon met de mogelijkheid voor massages. Wil je liever lekker tot rust komen in de natuur? Het landgoed ligt aan de rand van de Veluwe, omgeven door mooie bossen en heidevelden. 
Op 10 minuten rijden vind je het gebied Kootwijkerzand. Bezoek het gebied bij Radio Kootwijk en wandel de heideroute, een grote aanrader! Ook Nationaal Park Hoge Veluwe is nabij. Wil je lekker met de hond wandelen zonder dat je je zorgen hoeft te maken dat hij kan ontsnappen? Het Leesten is een prachtig natuurgebied. Er is een echt hondenbos met een hondenlosloopgebied én een natte neuzenroute.
Eveneens in Gelderland raden we Park Berkenrhode aan. Dit kleinschalige vakantiepark ligt in het plaatsje Wekerom, op 5 km van Otterlo. Een rustig vakantiepark met een eigen, goed restaurant, wandelmogelijkheden direct vanuit het park én een fijn buitenzwembad. Wij zijn er zelf ook al eens op vakantie geweest. En dat beviel erg goed! Het park is huisdiervriendelijk en heeft diverse huisjes met omheinde tuin. Sommige huisjes hebben ook wellness faciliteiten zoals een hottub of een Finse sauna.
De Boslodge is geschikt voor 4 personen en beschikt over 2 slaapkamers. Deze duurzame lodge is comfortabel ingericht en beschikt over een omheinde tuin. De tuin beschikt over een een ruim gemeubileerd terras en een Finse sauna. Extra kosten hiervoor bedragen 50 euro voor 2 dagen. Uit ervaring weten we dat dit zeer de moeite waard is! Het is een duurzaam huisje, volledig van het gas af en voorzien van een warmtepomp. Er zijn max. 2 huisdieren toegestaan in het huisje. Ook in de Heidelodge en de Woodlodge zijn huisdieren toegestaan. 
Vakantiepark in Noord-Holland
In het mooie natuurgebied van de Schoorlse Duinen ligt het nieuwe vakantiepark Landal Berger Duinen. Het park wordt omgeven door bossen, heide, duinen en strand. Een paradijs voor natuurliefhebbers! Landal Berger Duinen ligt op 7 kilometer afstand van het strand van Bergen aan zee. Vanuit je accommodatie wandel je met de hond zo de Schoorlse duinen in, waar je prachtige wandelingen kunt maken. 
Leuke dorpjes zoals het kunstenaarsdorp Bergen en Schoorl liggen op korte fietsafstand. Of breng een bezoekje aan de stad Alkmaar, gelegen op 10 km afstand van het park. 
De vrijstaande villa's op het park zijn geschikt voor 4, 6 of 8 personen. Er zijn comfort villa's en luxe villa's waarbij je ook gebruik kunt maken van je eigen sauna! Ook zijn er speciale wellness villa's met een hottub, buitensauna en buitendouche. De villa's zijn comfortabel en stijlvol ingericht. Echt een fijn vakantiepark om met de hond naartoe te gaan.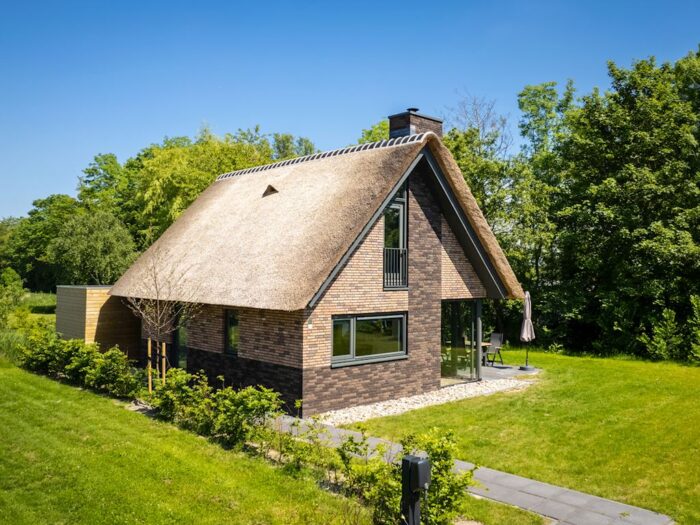 Vakantiepark met de hond in Zeeland
Op loopafstand van de kustlijn van Goeree-Overflakkee in Ouddorp ligt Landal Strand Resort Ouddorp Duin. Het eiland Goeree-Overflakkee ligt in Zuid-Holland, en wordt vaak gezien als het noordelijkste van de 'Zeeuwse' eilanden. Ouddorp is een gezellige badplaats met vele terrasjes en winkeltjes. 
Op Landal Strand Resort Ouddorp Duin zijn volop activiteiten voor jong en oud. Op loopafstand bevindt zich een breed zandstrand en natuurlijk de Noordzee. Op het park is een overdekt zwembad, een minigofbaan, een pump track, een surfschool en er is een indoor speeltuin en speelduin. Ook is er een restaurant en strandtheater aanwezig. In de omgeving kun je prachtig fietsen en wandelen met je viervoeter! 
Er zijn diverse comfort en luxe accommodaties beschikbaar op het park. Zo zijn er 4-persoons geschakelde woningen en vrijstaande 6, 8, 10, 12 en 24-persoons woningen. Niet in alle woningen zijn honden toegestaan, dus kijk even goed dat je wel een huisdier selecteert bij het boeken. 
De accommodaties zijn comfortabel ingericht en beschikken over een fijn terras en schuifdeuren vanuit de woonkamer naar het terras. 
Vakantiepark De Klepperstee ligt ook in Ouddorp, eigenlijk op loopafstand van het hiervoor genoemde Landal park.  Vakantiepark De Klepperstee ligt op slechts 900 meter afstand van het strand, vanuit je vakantiehuis in Ouddorp wandel je hier zo naartoe. 
Vakantiepark De Klepperstee beschikt over diverse unieke tiny houses waar honden ook welkom zijn. Wikkelhouse Bear bijvoorbeeld is een duurzaam en compact vakantiehuisje van 25 m2 superslim ingericht. In de nok zit een tweepersoons hoogslaper. De bank eronder klap je uit tot nog een tweepersoonsbed. Er is een compacte keuken met koelkast, waterkoker en percolator voor verse koffie. De badkamer bestaat uit een toilet en douche. Er is een veranda en bij elke Bear staat een Weltevree Outdooroven. 
Naast deze toffe Wikkelhouse zijn er ook nog andere unieke tiny houses waar de hond ook welkom is. 
Nog niet gevonden wat je zocht? Bekijk dan onze andere tips voor een vakantiehuis met de hond in Nederland.
Disclaimer: De foto's in dit blog van toffeplekken.nl zijn eigendom van Natuurhuisje.nl, Landal.nl, Klepperstee.nl, Berkenrhode.nl, Deijsvogel.nl, Tinyparks.nl. In onze blogs worden affiliate links gebruikt. Het aanklikken van deze links brengt je direct naar de desbetreffende site. En kost jou als bezoeker niets.