Wil je op vakantie naar Bretagne en neem je je hond graag mee? Wij verzamelden in dit blog de tofste vakantiehuizen in Bretagne. Hier kunnen jij en je trouwe viervoeter allebei genieten.
Bretagne is een schiereiland in het westen van Frankrijk. Bretagne ligt  onder Normandië en is een heerlijke vakantiebestemming. Zowel in het voorjaar als in de zomer. De regio loopt nog niet over van de toeristen. 
Bij Bretagne denk je waarschijnlijk allereerst aan de rotsachtige kusten en de leuke vissershavens. Maar Bretagne heeft daarnaast ook een mooi groen binnenland vol valleien, bossen en rivieren. Je kunt bijvoorbeeld prachtige wandelingen met de hond maken in de Montagnes Noires en de heuvels van Arrée.
Met de hond naar Bretagne
In dit blog verzamelden we 4 toffe vakantiehuizen in Bretagne. En je hond is ook welkom. Als je de huizen met elkaar combineert, kun je een geweldige road trip maken van enkele weken. 
Het eerste vakantiehuis dat we kunnen aanraden, is La Maison de Mano gelegen in Plouër-sur-Rance. De oude kustplaats Saint Malo ligt er zo'n 20 kilometer vandaan. Zeker een bezoek waard! Een oude havenstad die al in de 1e eeuw v. Chr. is ontstaan. Helaas is het stadje meerdere keren verwoest (waaronder in de Tweede Wereldoorlog) maar weer in oude staat opgebouwd. De stadsmuur is nog helemaal origineel. Je kunt er overheen lopen. Dat moet je zeker doen want vanaf de stadsmuur heb je de mooiste uitzichten over de zee, Dinard en over eilandjes. 
Op 49 km rijden ligt het wereldberoemde Le Mont Saint Michel. Mont Saint-Michel is  een wereldberoemde toeristische trekpleister. En daarnaast is het ook een belangrijk en eeuwenoud bedevaartsoord en sinds 1979 Unesco-werelderfgoed. 
La Maison de Mano ligt in een rustig dopje. Het vakantiehuis is authentiek met een moderne en sfeervolle inrichting. De woning beschikt over 3 slaapkamers, 2 badkamers en een ruime keuken. Je kunt genieten van een zonnige tuin met ligbedden waar je hond ook lekker kan vertoeven. 
Het is circa 800 km rijden vanaf Utrecht. Je rijdt via Antwerpen, Gent, Le Havre, Caen in 7,5 uur naar Plouër-sur-Rance. 
In Frankrijk moeten honden geïdentificeerd kunnen worden via een elektronische chip of tatoeage. Ze moeten een geldige inenting tegen rabiës hebben en je dient het Europees huisdierenpaspoort bij je te hebben op reis. Honden jonger dan 3 maanden én huisdieren die geen geldige inenting tegen rabiës hebben, mogen Frankrijk niet in. Honden die voor de allereerste keer een rabiësinenting hebben gehad, mogen Frankrijk pas 21 dagen na de inenting in.
Het tweede vakantiehuis met de hond dat we aanraden is Gîtes de Bulz in Pleyber-Christ. De route hiernaartoe vanuit La Maison de Mano is prachtig. En gaat onder andere langs de roze Granietkust in het noordwesten van Bretagne. De route duurt zo'n 3,5 uur. Vlakbij Saint-Malo ligt Cap Fréhel, een kaap bestaande uit leisteen en roze zandsteen. De kliffen zijn zo'n zeventig meter hoog.
De indrukwekkende roze Granietkust strekt zich uit van Louannec tot aan Plestin-les-grèves. Dit gebied is de nummer één bestemming voor wandelaars, maar ook strand en-watersportliefhebbers kunnen hun hart hier ophalen. Op een half uur rijden van Plestin-les-Grèves ligt Gîtes de Bulz. Er zijn 3 vakantiewoningen, met 1, 2 of 3 slaapkamers. Stuk voor stuk heel sfeervol ingericht. De huizen beschikken over een afgesloten tuin waar je hond zich heerlijk kan vermaken. Je wandelt vanuit de Gîtes zo het bos in. Een heerlijke houthaard en een fijn zonneterras maken van deze vakantiewoningen een perfect verblijf. 
De derde accommodatie is de prachtige bed & breakfast Kerloulou in Poullan-sur-Mer. Het is vanuit Gîtes de Bulz in Pleyber-Christ naar Kerloulou ongeveer 2 uur rijden. Onze tip is een bezoek te brengen aan de oude havenstad Brest. 
Je hond zal zich hier zeker vermaken met het hondje van de eigenaren, Loulou! De B&B ligt aan zee, bovenop een klif. Het uitzicht is 'magnifique'! 👌🏻
De B&B beschikt over zowel comfortabele kamers als een appartement. Een jacuzzi in de tuin met uitzicht over de baai maakt het vakantiegevoel compleet!
De vierde vakantiewoning in Bretagne ligt op ongeveer 2 uur rijden van Kerloulou: Maison du Domaine de la Pointe gelegen in Saint-Pierre-Quiberon. Het is een hele ruime vakantiewoning met 4 slaapkamers. Dit vakantiehuis is gelegen op 500 meter van het strand. Een toffe industriële inrichting, luxe badkamers en een sfeervol terras op het zuidwesten maken deze vakantiewoning tot een parel!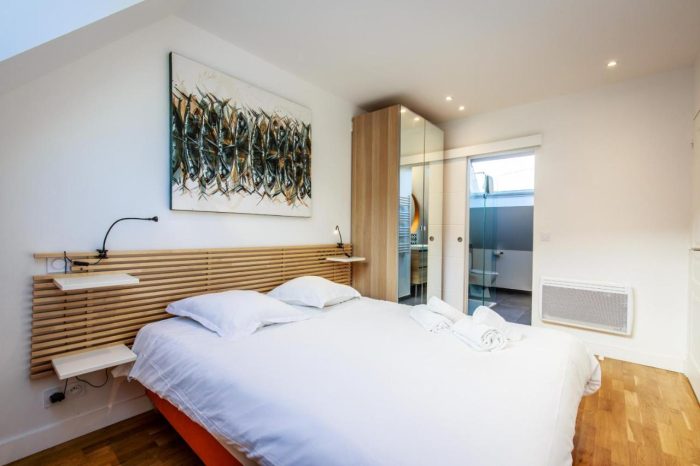 Zoek je een kleinere vakantiewoning tot 4 personen? Dan kunnen we in dezelfde regio Zuid-Bretagne deze vakantiewoning zeker aanraden: Kervran, gelegen in Plouhinec, slecht 20 kilometer van Saint-Pierre-Quiberon. Het vakantiehuisje beschikt over 2 slaapkamers, is modern ingericht en heeft een prachtig aangelegde tuin. De eigenaren, inclusief hond Lutesse, zijn zeer vriendelijk. Het strand ligt op een kwartier wandelen.
Grootste trekpleister van deze regio is de prachtige Golf van Moriban. Ontdek de vele eilandjes en ga bijvoorbeeld lekker kanoën, of stand-up-paddlen met de hond! 
Road trip langs vakantiehuizen in Bretagne
Wil je een road-trip maken door Bretagne? Dan kun je de volgorde van bovenstaande vakantiehuizen in Bretagne aanhouden. Op die manier zie je een heel veelzijdig Bretagne en de hond is in al deze huizen dus zeer welkom. Je kunt natuurlijk ook op 1 of 2 plekken verblijven. De keuze is helemaal aan jou! Vanuit Bretagne is het terug naar Nederland nog zo'n 8 uren rijden. Daarom raden wij een tussenstop in Noord-Frankrijk of Normandië aan. 
Disclaimer: De foto's in dit blog van toffeplekken.nl zijn eigendom van Booking.com. In onze blogs worden affiliate links gebruikt. Het aanklikken van deze links brengt je direct naar de desbetreffende site. En kost jou als bezoeker niets.