Op zoek naar een huis aan zee met de hond voor je volgende vakantie aan zee? Ben je al avonden aan het zoeken maar heb je nog niet een huis aan zee gevonden waar je viervoeter ook welkom is? Wij verzamelden de leukste vakantiehuisjes aan zee met hond voor je!
Verspreid van Ameland, Noord-Holland tot Zeeland vind je in dit blog toffe vakantiehuizen waar je viervoeter ook welkom is. Welk huis aan zee met hond ga jij huren voor jouw volgende vakantie?
Met de hond naar de Waddeneilanden
Op een prachtige plek in de duinen ligt dit vrijstaande karakteristieke Amelandse natuurhuisje in Buren. Vanaf het huis loop je in een paar minuten naar het strand en de zee. 
Het huis heeft 3 slaapkamers en is geschikt voor 6 personen. Het natuurhuisje heeft een grote veranda en een separaat privé gelegen zonne-terras. 
De volgende vakantiewoning ligt in Hollum. Herenweg Apartments ligt in de buurt van het strand Tjettepad, het strand De Klonjes en het strand Badweg. 
Herenweg Apartments is gelegen in het oude centrum van het pittoreske dorpje Hollum.
De appartementen zijn gevestigd in een monumentaal pand. Er is een appartement voor 4-6 personen (Drie Balken) en een kleiner appartement voor 2 personen (Snoepje). Er is een gemeenschappelijke tuin, deze deel je dus met de gasten van het andere appartement. Een heerlijk plek voor een vakantie aan zee.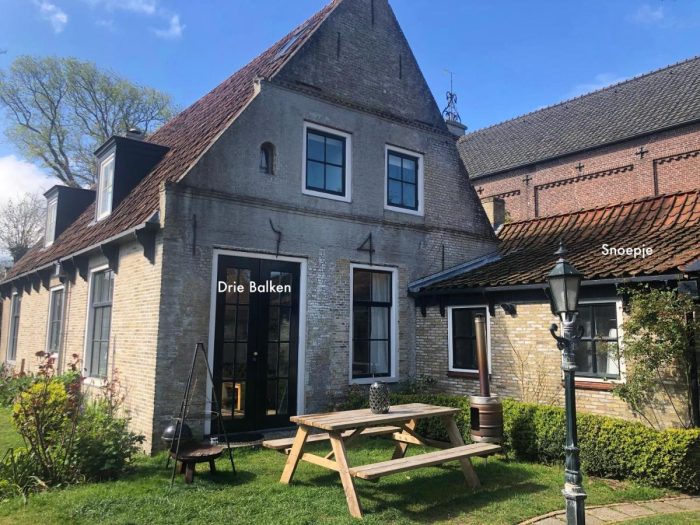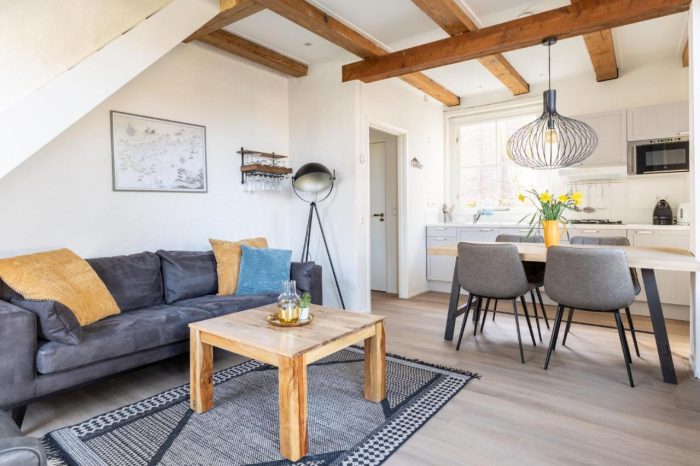 Op Terschelling kunnen we ook fijne vakantieadressen aanraden. Ga je op vakantie met een grotere groep, met vrienden of twee gezinnen? Dan is vakantiehuis Piet van Kunne perfect. Een nieuw, ruim en comfortabel huis voor 8 personen. Dit vakantiehuis ligt midden op het eiland, in het plaatsje Lies. De zee is nooit ver weg op Terschelling. Ook hier sta je binnen 10 minuten fietsen op het strand van Formerum. Het huis beschikt over een ruime leefkeuken en woonkamer. Er zijn 4 ruime slaapkamers, allemaal met een eigen badkamer met stortdouche. Dit vakantiehuis beschikt over een omheinde tuin. De hond kan dus fijn loslopen.
In Midsland ligt de volgende toffe plek: Natuurhuisje in Midsland. Het is een appartement voor 2 personen en een kleine hond is toegestaan. Een knus, stijlvol en comfortabel appartement aan de rand van het dorp. De ligging is rustig met een vrij uitzicht over de weilanden en de waddenwijk.
De woonkamer beschikt over een houtkachel en er is een luxe open keuken. Tuinstoelen en een lekkere bank zijn er om van de zon en het uitzicht te genieten. 
Ook in Midsland ligt het kleinschalige vakantiepark Landal Schuttersbos. Landal Schuttersbos beschikt over 40 comfortabele rietgedekte cottages. Een heerlijk vakantiepark om met de hond te verblijven. 
De locatie van het park is perfect. Het park ligt aan de rand van het duin -en bos gebied, centraal op het eiland, op korte fietsafstand van het gezellige dorp Midsland. Wandelen met de hond kan direct vanuit het park, je staat direct in de bossen en de duinen. 
In de 4-6 persoonscottages zijn honden toegestaan. De cottages  beschikken over een tuin en terras. 
Op de duinen aan het Noordzeestrand van Terschelling, op loopafstand van het strand van West aan Zee, ligt Paal 8 Hotel aan Zee. Paal 8 ligt direct aan zee. Je trouwe viervoeter is hier toegestaan! 
Een heerlijk luxe hotel om helemaal tot rust te komen en te genieten van de prachtige natuur. Je loopt in paar minuten met je viervoeter op het prachtige zandstrand van West aan Zee, maar je kunt ook heerlijk wandelen in de duinen of ontspannen in het zwembad en de sauna van het hotel. In het hotel kun je heerlijk eten. Wil je last-minute een weekendje weg boek dan dit hotel. 
Op Vlieland kunnen we Landal Vlieduyn aanraden. Met slechts 36 vakantieappartementen is Landal Vlieduyn een knusse en gezellige accommodatie. Vlieduyn ligt op loopafstand van het charmante dorpje Oost-Vlieland en 200 meter van de zee! 
De appartementen zijn modern ingericht en geschikt voor 2 personen. De luxe appartementen beschikken ook over een sauna. 

Bekijk ook onze andere tips voor vakantiehuizen met de hond op de Waddeneilanden. 
Huis aan zee met hond in Noord-Holland
In het mooie natuurgebied van de Schoorlse Duinen ligt het nieuwe vakantiepark Landal Berger Duinen. Het park wordt omgeven door bossen, heide, duinen en strand. Een paradijs voor natuurliefhebbers! Landal Berger Duinen ligt op 7 kilometer afstand van het strand van Bergen aan zee. Vanuit je accommodatie wandel je met de hond zo de Schoorlse duinen in, waar je prachtige wandelingen kunt maken. 
Leuke dorpjes zoals het kunstenaarsdorp Bergen en Schoorl liggen op korte fietsafstand. Of breng een bezoekje aan de stad Alkmaar, gelegen op 10 km afstand van het park. 
De vrijstaande villa's op het park zijn geschikt voor 4, 6 of 8 personen. Er zijn comfort villa's en luxe villa's waarbij je ook gebruik kunt maken van je eigen sauna! Ook zijn er speciale wellness villa's met een hottub, buitensauna en buitendouche. De villa's zijn comfortabel en stijlvol ingericht. Echt een fijn vakantiepark om met de hond naartoe te gaan.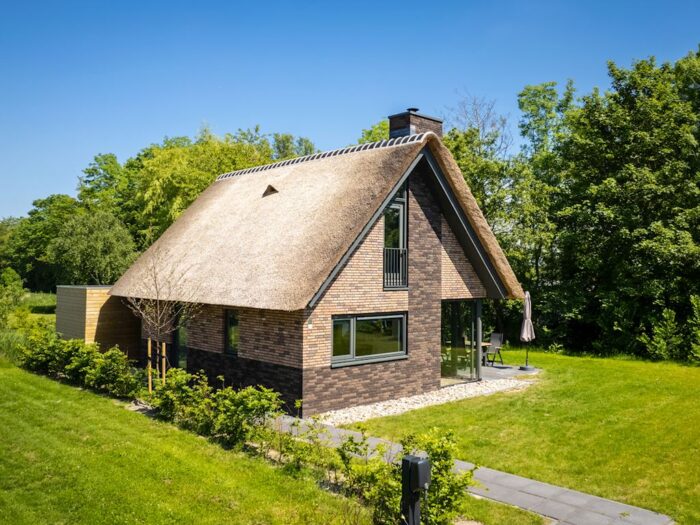 Huis aan zee met hond in Zuid-Holland
Op loopafstand van de kustlijn van Goeree-Overflakkee ligt Landal Strand Resort Ouddorp Duin. Het eiland Goeree-Overflakkee ligt in Zuid-Holland, en wordt vaak gezien als het noordelijkste van de 'Zeeuwse' eilanden. Ouddorp is een gezellige badplaats met vele terrasjes en winkeltjes. 
Op Landal Strand Resort Ouddorp Duin zijn volop activiteiten voor jong en oud. Op loopafstand bevindt zich een breed zandstrand en natuurlijk de Noordzee. Op het park is een overdekt zwembad, een minigofbaan, een pump track, een surfschool en er is een indoor speeltuin en speelduin. Ook is er een restaurant en strandtheater aanwezig. In de omgeving kun je prachtig fietsen en wandelen met je viervoeter! 
Er zijn diverse comfort en luxe accommodaties beschikbaar op het park. Zo zijn er 4-persoons geschakelde woningen en vrijstaande 6, 8, 10, 12 en 24-persoons woningen. Niet in alle woningen zijn honden toegestaan, dus kijk even goed dat je wel een huisdier selecteert bij het boeken. 
De accommodaties zijn comfortabel ingericht en beschikken over een fijn terras en schuifdeuren vanuit de woonkamer naar het terras. 
Huis aan zee met de hond in Zeeland
In Zeeland vonden we een paar hele toffe vakantiehuizen om met de hond te genieten. Vakantiewoning Duinenburg ligt in Domburg. Een mooie badplaats met schone, brede stranden en gezellige strandpaviljoens. Het vakantiehuis ligt een paar minuten lopen van het strand. Duinenburg is leuk ingericht en van alle gemakken voorzien. De woning ligt in een rustig gedeelte van Domburg. Een ideale plek met de hond.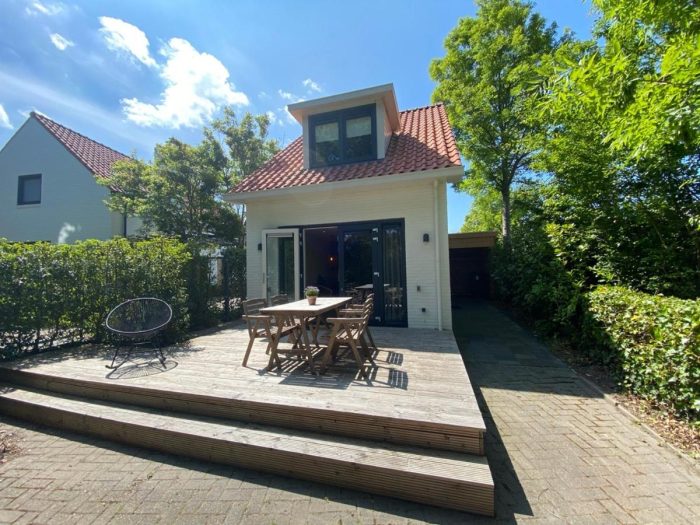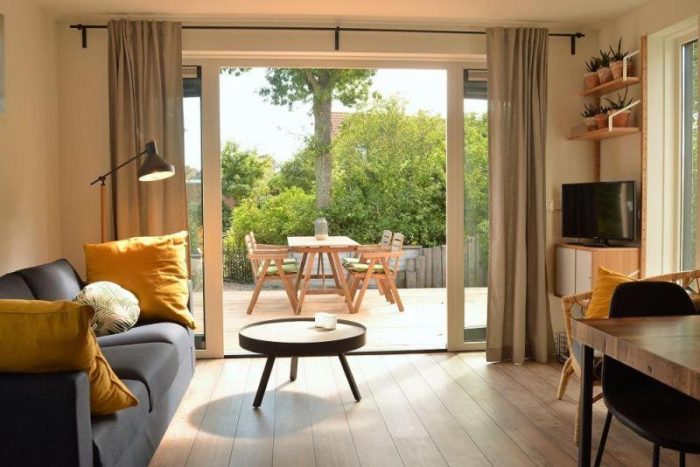 Ook gelegen in Zeeland: 't Veldehof in Domburg. Dit is van oudsher een boerderij omgebouwd in 4 vakantiewoningen met een omheinde tuin. Het vakantiehuis ligt op nog geen 150 meter van het Noordzeestrand "Noordduine". Iedere vakantiewoning heeft een eigen omheinde tuin met een tuinset, loungeset en een mogelijkheid om te barbecueën in uw eigen buiten keuken op een echte Black Basterd. Zo kan optimaal genoten worden van het buitenleven. 
Op het eiland Noord-Beveland ligt deze luxe eco-cabin in Kats. Gelegen op het terrein van de Zeeuwse Oase. Dit is een creatieve buitenplaats met een restaurant en een rozenkwekerij. Op het terrein bevinden zich 6 luxe eco-cabins. Kleine vakantiehuizen voor 2 personen waar de hond meer dan welkom is. 
De Zeeuwse Oase ligt net buiten Kats op Noord-Beveland, tussen Goes en Zierikzee. Je vindt diverse stranden in de directe omgeving. Ideaal om te wandelen met je viervoeter. De eco-cabins zijn allemaal uniek ingericht.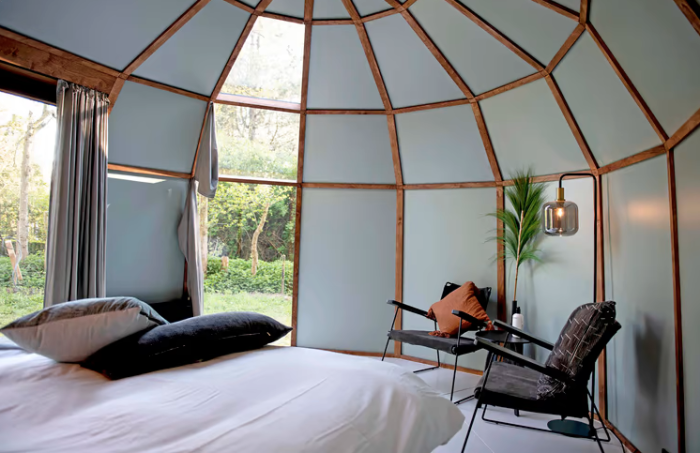 Nog een tof vakantiehuis in Zeeland om met de hond naar toe gaan is onderstaande vakantiewoning in Noordwelle, vlakbij Renesse. Dit vakantiehuis of loft is gevestigd in een monumentale boerderij. De inrichting is dan ook heel gaaf. Het vakantiehuis is geschikt voor 4 personen. 
Het vakantiehuis ligt op Schouwen-Duiveland. Het Noordzeestrand van Renesse met zijn brede strand ligt slechts op 10 minuten rijden. De vakantiewoning is heerlijk rustig en landelijk geleden.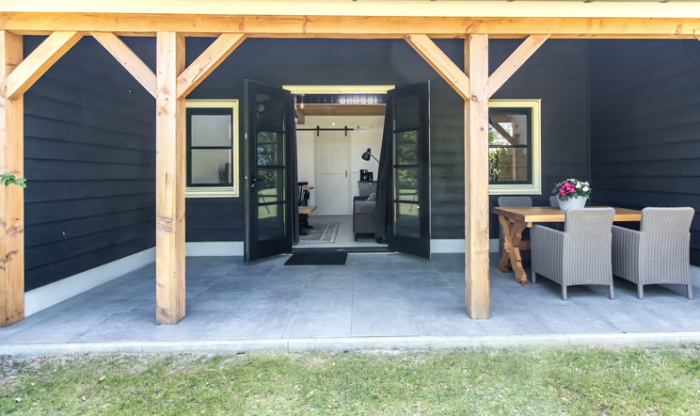 Nog niet gevonden wat je zocht? Bekijk dan onze andere tips voor een tof vakantiehuis Zeeland met hond. 
Ben je op zoek naar een vakantiehuisje waar je trouwe viervoeter ook is toegestaan op de Waddeneilanden? Wij hebben ook een specifiek blog met tips voor je vakantie Waddeneilanden met hond. Of bekijk onze tips voor een huisje Texel met hond.
Disclaimer: De foto's in dit blog van toffeplekken.nl zijn eigendom van Natuurhuisje.nl en Booking.com. In onze blogs worden affiliate links gebruikt. Het aanklikken van deze links brengt je direct naar de desbetreffende site. En kost jou als bezoeker niets.