Wil je met de hond op vakantie naar Normandië? Wij verzamelden in dit blog de tofste vakantiehuizen in Normandië met de hond.
Normandië staat bekend om de landingsstranden uit de oorlog. De regio kent ook vele oude stadjes, mooie krijtrotsen en mooie landschappen. Normandië ligt ten noorden van Bretagne en ten zuiden van Picardië. En bestaat uit twee delen: Haute-Normandie en Basse-Normandie.
10x tof vakantiehuis in Normandië met de hond
We geven je 10 tips voor toffe vakantieplekken in deze regio, we beginnen met de accommodatie die het dichtst bij Nederland ligt. Normandië bestaat uit 2 delen, namelijk Haute-Normandie (Hoog-Normandië) en Basse-Normandie (Laag-Normandië).
Haute-Normandie
De eerste vakantiewoning is Les Gîtes du Cap Cod. Deze accommodatie ligt op 4 minuten lopen van het strand. Les Gîtes du Cap Cod ligt in Varengeville-sur-Mer, op 2,6 km van het strand van Dieppe. Het is ongeveer 5,5 uur rijden naar deze locatie vanuit Utrecht.
Het uitzicht vanuit de Gîtes over de baai en kliffen is prachtig. Je wandelt zo naar het rustige strand. Verder beschikt de accommodatie over een mooie houthaard, heerlijk voor de koude herfstdagen.
Het tweede vakantiehuis ook gelegen op 12 kilometer van Dieppe in het plaatsje Ouville-la-Rivière is Villa Argonne. Villa Argonne is een groot herenhuis met bijgebouwen verdeeld in verschillende vakantiehuisjes met 1 of 2 slaapkamers.
De Villa biedt een ontspanningsruimte met een bubbelbad, een sauna, een hot tub en een zonneterras. Elk huisje is voorzien van een goed uitgeruste keuken, een flatscreen-tv, een eethoek en een terras. De eigen badkamer biedt een luxe inloopdouche. Villa Argonne wordt omgeven door een ruime tuin welke volledig omheind is voor de hond die de eigenaren zelf hebben en voor eventuele hondenvrienden die komen logeren! Goed geregeld dus. Je kunt ook gratis fietsen lenen, ook met een hondenfietskar.
Het derde vakantieadres is Les Gîtes – Manoir des Falaises in Saint-Jouin-Bruneval. Het landgoed beschikt over diverse accommodaties. Zo bestaat het hoofdgebouw uit appartementen en studio's. De studio's zijn nog nieuw, met een moderne, sfeervolle inrichting en modern sanitair. De studio's hebben een terras, BBQ faciliteiten en uitzicht over de mooie tuin.
Daarnaast beschikt Les Gîtes – Manoir des Falaises ook over cottages met 2 slaapkamers. Deze zijn geschikt voor 4 personen. Ook hier een terrasje en kleine tuin. De huisjes zijn van alle gemakken voorzien, tevens beschikt het over een BBQ in de tuin. Voor de kinderen is er een tafelvoetbaltafel en taffeltennis. Er is ook een jacuzzi in de tuin waar je gebruik van kunt maken!
Het vakantieadres ligt op slechts 5 minuten rijden van het strand van Saint-Jouin-Bruneval. Op 20 minuten rijden liggen de krijtrotsen van Étretat. Een van de mooiste plaatsen aan de kust van Frankrijk.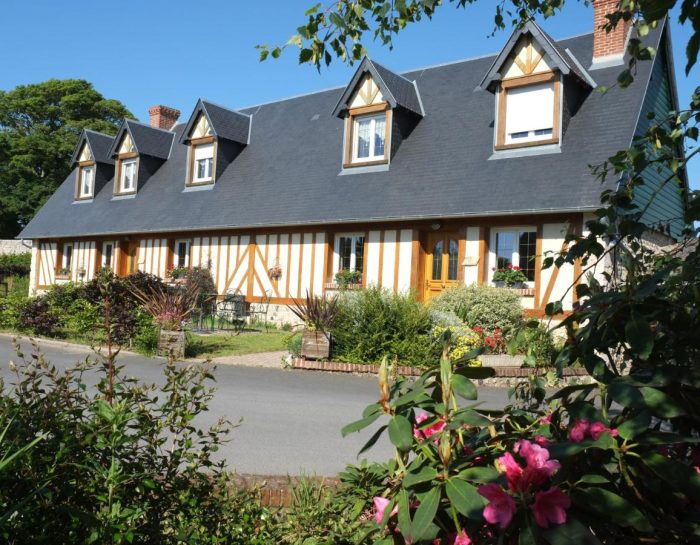 Het volgende prachtige vakantiehuisje is Gîte YZEN in Conteville, slechts 13 km van Honfleur! Deze gîte ligt in een heerlijke, rustige omgeving. Er is een kleine tuin en het huisje is comfortabel en gezellig ingericht. De gîte beschikt over 2 slaapkamers.
Gîte YZEN ligt op een fijne locatie, de stranden van Honfleur, Trouville-sur-Mer en Blonville-sur-Mer liggen allemaal in de directe omgeving.
Is het geen schattige gîte?!
La Régissière ligt in Vatteville-la-Rue in de regio Haute-Normandie. Het vakantiehuis ligt prachtig met rondom een grote tuin, grasveld en een zwembad.
Het vakantiehuis beschikt over 2 slaapkamers en een volledig uitgeruste keuken. Je kunt in de omgeving heerlijk wandelen of fietsen, of ontspannen in de tuin en gebruikmaken van de barbecue faciliteiten. Honfleur ligt op circa 50 kilometer van het vakantiehuis. De krijtrotsen van Étretat ligt op een uurtje rijden van het vakantieadres.
Basse-Normandie
De volgende gîte is Gîtes des Rigoles ligt in Le Faulq in de regio Basse-Normandie. Het beschikt over een omheinde tuin. De accommodatie ligt op 27 km van Trouville-sur-Mer.
De gîte beschikt over 1 slaapkamer en dus geschikt voor 2 personen. Het heeft ook een privé sauna. Het huisje is onlangs gerenoveerd. De inrichting is heel sfeervol en comfortabel.
Gîtes des Rigoles is gelegen op een rustige locatie maar nog steeds op korte rijafstand van de kust.
Les maisons de Charlotte ligt in het plaatsje Glanville. Dit huis beschikt over een tuin, barbecuefaciliteiten en een terras. Deze accommodatie met airconditioning ligt op 13 kilometer van Trouville-sur-Mer en op 23 km van Honfleur. Trouville-sur-Mer heeft een breed strand en authentieke boulevard. Hier is een nog een actieve vissershaven en een levendige oude vismarkt. Bezoek zéker ook Honfleur, een pittoresk en gezellig havenstadje. Het stadje wordt gekenmerkt door smalle steegjes en oude vakwerkhuizen. Honfleur vormde de inspiratie voor impressionistische kunstschilders en telt vele musea en kunstgalerijen. Tijdens je vakantie in Normandië mag je dit historische havenstadje niet overslaan.
Les Maisons de Charlotte is een authentiek huis, sfeervol ingericht met een eigen omheind terras. Het huis heeft 2 slaapkamers en is heel rustig gelegen. Op circa 30 minuten rijden van de kust.
La Forge, gîte familial, à Sainte Mère Eglise ligt in Sainte-Mère-Église. Het is een mooi ingerichte gîte met alles erop en eraan. Het heeft een fijn terras met comfortabele meubels. De gîte is gelegen op een rustige locatie tussen de velden. Het is een oase van rust. Op 2 kilometer afstand ligt Sainte-Mère-Église, met restaurantjes, winkels en het Airborne museum.
Het bekende landingsstrand van Utah beach ligt op 16 kilometer afstand. Honden mogen hier los, maar er zijn ook vaak paarden op het strand dan is aanlijnen wellicht handiger.
Villa Jules Grand Gîte ligt in Agon Coutainville op circa 150 meter van de zee. Het is een tof vakantiehuis Normandië met hond. Je kunt bij het vakantiehuis gratis fietsen huren. Groot pluspunt is het verwarmde buitenzwembad en de fijne tuin.
Het vakantiehuis beschikt over 3 slaapkamers, een woonkamer en natuurlijk ook een volledig uitgeruste keuken. Er is ook een barbecue beschikbaar, dus bij mooi weer kun je nog eens extra genieten van de tuin.
Het vakantiehuis is modern en fris ingericht. Er is een gezellige woonkamer en de slaapkamers zijn heel comfortabel.
Eveneens in Basse-Normandie ligt La Petitière in Mantilly. Dit is een kleinschalige hondvriendelijke camping.
De camping is opgezet door Loes en Remco in 2018. De camping beschikt over een aantal vintage Chateau caravans, een prachtige gîte en een aantal ruime kampeerplekken. Voor de kampeerplekken geldt: max twee volwassenen en twee honden per plek. Alle plekken zijn omheind en hondjes mogen er loslopen. Ook kunnen ze lekker vrijuit met elkaar spelen op een omheind speelveld. Dat wordt genieten voor je viervoeter!
Op de camping is een gezellig terras met buitenbar, er is een petanque baan en een heerlijk zwembad!
In de omgeving zijn volop bezienswaardigheden en activiteiten. Le Mont-Saint-Michel ligt op een uur rijden. Verder zijn er in de omgeving prachtige dorpjes, kastelen en volop wandelmogelijkheden. De eigenaren hebben volop tips voor je. Kortom, wij kunnen niet wachten om hier snel eens te verblijven!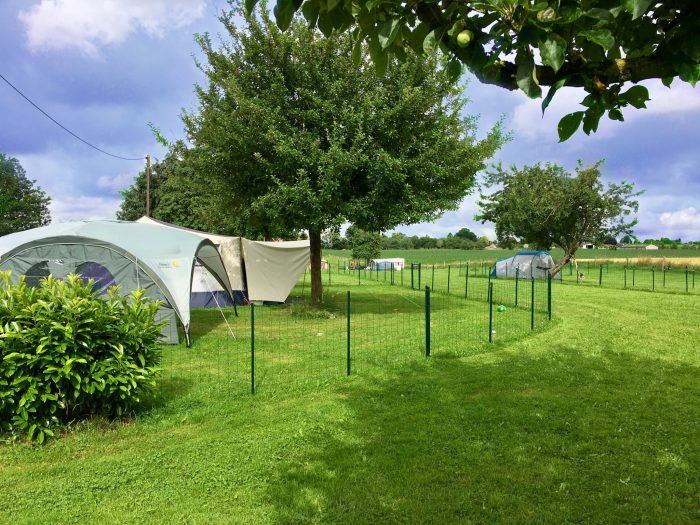 Invasiestranden bezoeken met de hond
De 5 landingsstranden van D-Day zijn een must om te bezoeken tijdens je vakantie in Normandië. Lees ook deze tips voor het bezoeken van de invasiestranden met een (aangelijnde) hond.
Op zoek naar andere vakantiehuizen met de hond in Frankrijk? Bekijk dan ook eens onze tips voor de leukste adresjes in Bretagne, de Ardèche of de Dordogne.
Disclaimer: De foto's in dit blog van toffeplekken.nl zijn eigendom van Booking.com. In onze blogs worden affiliate links gebruikt. Het aanklikken van deze links brengt je direct naar de desbetreffende site. En kost jou als bezoeker niets.