Ben je op zoek naar het mooiste natuurhuisje in de Ardennen met de hond? Wij hebben 7 extra tips voor toffe plekken in de Ardennen toegevoegd! In dit blog vind je nu een top 10! 
De Belgische Ardennen is altijd een fijne vakantiebestemming. Het is maar een klein stukje rijden vanuit Nederland en voor natuurliefhebbers zijn de Ardennen de ideale bestemming voor een weekendje weg. We geven je tips voor 10  toffe plekken om heerlijk te vertoeven met je viervoeter! 
1. Het eerste natuurhuisje in de Ardennen dat we je van harte aanbevelen, is de Forest Cube. Dit is een ecologische vakantiewoning gericht op de natuur. De cube geeft het gevoel van een moderne boomhut en is voorzien van alle comfort. De woonkamer heeft grote ramen die op de natuur gericht zijn.  Geen inkijk van voorbijgangers dus!
De sfeer en de ligging van de woning zijn ideaal voor natuurliefhebbers. Midden in het natuurgebied van Viroin-Hermeton biedt het park ontelbare mogelijkheden voor wandelingen met de hond! Check de foto's, dit natuurhuisje wil je toch niet missen..?
2. Het tweede natuurhuisje in Grandmenil ligt op een domein, verscholen in het 400 hectare bos. Het huisje is heel rustig gelegen naast het grote hoofdhuis waar de eigenaren wonen. Het beschikt over 2 slaapkamers, een fijne open haard, een ruime leefkeuken en een heerlijke tuin met comfortabel terras. 
Je vindt een hoop rust, ruimte en luxe in dit gerenoveerde authentieke huis voor vier personen. En natuurlijk is je hond ook welkom. Met recht een toffe plek dus.
Dit natuurhuisje ligt in het hart van de Ardennen tussen La Roche en het kleinste stadje ter wereld, Durbuy.
3. Het derde natuurhuisje in de Ardennen dat we kunnen aanraden is eigenlijk een tiny house en onderdeel van een bed & breakfast. Je hond heeft het er vast ook heerlijk. Deze toffe plek is gelegen op 25 kilometer van La-Roche-en-Ardenne, midden in de Ardennen. Het natuurhuisje heet Le Cerf d'Hubert. Je wandelt vanuit dit natuurhuisje direct de natuur in. 
Het tiny house is heel sfeervol en romantisch ingericht en geschikt voor maximaal 3 personen. Verder beschikt het natuurhuisje over een luxe douche, een open haard en een heerlijk ontbijt. Bij het natuurhuisje hoort een omheinde tuin, je hond kan hier dus heerlijk rondlopen zonder dat je hem in de gaten hoeft te houden!
4. Het vierde vakantiehuisje in de Ardennen ligt in de plaats Oignies-En-Thiérache, net als de Forest Cubes ook gelegen midden in het natuurpark Viroin-Hermeton.  Een parel voor de echte natuurliefhebber! Ben je een verwoed wandelaar? Hier kom je aan je trekken met kilometerslange wandelroutes midden in de bossen. Wil je wat meer avontuur? In de directe omgeving kun je openluchtklimmen, carten en kayakken. 
Het natuurhuisje Oignies-En-Thiérache is een ruime, gezellige chalet voor vier personen, met een afgesloten terras voor de  viervoeter. Het chalet is voorzien van alle comfort. Een goed ingerichte keuken, gezellige woonkamer met houtkachel, een ruim terras en in de gezellige achtertuin een houtgestookte barrelsauna. Het chalet beschikt over 2 slaapkamers en is geschikt voor 4 personen.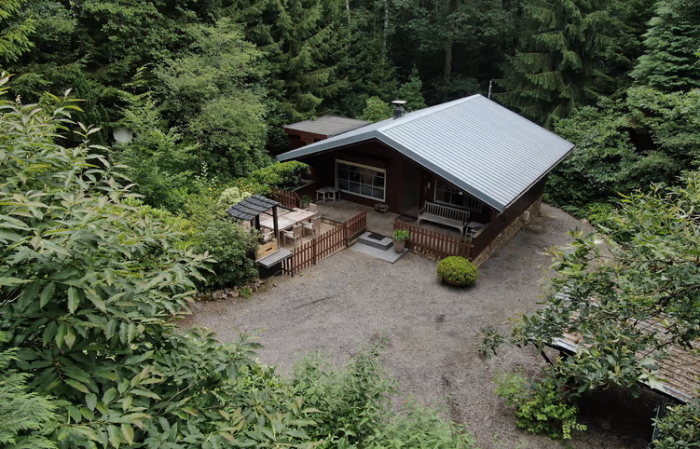 5. Het vijfde vakantiehuisje is gelegen in Rendeux. Vakantiehuis Rendeux is luxe ingericht en ligt op een landgoed nabij het kasteel van Rendeux. Een unieke plaats om te onthaasten. De woning is nog nieuw en is volledig gelijkvloers. Er is een ruime living met een ruime open keuken. Via de  grote raampartij kijk je uit op de omheinde tuin en terras. De luxe keuken is van alle gemakken voorzien en beschikt over een kookeiland. 
Het vakantiehuis beschikt over 3 slaapkamers en is geschikt voor maximaal 6 personen. 
Vakantiehuis Rendeux ligt op 500 meter van de rivier de L'Ourthe. Ook de bossen liggen direct bij het vakantiehuis. Je kunt hier heerlijk genieten van de rust en de schoonheid van de Belgische Ardennen. La Roche en Ardennes ligt op 10 kilometer van het vakantiehuis. 
6. Het zesde vakantiehuis in de Ardennen op ons lijstje is vakantiehuis Poupehan. Ook dit vakantiehuis heeft een omheind terras, dus ideaal als je met de hond gaat. Let wel even op bij kleine hondjes, dan is deze omheining namelijk niet voldoende. Grotere honden kunnen er niet doorheen. 
Het huis beschikt over 3 slaapkamers en is geschikt voor max. 4 volwassenen en 2 kinderen. 
Dit vakantiehuis is heel charmant gelegen aan de rand van een bos aan een doodlopende weg in een prachtig stukje van de Ardennen. Kom je voor rust en natuur? Dan is dit echt geschikt voor jou. Vanuit het vakantiehuis kun je direct starten met een leuke wandelroutes, het is een groot wandelgebied. Na de wandeling kun je bij het vakantiehuis heerlijk ontspannen in de sauna of de hottub. Wat een luxe!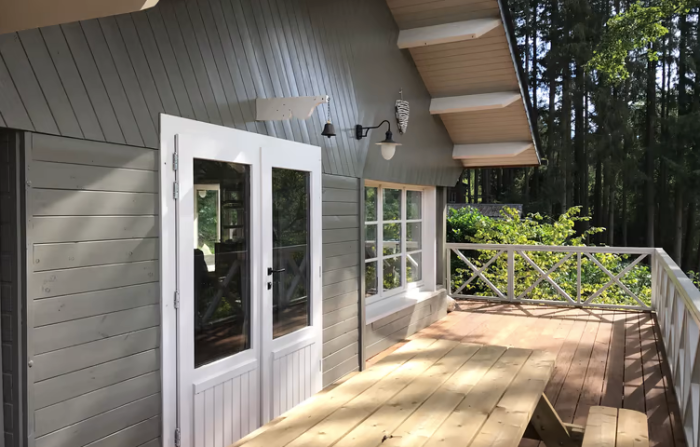 7. Het volgende vakantiehuis ligt in Heyd. Het vakantiehuis is gehuisvest in een oud gebouw, gelegen aan de oevers van de Aisne (Durbuy). Het huis is onlangs gerestaureerd met pure materialen en is nu een modern, duurzaam en comfortabel verblijf. Het huis voorziet in haar eigen energie door middel van zonnepanelen en heeft een ecologische waterzuiveringsinstallatie. Het vakantiehuis heeft een romantische, knusse en authentieke sfeer. Het vakantiehuis heeft 3 slaapkamers en is geschikt voor max. 6 personen. 
Groot pluspunt van vakantiehuis Heyd is een grote omheinde tuin (ideaal voor de hond) aan de oever van de rivier met een zwemvijver en sauna! 
Durbuy ligt binnen 10 minuten rijafstand van het huis. La Roche en Ardennes ligt op ongeveer 30 kilometer afstand. Er zijn tal van prachtige, typische en authentieke dorpjes in de directe omgeving. De natuurliefhebber komt in deze landelijke omgeving ruim aan zijn trekken. 
8. Het volgende vakantiehuis is gelegen in Libramont: Le refuge Ardennais.
Het vakantiehuis is zeer smaakvol ingericht en met 3 slaapkamers ideaal voor 6 personen. De woonkamer beschikt over een gezellige houtkachel. Daarnaast is er een mooie tuin mét heerlijke jaccuzi. 
Durbuy ligt op 45 km van Le refuge Ardennais. Dinant bevindt zich op 50 km afstand. Het vakantiehuis ligt aan het einde van het dorp, het is een geweldige locatie om te wandelen en te genieten van de natuur. 
9. Het volgende vakantiehuisje: Natuurhuisje Durbuy ligt in Bende, circa 15 kilometer van Durbuy. 
Het vakantiehuis ligt in een mooie, bosrijke omgeving. De perfecte uitvalsbasis voor talrijke activiteiten. In de lente en zomer kun je in het dal van de Néblon en het dal van de Ourthe wandelen, paardrijden, fietsen, kajakken en motorrijden. In de herfst en winter kun je wandelingen maken in het bos, paddenstoelen plukken, kerstmarkten bezoeken of genieten van de heerlijke Belgische bieren en streekgerechten.
Het vakantiehuis is gezellig ingericht en beschikt over een goed uitgeruste keuken. Je hebt een eigen omheinde tuin met terras waar je in de zomer lekker kan barbecueën. Voor de kinderen is er ook een schommel aanwezig. De achtertuin waar het terras zich bevindt is omheind, dus je hond kan daar heerlijk vrij rondlopen. 
Het huis beschikt over 2 slaapkamers en is geschikt voor max. 4 personen, ideaal voor een gezinsvakantie. 

10. Het laatste vakantiehuis in onze top 10 is een duurzame tiny house in Gesves aan de rand van de Ardennen. 
Door de grote ramen in het tiny house ervaar je het echte binnen-buiten gevoel op het platteland. Het huisje is uitgerust met airco, keuken, badkamer en een dubbel bed voor twee personen. 's Ochtends word je wakker met zicht op schapen en de alpacas Harry & Barry. Je hebt je eigen weide waar je in de avond kan genieten van een zelfgemaakt kampvuur. 
Dit natuurhuisje is gelegen in een landelijke aan de rand van de Ardennen. Authentieke Waalse dorpjes zoals Thon & Mozet, beide verkozen tot één van de mooiste dorpjes van Wallonië, bevinden zich in de directe omgeving. De gezellige stad Namen ligt op een half uur rijafstand. Er zijn vele mooie wandel- en fietsroutes in de regio.
Weet jij al welk natuurhuisje in de Ardennen je gaat boeken? Of heb je nog vragen over één van de tips die we gegeven hebben? Laat het ons weten! Wil je dichter bij huis op vakantie? Bekijk dan ook eens onze tips voor toffe natuurhuisjes met de hond in Nederland.
Disclaimer: De foto's in dit blog van toffeplekken.nl zijn eigendom van Booking.com en Natuurhuisje.nl. In onze blogs worden affiliate links gebruikt. Het aanklikken van deze links brengt je direct naar de desbetreffende site. En kost jou als bezoeker niets. 
Het is bijna 300 kilometer rijden van Utrecht naar het hart van de Ardennen: La-Roche-en-Ardennes. Je bent dus zo'n 3 uur onderweg. 
In België is zoals in alle EU landen inenting tegen Rabiës (hondsdolheid) verplicht. Dit moet minstens 21 dagen voor vertrek. Verder is een chip en een EU dierenpaspoort verplicht.