Natuurlijk neem jij je hond graag mee naar de mooie Waddeneilanden. Want de Waddeneilanden 'met name de stranden' zijn geweldig voor hond en baas! 
In dit blog vind je de tofste plekken op de Waddeneilanden met de hond. 
Vakantie Ameland met de hond
Op een prachtige plek in de duinen ligt dit vrijstaande karakteristieke Amelandse natuurhuisje in Buren. Vanaf het huis loop je in een paar minuten naar het strand en de zee. Het is ongeveer een kwartier lopen naar het mooie strandpaviljoen Sjoerd! Honden zijn hier welkom en de keuken is goed! De dorpjes Nes en Buren liggen op korte fietsafstand van het vakantiehuis.
Het huis heeft 3 slaapkamers en is geschikt voor 6 personen. Het natuurhuisje heeft een grote veranda en een separaat privé gelegen zonne-terras. Het huis ligt prachtig in de laatst bebouwde rij in de duinen.
Het volgende vakantieadres ligt in Hollum. Herenweg Apartments ligt in de buurt van het strand Tjettepad, het strand De Klonjes en het strand Badweg. 
Herenweg Apartments is gelegen in het oude centrum van het pittoreske dorpje Hollum, aan de westkant van Ameland en op loopafstand van strand, winkels en gezellige restaurants. 
De appartementen zijn gevestigd in een monumentaal pand. Er is een appartement voor 4-6 personen (Drie Balken) en een kleiner appartement voor 2 personen (Snoepje). Het grotere appartement is extra geschikt voor gezinnen. Op de zolder bevindt zich een ware piratenkamer. Er is een gemeenschappelijke tuin, deze deel je dus met de gasten van het andere appartement. Er is ook de mogelijkheid om te BBQ'en.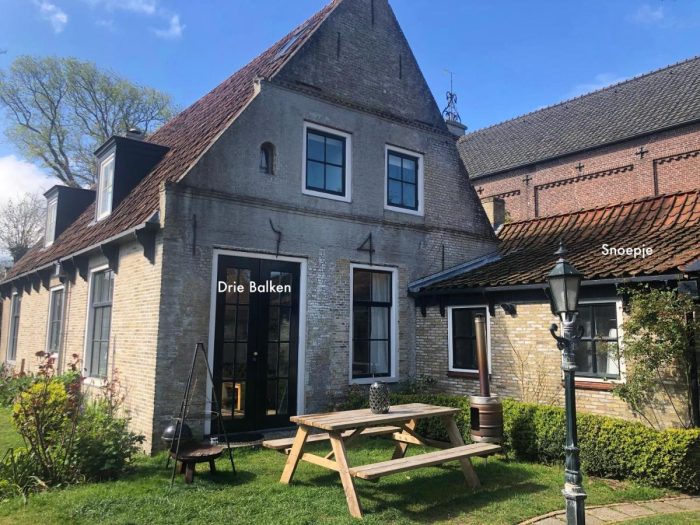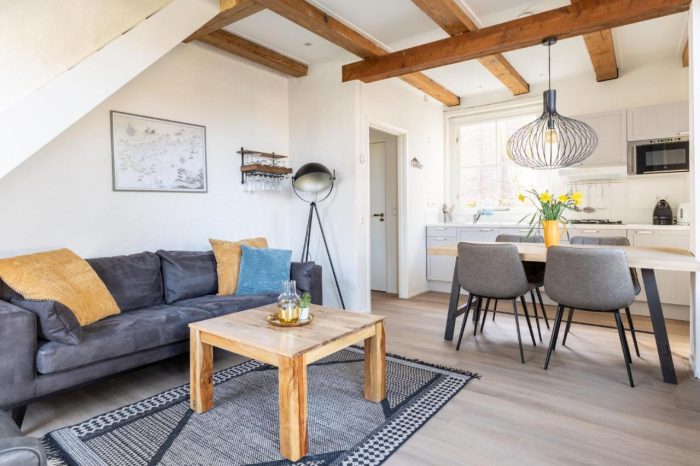 Waddeneilanden met de hond: Terschelling 
Ga je op vakantie met een grotere groep, met vrienden of twee gezinnen? Dan is vakantiehuis Piet van Kunne perfect.
Een nieuw, ruim en comfortabel huis voor 8 personen. Het huis is gelegen in het plaatsje Lies. De zee is nooit ver weg op Terschelling. Ook hier sta je binnen 10 minuten fietsen op het strand van Formerum. Het huis beschikt over een ruime leefkeuken en woonkamer. Er zijn 4 ruime slaapkamers, allemaal met een eigen badkamer met stortdouche. De tuin is omheind. Onze hond Billy had een geweldige vakantie op Terschelling en in dit vakantiehuis!
In Midsland ligt de volgende toffe plek: Natuurhuisje in Midsland. Het is een appartement voor 2 personen en een kleine hond is toegestaan. Het appartement is een gedeelte van een woonboerderij, je hebt je eigen opgang. 
Het is een knus, stijlvol en comfortabel appartement aan de rand van het dorp. De ligging is rustig met een vrij uitzicht over de weilanden en de waddenwijk.
De woonkamer beschikt over een houtkachel en er is een luxe open keuken met een afwasmachine en een heetwaterkraan. De badkamer heeft een fijne stortdouche. De keuken heeft openslaande deuren naar de tuin en het terras. Tuinstoelen en een lekkere bank zijn er om van de zon en het uitzicht te genieten. Vanuit het natuurhuisje wandel je zo tussen de weilanden richting de waddendijk. 
Op de duinen aan het Noordzeestrand van Terschelling, op loopafstand van het strand van West aan Zee, ligt Paal 8 Hotel aan Zee.
Een heerlijk luxe hotel om helemaal tot rust te komen en te genieten van de prachtige natuur. Je loopt in paar minuten met je viervoeter op het prachtige zandstrand van West aan Zee, maar je kunt ook heerlijk wandelen in de duinen of ontspannen in het zwembad en de sauna van het hotel. In het hotel kun je heerlijk eten. Daarnaast vind je op korte loopafstand Strandpaviljoen West aan Zee. Hier kun je ook heerlijk lunchen en dineren. Honden zijn in het paviljoen ook welkom!
In Midsland ligt het kleinschalige vakantiepark Landal Schuttersbos. Landal Schuttersbos beschikt over 40 comfortabele rietgedekte cottages. 
Het park ligt aan de rand van het duin -en bos gebied, centraal op het eiland, op korte fietsafstand van het gezellige dorp Midsland. Wandelen met de hond kan direct vanuit het park, je staat direct in de bossen en de duinen. 
In de 4-6 persoonscottages zijn honden toegestaan. De cottages beschikken over een tuin en terras. 
Vakantie Texel met de hond
Je vakantie op Texel begint direct als je op de veerboot stapt in Den Helder. In slechts twintig minuten ben je op Texel. 
In De Koog ligt deze luxe, duurzame vakantievilla voor 6 personen . De vakantiewoning ligt op een kleinschalig vakantiepark, met vergelijkbare prachtige vakantievilla's. Allemaal uniek en smaakvol ingericht. De villa's zijn geïnspireerd op de typische Texelse schapenboet. Het uitzicht over de weilanden is prachtig. 
Ook in De Koog ligt het volgende vakantiehuisje voor 2 personen. De vakantiewoning heeft een volledig omheinde tuin.  Je hond kan hier dus lekker zijn gang gaan. 
Het huisje ligt op loopafstand van het dorp De Koog en op slechts 500 meter van het Noordzeestrand. Onlangs is het huis gerenoveerd. De kamers en de tuin zijn sfeervol ingericht. Een leuk vakantiehuis voor 2 personen en een hond! 
Geschikt voor 6 personen ligt dit vakantiehuis op Texel ligt tegenover het Nationaal Park Duinen van Texel. Het is in 2021 nieuw gebouwd en energieneutraal. Dit mooie verblijf is geschikt voor 6 personen. Er is een heerlijke tuin met loungeset én een buitensauna. Gelegen nabij bos en duin en midden in het unieke natuurgebied De Dennen dat onderdeel is van het Nationaal Park "Duinen van Texel". Een ideaal startpunt voor vele wandelingen in bos en duin, bij strand en zee. 
Landal Sluftervallei ligt midden in de duinen. De Sluftervallei ligt midden in de duinen en grenst aan Natuurgebied De Slufter en de Eierlandsche Duinen. 
Op het park zijn diverse accommodaties beschikbaar waar een hond ook welkom is. Er zijn kleinere accommodaties voor 4 personen, maar er zijn ook 6, 8, 10 en 12 persoons bungalows. De luxe bungalows zijn voorzien van een sauna en/of een bubbelbad. De accommodaties zijn comfortabel, luxe, sfeervol en fris ingericht. 
Waddeneilanden met de hond: Vlieland
Met slechts 36 vakantieappartementen ligt Landal Vlieduyn. Vlieduyn ligt op loopafstand van het charmante dorpje Oost-Vlieland en 200 meter van de zee.
De appartementen zijn modern ingericht en geschikt voor 2 personen. De luxe appartementen beschikken ook over een sauna. 
Heb jij in ons blog een toffe plek gevonden op de Waddeneilanden met de hond? Of ben je op zoek naar een tof vakantieadres aan zee op het vaste land? Kijk dan ook eens bij onze toffe plekken in Zeeland. 
Disclaimer: De foto's in dit blog van toffeplekken.nl zijn eigendom van Booking.com, Natuurhuisje.nl en Landal.nl. In de blogs wordt gebruik gemaakt van affiliate links. Het aanklikken van deze links brengt je direct naar de desbetreffende site waar je kunt boeken. Vanuit het boekingsplatform ontvangt deze website een kleine commissie als er een boeking plaatsvindt. Voor jou als boeker betaal je gewoon de reguliere prijs, en zijn er geen extra kosten.