Drenthe is een populaire provincie in Nederland om op vakantie te gaan. Houd je van rust en natuur? Dan is deze provincie een fijne reisbestemming. Ook voor een weekendje of nachtje weg is Drenthe ideaal. Op zoek naar een fijn vakantiehuisje Drenthe met hond?
Natuurliefhebbers kunnen hun hart ophalen want natuur is er in overvloed in Drenthe. In Drenthe zijn er drie nationale parken en vele natuurgebieden. Let op: vanwege de aanwezigheid van runderen en schapen zijn honden in sommige natuurgebieden niet toegestaan. In andere gebieden mogen honden aan de lijn wel mee. Dit staat altijd aangegeven.
Er zijn ook volop losloopgebieden in Drenthe, dus er is altijd een mogelijkheid om de hond ook los te laten lopen.
8x vakantiehuisje Drenthe met hond
Het eerste huisje voor 4 personen ligt op een klein recreatiepark met vier vrijstaande vakantiehuizen pal aan de Drentsche Aa. De huizen liggen op een rij langs de beek, zodat elk huis een vrij uitzicht op de Aa heeft.
Honden zijn in het huisje toegestaan. Dit natuurhuisje is door de kunstenaar William Speakman ontworpen in de vorm van een paddenstoel. Een unieke accommodatie dus!
De locatie van het huisje is prachtig, het is gelegen middenin nationaal park Nationaal Beek- en Esdorpenlandschap Drentsche Aa. Het vakantiehuisje ligt zo goed als aan het Pieterpad. In de Drentsche Aa kun je een frisse duik nemen en kanovaren. Het vakantiehuisje ligt vlakbij een heidegebied met een zandverstuiving waar honden ook los mogen lopen.
Check ook eens deze foto's van het natuurhuisje. Wij zijn fan!
Dit vakantiehuisje voor 4 personen ook is gelegen in het prachtige Drentsche Aa landschap. Vanuit de vakantiewoning loop je zo het Drentse heideveld op. Naast het heideveld vind je hier ook een prachtig bos, zandvlakte en uiteraard de kronkelende beek de Drentsche Aa.
Dit vakantiehuis is gebouwd in 2020, en is dan ook van alle gemakken voorzien, zoals WIFI, een stortdouche, een televisie voorzien van Chromecast en een koffiebonenmachine. Dat wordt dus heerlijk genieten op het platteland! Bekijk hier het vakantiehuisje in Zeegse!
Beide voorgaande huisjes liggen in Nationaal Park Drentsche Aa. Het is een prachtig gebied en ik kan het weten want ik ben hier opgegroeid! Kijk eens hoe prachtig het gebied is via deze video van Oerdrenthe:
Het volgende vakantiehuisje ligt in Gieten, middenin de natuur en is geschikt voor vier personen. Er zijn 2 slaapkamers. Het huis is onlangs opgeknapt, en is sfeervol ingericht en van alle gemakken voorzien. Er is een grote tuin met twee terrassen. Deze tuin is niet omheind.
Direct achter het huis is privé natuurplas De Bonnerplas gelegen. Een fijne plek om tot rust te komen, lekker de hond te laten zwemmen en te genieten van de natuur. Kortom een heerlijk huisje in Drenthe voor een weekendje weg met de hond.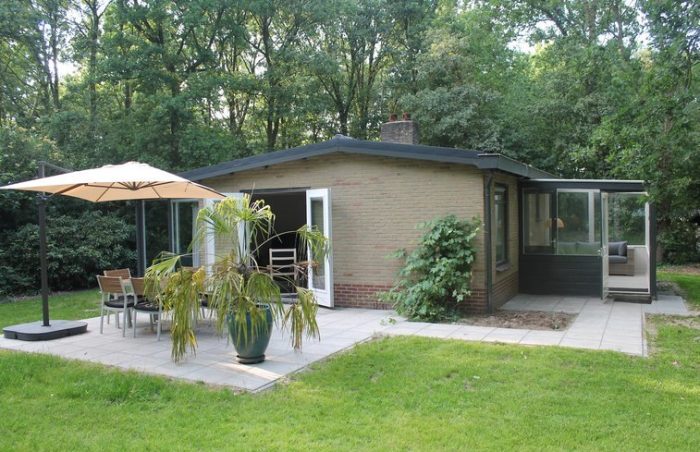 4. Natuurhuis met wellness in Wapserveen
Het vakantiehuis voor 6-8 personen is gelegen aan het van oorsprong boeren lintdorp Wapserveen in Zuidwest-Drenthe. Het 7,5 hectare grote terrein wordt in het midden gescheiden door een bos. Achter dit bos liggen de natuuurlodges met uitzicht op het Holtingerveld. Je wandelt zo dit prachtige natuurgebied in. Hier zijn speciale hondenlosloopgebieden ingericht!
Het vakantiehuis heeft een bijzondere uitstraling en komt een beetje Scandinavisch over.  De ligging van het natuurhuis is fantastisch. De inrichting is comfortabel en luxe. Er is een houtgestookte hottub en een Finse sauna. Er zijn 2 tweepersoons slaapkamers en er is een vide met twee slaap/bedsteekasten met vier slaapplaatsen.
Op zoek naar een luxe vakantiehuisje Drenthe met de hond? Wacht niet te lang met boeken, want het huis is erg populair! Bekijk ook eens de reviews van dit vakantiehuis in Wapserveen!
Ben je op zoek naar meer wellness huisjes met de hond, bekijk dan onze tips. 
Deze B&B is gelegen nabij het mooie Drentse Dalen. Het is een sfeervol, ruim en modern appartement met weids uitzicht over de tuin en landerijen. Het appartement is zeer geschikt voor 2 volwassenen.
De inrichting is erg leuk en fris, het appartement is verder van alle gemakken voorzien. Als je hier aankomt, zijn de bedden opgemaakt en de handdoeken en badjassen liggen klaar. In de ochtend kun je genieten van een heerlijk uitgebreid ontbijt. Je kunt tijdens je verblijf gebruikmaken van een sauna en zwembad. Echt een aanrader!
Ben je op zoek naar meer B&B's waar je hond ook welkom is? Bekijk dan onze tips voor B&B's met de hond in Nederland. 
6. Vakantiehuis in Koekangerveld
Dit nieuwgebouwde vakantiehuisje ligt in Boswachterij Ruinen, vlakbij het mooie brinkdorp Ruinen. Nationaal Park Dwingelderveld ligt nabij dit natuurhuisje.
Het vakantiehuisje is van alle gemakken voorzien en staat in een – met een hek omheinde – tuin van 1.250m². Ideaal dus als de hond meegaat!
De bedden zijn bij aankomst al opgemaakt, en badhanddoeken en overige keukenlinnen zijn aanwezig. Vanuit de tuin wandel of fiets je direct het bos in. Bij terugkomst kun je volop genieten van de rust en de natuur op één van de terrassen in de tuin. Het vakantiehuis is geschikt voor 4 personen, en heeft 2 slaapkamers. Wacht niet te lang met boeken, het is een populair huisje! Boek het vakantiehuisje met de hond direct op Natuurhuisje.nl.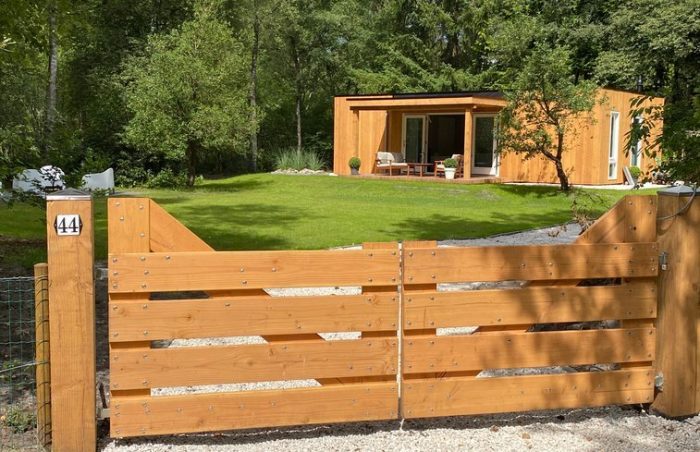 Ben je op zoek naar meer tips voor een vakantie met hond en omheinde tuin, bekijk ons blog! 
7. Appartement in een oude paardestal in Frederiksoord
De volgende toffe plek is een nieuw, luxe geschakeld appartement in een oude paardenstal die ligt op een boerenerf van een melkveebedrijf. In de paardenstal zijn 4 appartementen geschakeld naast elkaar.
De appartementen zijn sfeervol ingericht. Ze beschikken allemaal over een terras met tuinset. Er is een gezamenlijke afgesloten tuin. Je hebt vanuit het appartement vrij uitzicht over de weilanden. Het appartement is geschikt voor 4 personen en beschikt over 2 ruime slaapkamers.
Deze accommodatie ligt in de Koloniën van Weldadigheid, een uniek landschap met een rijke historie. Zowel op het erf als in de directe omgeving is nog veel zichtbaar van de historie van de Maatschappij van Weldadigheid. De directe omgeving is zeer bosijk. En de Nationale Parken: het Drents-Friese Wold, Weerribben-Wieden en Dwingelderveld liggen vlakbij. Kom je voor rust en ruimte? Dan ben je hier ook aan het goede adres!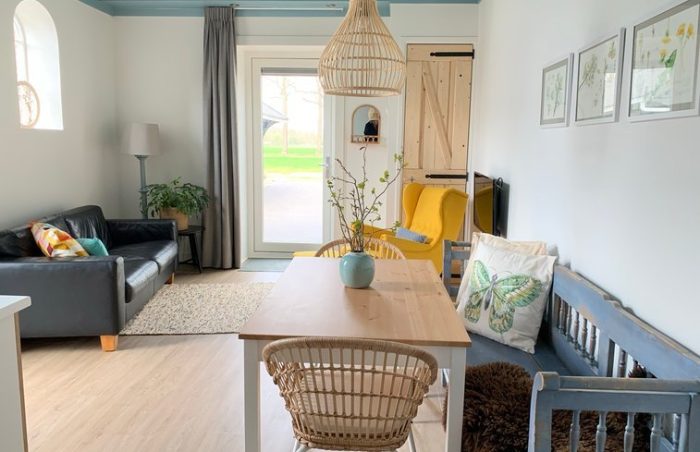 Op zoek naar een bijzonder vakantiehuisje Drenthe met de hond? Dit hondvriendelijke natuurhuisje is in de vorm van een paddenstoel gebouwd en voorzien van veel grote ramen zodat je een prachtig uitzicht hebt op de groene omgeving. Rondom het vakantiehuis ligt een ruime tuin.
De accommodatie is comfortabel ingericht en van alle gemakken voorzien. Voor de kinderen is er een pingpongtafel en tafelvoetbalspel. Het huisje beschikt over 3 slaapkamers en is geschikt voor 6 personen.
Tevens kun je tijdens je verblijf gebruikmaken van een hottub. Het huisje staat in een kleinschalig recreatiegebied waar huurders komen om te genieten van de rust en de natuur. Het huisje ligt aan de rand van het natuurgebied het Drents-Friese Wold. Een prachtig wandelgebied. Er is hier zelfs ook een Natte neuzenroute! Op enkele minuten rijden van het natuurhuisje ligt het Canadameer, hier zijn honden niet toegestaan maar direct ernaast is een plas waar honden mogen zwemmen (Spartelvijver). Een aanrader! Boek het huisje via de site van Natuurhuisje.nl.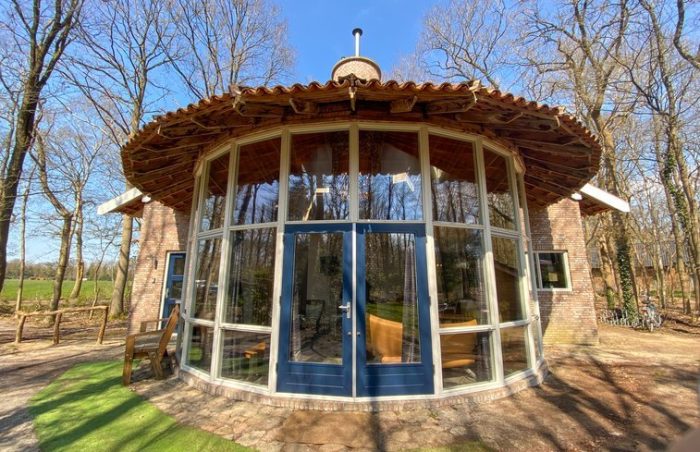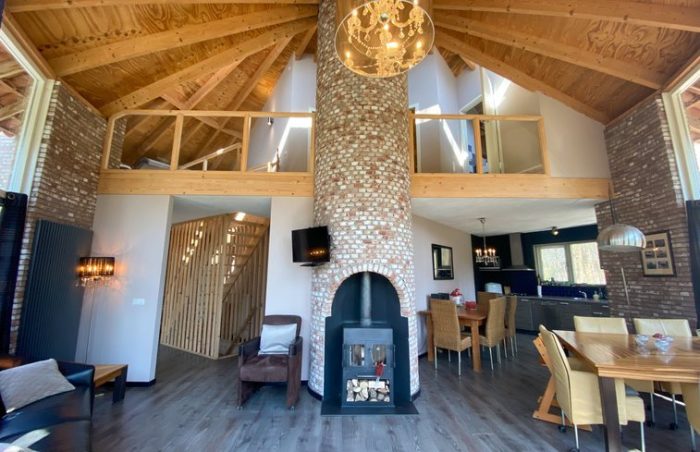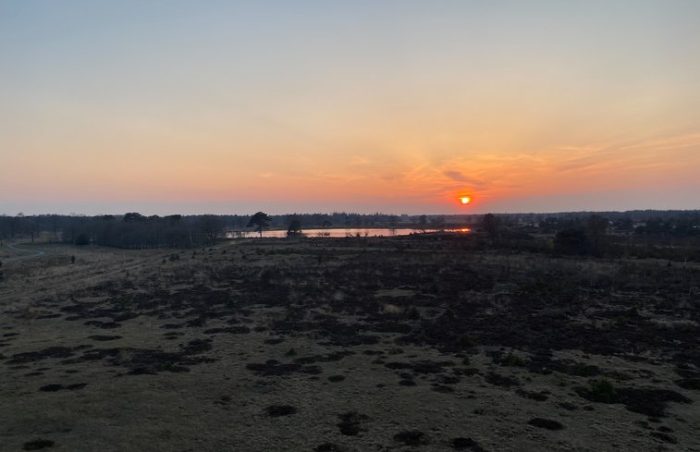 Tof hotel in Drenthe met de hond
Ben je op zoek naar een plek in Drenthe voor 1 of 2 overnachtingen?
Wij vonden een hele fijne plek in het dorp Eext. Ten noorden van het dorp ligt het Nationale Park "Drentsche Aa". Ten zuiden van Eext ligt een uitgestrekt bossen- en weidegebied met de status Nationaal Landschap. Hier kun je  uren ongestoord ronddwalen zonder iemand tegen te komen.
Landhuishotel Rikus
Midden in dit gebied ligt Landhuishotel Restaurant Rikus. Het hotel telt acht luxe, ruime hotelkamers, één Familiekamer en één Hotelappartement. Het hotel is heel sfeervol ingericht met vintage meubels. Het hotel ligt centraal in het dorp en is heerlijk rustig gelegen.
Wij verbleven in het appartement. Deze is circa 40 m2 groot, met een aparte slaapkamer, een gezellige woon -en eetkamer, en zelfs een keukenblokje. De badkamer is ruim en luxe met een heerlijke douche. Een extra voordeel van het appartement is dat deze op de begane grond gelegen is. Je kunt dus makkelijk met je viervoeter naar buiten. Bovendien ligt het appartement heel rustig gelegen aan het eind van de gang.
Bij Landhuishotel Restaurant Rikus ligt een enorme moestuin. De koks bij Rikus verwerken deze producten in heerlijke gerechten. Tijdens ons verblijf hebben we sterwaardig gegeten, we kunnen het iedereen aanbevelen!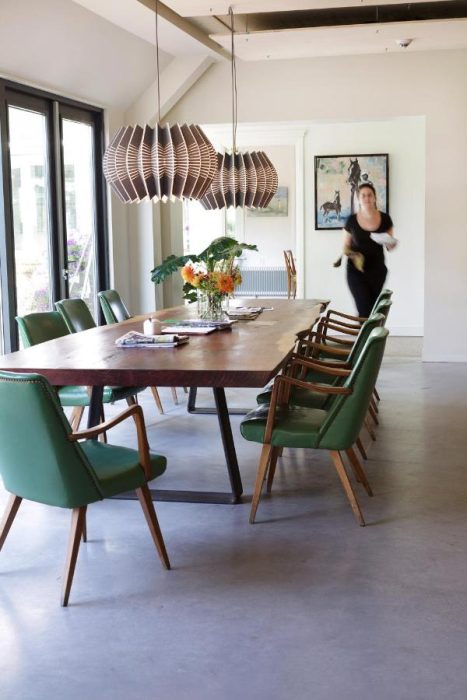 't Nije Hemelriekje
In de omgeving van het hotel zijn prachtige wandelingen te doen. In het hotel zelf liggen meerdere wandelroutes voor je klaar. Wij gingen een middag wandelen bij  zwemplas 't Nije Hemelriekje. Dit is een prachtige azuurblauwe zwemplas met witte stranden midden in de Staatsbossen.
Er starten drie wandelroutes vanaf de parkeerplaats. Wandelmaara heeft de wandelingen uitgebreid beschreven in haar blog. Wij liepen de Natte Neuzenroute, een grote aanrader.
Om de hond te laten zwemmen, kun je het beste naar een andere plas ten noorden van 't Nije Hemelriekje, deze plas heet: Jonkers Zandgat. Parkeren doe je dan aan de Nijslootweg. Je wandelt in 2 minuten naar deze zwemplas. Ook hier prachtig blauw water en witte stranden .
Ben je op zoek naar alternatieven in Nederland? We hebben nog veel meer tips voor een fijn natuurhuisje met de hond.
Disclaimer: De foto's in dit blog van toffeplekken.nl zijn eigendom van Natuurhuisje.nl. In onze blogs worden affiliate links gebruikt. Het aanklikken van deze links brengt je direct naar de desbetreffende site. En kost jou als bezoeker niets.