Artikel update op: 18-4-2023
Ga je deze zomer een rondreis maken door Denemarken? Blijf dan zeker ook een aantal dagen in de regio Seeland. Geniet in Seeland van de prachtige zandstranden, pittoreske havenstadjes en uitgestrekte landschappen.
We hebben een aantal hele toffe plekken voor een fijne vakantie met de hond voor je gevonden. Zelfs in Kopenhagen kun je fijn verblijven met de hond. 
Lolland-Falster, Zuid-Seeland
Reis je met de auto via de boot vanaf Puttgarden naar Denemarken (Rødby)? Start je vakantie dan in Lolland-Falster, waar je direct na de overtocht aankomt. Lolland-Falster staat bekend om kilometers kustlijn afgewisseld met zandstranden, steile hellingen met bos, pittoreske havens en charmante stadjes. 
Een heerlijk plek om even bij te komen van de reis is Fuglsang Herregaard Hotel in Toreby. 
Het is een kleinschalig hotel in een origineel herenhuis uit 1869. Het hotel ligt op een prachtige locatie in een uitgestrekt domein waar je mooie natuurwandelingen kan maken. De honden worden hier met liefde ontvangen. 
Er zijn kamers in het hoofdgebouw en in het bijgebouw op hetzelfde landgoed. De kamers in het bijgebouw hebben ook een eigen terrasje en zijn rustig gelegen. De kamers zijn onlangs vernieuwd en zijn ingericht in een Deens vintage stijl. Er is ook een eigen restaurant en bar, ideaal dus na een eerste reisdag!
Møn 
Møn is een Deens eiland tussen Seeland en Falster. Het eiland is over land te bereiken via twee bruggen. Møn ligt slechts op 1 uur en 15 minuten uur rijden van Kopenhagen, dus een bezoek is goed te combineren met een uitstapje naar de grote stad. Highlights van het eiland zijn de kliffen Møns Klint en Stevns Klint. 
Wij vonden op het eiland in de plaats Borre een hele leuke Bed & Breakfast: Bakkelund Bed & Breakfast+. De kamers zijn onlangs gerenoveerd en erg tof  ingericht met designmeubels. De kamers  hebben allemaal een eigen terrasje. De tuin heeft een mooi uitzicht op de zee. Je kunt ook gebruikmaken van de gezamenlijke lounge en keuken. Het ontbijt is er erg goed! 
De B&B is heel centraal gelegen. De kliffen van Møn liggen slechts op 9 km van de B&B.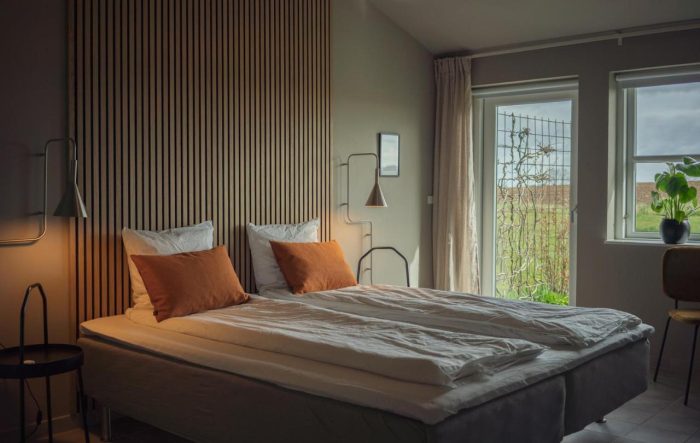 Centraal in Seeland 
Centraal in Seeland ligt Kirsebærkroen – The Inn Between. Dit charmante vakantieadres ligt op een rustige locatie in het gezellige kustplaats Præstø. In de zomer van 2022 verbleven wij hier voor een tussenstop. Het plaatsje is op een zomerse dag echt een aanrader. Rijd het plaatstje in en parkeer aan de haven. Direct ernaast ligt een prachtig strandje waar je heerlijk kan uitrusten van de autorit. Zwemmen kan hier ook heel goed bij lekker weer! 
Kirsebærkroen – The Inn Between heeft sinds 2021 nieuwe eigenaren en is nu een stijlvolle plek voor een paar dagen of voor een tussenstop op weg naar Zweden. Kirsebærkroen is een vakwerkhuis opgedeeld in studio's met een eigen ingang en terrasje. De accommodatie beschikt ook over een ruime tuin. 
De schilderachtige Præstø Fjord ligt op 200 m afstand.
Eveneens in Præstø ligt Hotel Frederiksminde. Het hotel ligt circa 50 meter van het fjord met een zandstrand, waar je hond heerlijk kan zwemmen. Het water is hier heerlijk helder en het haventje is heel gezellig met een paar leuke restaurants. Het hotel is omgeven door een ruime tuin/ klein park. Overigens kun je ook in Hotel Frederiksminde heel goed eten. Het restaurant heeft zelfs een Michelinster. Praestø is een gezellige plaats voor een tussenstop of voor enkele dagen. 
Wij hebben tijdens onze tussenstop heerlijk gegeten bij Siv & Co in de haven, je viervoeter is hier ook welkom! 
De volgende accommodatie, Ferielejlighed Holmevej, ligt in Næstved. Het vakantiehuis is heel rustig gelegen in een prachtige, groene omgeving met vele wandelmogelijkheden. De woning zelf is zeer mooi ingericht en afgewerkt, waardoor het er zowel binnen als buiten aangenaam vertoeven is. 
Op maximaal een uur rijden kun je vele hoogtepunten van het eiland Seeland bezoeken; klimpark Camp Adventure, attractiepark BonBon Land, Møns Klint, Kopenhagen maar ook een middagje strand is in de buurt.
Reizigers zijn heel enthousiast over deze plek, getuige bijvoorbeeld deze review: "Zodra we het pad opreden naar ons verblijf waren we aangenaam verrast door de omgeving! Een prachtig erf, veel ruimte en bos in de achtertuin. Achter de woning van de eigenaren ligt een opgeknapt appartement. Dit was de tweede verrassing, wat een prettig verblijf! Heel huiselijk en sfeervol (wordt in Denemarken Hygge genoemd) van alle gemakken voorzien, aan alles gedacht (kruiden, schoonmaakmiddelen, flesje wijn koud in de koeling. De kaarsjes en de verse bloemen op tafel maakte het geheel af."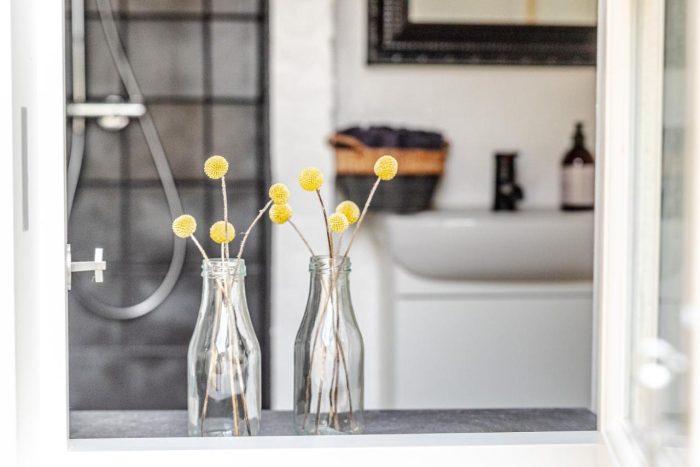 De volgende accommodatie in Seeland die we kunnen aanraden is Lindegaardens Bed and Breakfast in Viby. 
De B&B is een mooie uitvalsbasis om Noord Seeland te ontdekken. De kamers zijn net verbouwd. Er is een gezamenlijke keuken waar je zelf kunt koken, met een grote ruimte met tafels om samen aan te eten. Iedere kamer heeft een eigen terras met een weids uitzicht. De tweepersoonskamers hebben geen eigen badkamer, deze deel je met 1 andere kamer. 
Ideaal voor de hond is dat het terrein helemaal is afgezet, waardoor je hond heerlijk kon rondlopen of stoeien met Tristan, de hond van de eigenaren. Voor kinderen is er ook ruimte om te spelen. Er is o.a. een trampoline.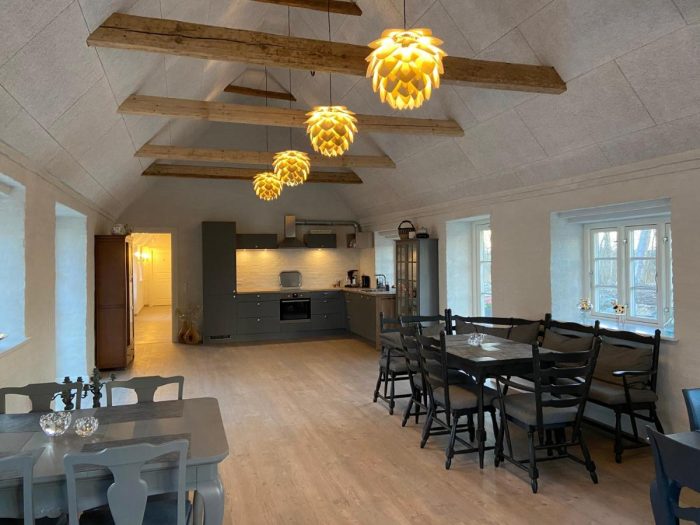 Noord-Seeland ontdekken
Het veelzijdige Noord-Seeland kan iedereen op zijn of haar manier ontdekken. Deze regio is ideaal voor mensen die van strand houden of houden van cultuur en natuur. 
Vesterlyng Camping and Cottages ligt op 250 m van de baai van Sejerø, in het kustplaatsje Havnsø. 
Naast een camping staan er ook diverse eenvoudige hyttes (cabins). De standaard cottages hebben een eigen badkamer en een kleine keuken. Ook heb je een eigen patio. Er is veel te doen voor kinderen, zo is er een zwembad en een trampoline. Ook is er op de kleinschalige camping een restaurant. De locatie dichtbij zee is ideaal. Het is 250 meter lopen naar het strand! 
Apple Cottage ligt in Vejby aan de westkust van Noord-Seeland. De westkust van Noord-Seeland staat bekend als de Deense Rivièra en is één van de meest populaire vakantiebestemmingen in Denemarken. Langs de hele kust vind je brede, witte, zandstranden met diverse vissersdorpen en badplaatsen. Heerlijk om lange strandwandelingen te maken en uit te waaien. Maar ook voldoende mogelijkheden om culinair te genieten. 
De accommodatie ligt op 20 minuten lopen van het strand. Op 18 km vind je de leuke badplaats Hornbæk. Op 50 minuten rijden vind je de gezellige hoofdstad van Denemarken: Kopenhagen! 
Apple cottage is een gezellig ingericht appartement in een hoeve. Het beschikt over 1 slaapkamer en 1 badkamer. De tuin is ruim en je kunt ook gebruikmaken van de BBQ. 
Kopenhagen
Wil je tijdens je rondreis ook een bezoek brengen aan Kopenhagen? Goed idee! Kopenhagen is hondvriendelijk. En we hebben een ideale plek gevonden net buiten de drukte van de stad. Je kunt met de hond redelijk goed door Kopenhagen lopen langs een aantal bezienswaardigheden. Kies een doordeweekse dag en ga een beetje vroeg op pad, dan is het zeker goed te doen vonden wij! 
Hotel Skovshoved is een klein trendy hotel en ligt op een rustige locatie aan zee. Het hotel ligt in Skovshoved, een oud vissersdorp. Recht tegenover het hotel ligt een kleine jachthaven. Het hotel beschikt over een restaurant dus na een lange dag wandelen in Kopenhagen, kun je ook hier lekker eten. Parkeren kan bij dit hotel gratis, iets wat bij een hotel in het centrum vaak lastiger is. 
Het slot van Charlottenlund met een groot park en bos is heerlijk voor een wandeling met de hond. Het strand is eveneens op loopafstand. Kopenhagen ligt op een kwartier rijden van het hotel. Je kunt ook met de bus naar de stad (deze stopt naast het hotel).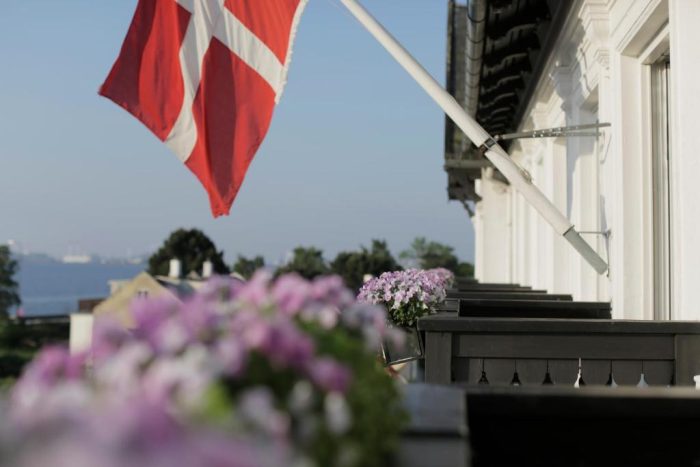 Ben je op zoek naar meer toffe plekken in Denemarken? Kijk dan ook eens bij onze toffe plekken in Jutland. 
Disclaimer: De foto's in dit blog van toffeplekken.nl zijn eigendom van Booking.com. In onze blogs worden affiliate links gebruikt. Het aanklikken van deze links brengt je direct naar de desbetreffende site. En kost jou als bezoeker niets.