Ga je deze zomer op vakantie naar Zweden? Het Zuidwesten van Zweden is een perfecte bestemming met de hond! Steeds meer Nederlanders ontdekken Zweden als vakantieland. Logisch want Zweden is een heel mooi land met bossen, meren en kustgebieden. 
Als je met de auto naar Zweden gaat, kun je gebruikmaken van één of meer veerdiensten. Een veelgebruikte (en snelle) route is via Bremen – Hamburg en vervolgens met de ferry van Puttgarden naar Rødby. Maar je kunt ook volledig via de weg. Je reist dan via Zuid-Denemarken, Funen en Seeland. 
Neem je de hond mee naar Zweden, dan moet je aan een aantal dingen denken. De honden moeten in het bezit zijn van een paspoort, hun rabiës vaccinatie hebben gehad en zijn gechipt. Verder moet je ze aanmelden bij de douane, dit kan ook vooraf online via deze link. 
Wil je onderweg een tussenstop maken in Denemarken? Bekijk dan eens onze toffe plekken in Denemarken. 
Vakantiehuis in Skåne
Vakantiehuis Skogshöjda ligt in Tjörnarp in de regio Skåne. De regio Skåne in het zuiden van Zweden heeft een prachtige natuur, goudgele stranden, en bruisende steden zoals Malmö. Het vakantiehuis ligt op circa 50 kilometer van Malmö. Het vakantiehuis met 2 slaapkamers is van alle gemakken voorzien, en beschikt over een heerlijke ruime tuin.
De omgeving leent zich voor prachtige lange wandelingen. Een verscheidenheid aan routes – waaronder de grote Zweedse wandelklassieker Skåneleden – slingert door de regio. In de omgeving vind je een aantal kleine en grotere meren zoals Sätoftasjön, Östra Ringsjön en Västra Ringsjön Hier heb je geweldige kano, strand en vismogelijkheden. Op de strandjes zijn honden ook toegestaan. 
Vakantiehuis in Västergötland
In het merenrijke gebied rond Torestorp ligt dit vakantiehuis Lycka. Lycka is één van de 4 karakteristieke Zweedse blokhutten op dit landgoed. Lycka is een kleinere blokhut met 2 slaapkamers. Leuke bijkomstigheid is dat de vriendelijke eigenaren van deze prachtige plek Nederlands zijn. In Lycka zijn honden het hele jaar toegestaan, ook tijdens de zomervakantie.
Op hetzelfde landgoed zijn nog enkele blokhutten te huur. Deze zijn stuk voor stuk prachtig! Let op: het hele jaar door zijn honden toegestaan in de blokhutten behalve tijdens de zomervakantie.
Blokhut Lillstugan is geschikt voor 4 personen. De blokhut beschikt over een ruime veranda om het huis. Lees onze uitgebreide ervaringen tijdens onze vakantie in Lillstugan! Blokhut Eskebo beschikt over 4 slaapkamers. Evenals de nieuwste blokhut op het landgoed: Latitude. 
Je kunt lekker ontspannen op het zandstrand bij het meer (op 2 km afstand), heerlijk wandelen in de omgeving of een dagje kanoën. De prachtige kust ligt op ongeveer een uur rijden.
Op het terrein kun je ook nog gebruikmaken van een tafeltennistafel, een trampoline en een voetbalweide. Er is ook eigen kanoverhuur. Wil je het échte Zweden ervaren? Maak dan ook eens een avond gebruik van je eigen vuurplaats! 
Vakantiehuizen aan de kust in Bohuslän
De Bohuslän kust van West-Zweden ligt bezaaid met duizenden eilanden. De archipel van Bohuslän telt duizenden eilanden. In dit gebied op het mooie eiland Orust ligt het prachtige Kvarnstugan in Mollösund. In Mollösund vind je nog veel terug van de historische bedrijvigheid van de visserscultuur. In vroegere tijden was dit dorp een van de belangrijkste visserscentra van Bohuslän. Tegenwoordig geniet je er vooral van de relaxte sfeer en de vele mogelijkheden om de archipel vanaf het water met een bootje of een kano te ontdekken.
Op een half uur rijden vlak boven Göteborg ligt Marstrand: een prachtig eiland dat zeer geliefd is door royals en beroemdheden. Rijd over de eilanden Orust en Tjörn en bezoek fotogenieke vissersplaatsjes als Smögen, Skärhamn, Kungshamn en Hamburgsund. 
Het vakantiehuis is erg ruim en heeft 4 slaapkamers en 2 badkamers. Het beschikt over een prachtig terras. Het uitzicht over de omgeving is fantastisch. 
In Fjällbacka ligt het volgende toffe vakantiehuis: Vetteberget Anexet. Het is een huis voor 4 personen. Je hebt vanuit het huis een fantastisch uitzicht over de scherenkust. Fjällbacka is een lieflijk vissersdorpje met een schilderachtige haventje en bedrijvige bootcultuur. En natuurlijk is Fjällbacka bekend geworden door de crime boeken van bestsellerauteur Camila Läckberg. 
Op 40 kilometer van Fjällbacka ligt het volgende vakantiehuis. The Buar Cabin is een authentieke Zweedse cabin en ligt in de plaats Strömstad. Prachtig gelegen in de bossen. De cabin is onlangs gerenoveerd en ziet er dan ook uit als nieuw! Het huis is omgeven door een prachtige tuin en een mooie houten vlonder terras. Er zijn 2 slaapkamers, een ruime eetkeuken en een gezellige woonkamer. In de tuin zijn ook volop speelmogelijkheden voor kinderen.
Als je van wandelen houdt, is dit een perfecte locatie. Je loopt zo de bossen in en de bekende wandelroute Bohusleden loopt vlakbij het huis. Etappe 24 en 25 van de Bohusleden kun je goed bereiken vanuit de cabin! 
Wij vinden het een plaatje deze cabin En jullie?!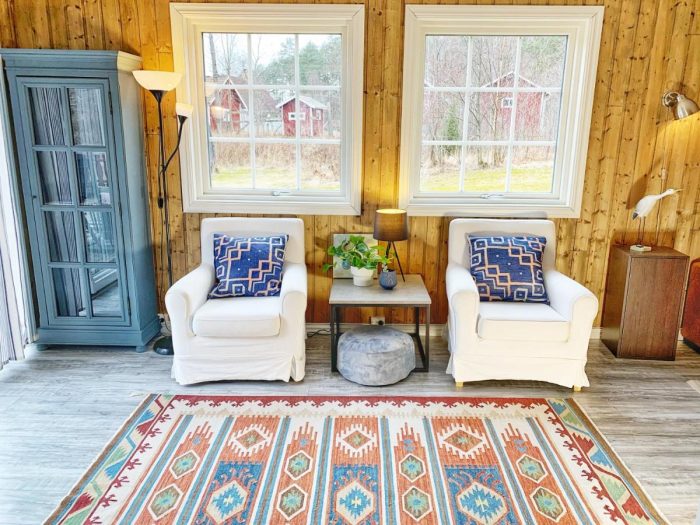 Disclaimer: De foto's in dit blog van toffeplekken.nl zijn eigendom van Booking.com. In de blogs wordt gebruik gemaakt van affiliate links. Het aanklikken van deze links brengt je direct naar de desbetreffende site waar je kunt boeken. Vanuit het boekingsplatform ontvangt deze website een kleine commissie als er een boeking plaatsvindt. Voor jou als boeker betaal je gewoon de reguliere prijs, en zijn er geen extra kosten.