Ga je deze zomer lekker op vakantie naar Oostenrijk? Een populaire vakantiebestemming is SalzburgerLand. Wil je met de hond naar SalzburgerLand? Het is een prachtig gebied voor een actieve vakantie. SalzburgerLand heeft prachtige gletsjers, bergen en meren. 
Zell am See is een populaire vakantiebestemming en een gezellige plaats om te verblijven. De Zeller See is één van de bekendste meren in de Oostenrijkse Alpen. Heerlijk voor een frisse duik met de hond! 
Wij vonden in Zell am See en Kaprun een aantal toffe plekken om heerlijk vakantie te vieren. 
Zell Am See 
De eerste toffe plek heet Apartments Lakeside 29 Zell am See. De appartementen liggen op circa 200 meter van de Zeller See. Een ideale locatie dus. Vanuit de appartementen heb je een prachtig uitzicht op de bergen. Er zijn zowel studio appartementen als appartementen met 1 of 2 slaapkamers.
De appartementen beschikken over ruime balkons. Ook hebben ze allemaal een eigen keuken. Alle appartementen zijn comfortabel en luxe ingericht en voorzien van alle gemakken. Rondom de Zeller See vind je vele prachtige wandelroutes en voldoende zandstrandjes om lekker te ontspannen en te zwemmen. 
De tweede toffe plek, ook in Zell am See, is Annika Appartements. Moderne, sfeervolle appartementen circa 10 minuten lopen van de Zeller See. Er zijn appartementen met 1 of 2 slaapkamers. De appartementen met 1 slaapkamer zijn gelegen op de begane grond en zijn voorzien van terras met uitzicht op de mooie tuin en de bergen. De appartementen met 2 slaapkamers zijn voorzien van een ruim balkon met waanzinnig uitzicht. 
De appartementen zijn luxe en smaakvol ingericht met houten vloeren en leuke meubels. 
Van half mei tot half oktober is de Zell am See-Kaprun Card bij de prijs inbegrepen. Deze pas biedt talloze voordelen en kortingen, waaronder gratis gebruik van de lokale skiliften en bussen.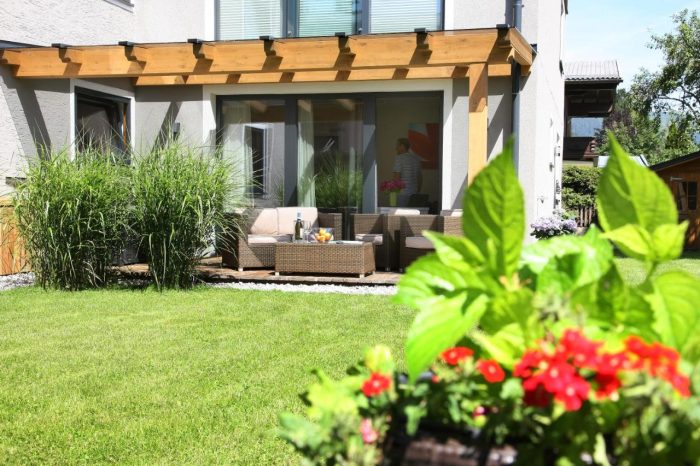 Grossglockner Chalets Zell am See heeft zeer ruime appartementen met uitzicht op de bergen. De chalets liggen in Zell am See, op 1 km van de Areit Express. 
De ruime chalets zijn verdeeld over 3 verdiepingen en beschikken over een sauna, een open haard, een volledig uitgeruste keuken en een luxe interieur. De appartementen beschikken over een een ruim balkon waar je hond veilig kan rondlopen. 
Vanuit de locatie kun je prachtige wandelingen maken door de bergen en valleien. 
Kaprun
Met de hond naar SalzburgerLand op vakantie? Dan is Kaprun ook een fijne bestemming. Amelies Mountain View ligt zo'n 10-15 minuten rijden van Zell Am See. Kaprun is prachtig gelegen nabij de Schmittenhöhe en Maiskogel. Er zijn zo'n 80 verschillende wandelroutes, van eenvoudig tot gevorderd. In de zomer zijn er ook volop liften in gebruik in zowel Zell am See als Kaprun. Je kunt het gebied dus ook in de zomer goed verkennen. 
De appartementen van Amelies Mountain View zijn rustig gelegen, aan de rand van Kaprun, maar wel met uitzicht op Kaprun en de gletsjer Maiskogel. De appartementen liggen op loopafstand van het centrum. De appartementen zijn ruim en modern ingericht. 
Tijdens het verblijf is het mogelijk gratis gebruik te maken van de nabijgelegen Tauern Spa. Heerlijk om te ontspannen na een lange dagwandeling. 
Disclaimer: De foto's in dit blog van toffeplekken.nl zijn eigendom van Booking.com. In onze blogs worden affiliate links gebruikt. Het aanklikken van deze links brengt je direct naar de desbetreffende site. En kost jou als bezoeker niets.