Wil jij een weekend weg met de hond in de herfstvakantie? De herfstvakantie is een heerlijke periode om er met de hond een weekendje tussen uit te gaan. Wij kozen een aantal hele toffe plekken uit waar je viervoeter ook welkom is. De huisjes zijn op dit moment ook nog beschikbaar!
Friesland
De eerste tip voor een fijn vakantieadres is gelegen in Friesland. 
Dit leuke en hippe vakantiehuisje is ideaal voor een kort verblijf zoals een weekend weg met de hond. Het is een Tiny House vrij gelegen op een klein vakantiepark aan de rand van Dokkum. Het Tiny House is van alle gemakken voorzien maar is ook heel stijlvol en comfortabel ingericht. Er is een luxe badkamer, een kleine keuken, een tweepersoonsbed en een zithoek met televisie. In de open loft is nog eens plek voor 2 slapers.
Het park ligt gelegen aan de rand van Dokkum. Het Unesco Wadden werelderfgoed ligt op 15 km afstand en is ideaal voor heerlijke wandelingen. Het park ligt op 17 km afstand voor de opstap naar de Waddeneilanden Schiermonnikoog en Ameland en is hiermee dus ideaal gelegen voor een dagtrip of voor de wadloper. Het park zelf beschikt over een restaurant, sloepverhuur(elektrisch), speeltuin, kanoverhuur en rondvaarten in Dokkum. 
Drenthe
Het volgende vakantiehuis dat heel geschikt is voor een weekendje weg met de hond is gelegen in Uffelte. De cottage is zeer stijlvol en gezellig ingericht met een gezellige eetkamer, woonkamer en een knusse serre.  Er zijn 2 slaapkamers (1 tweepersoonsbed in het loft) en een luxe badkamer met regendouche. Ook is er een smart tv (Netflix) aanwezig. 
De omgeving van het vakantiehuisje kenmerkt zich door bos-, heide-, veen- en stuifzandgebieden, waaronder het Hoitingerveld. Je kunt hier prachtig wandelen met de hond. Er zijn in de omgeving van Uffelte ook een aantal losloopgebieden. 
Overijssel
De volgende toffe plek is gelegen op een kleinschalig vakantiepark aan de Regge in Twente. Deze toffe Tiny House is van alle gemakken voorzien en heeft een hele leuke uitstraling van binnen en van buiten. Geniet op het eigen terras, begin de dag in de comfortabele badkamer en spring 's avonds in een comfortabel opgemaakt bed! 
Als je zin hebt om de omgeving te gaan verkennen, dan kun je gaan varen op de Regge of ga heerlijke wandelingen maken in Nationaal Park Sallandse Heuvelrug. Blijf je liever op het park? Dan zal je je ook niet vervelen met een zwembad, fijne horecagelegenheden en eindeloze speelmogelijkheden! 
Dit huisje is nog beschikbaar voor een weekend weg met de hond in de herfstvakantie. 
Gelderland 
Wil je écht even ontspannen? Bekijk dan eens deze heerlijke Wellness Lodge voor 2 personen. Deze unieke accommodatie ligt prachtig gelegen op een kleinschalig landgoed in Voorthuizen, middenin de natuur. De Wellness Lodges zijn super luxe! Je kunt genieten van een fijne sauna, een sunshower én een vrijstaand ligbad. 
De lodges beschikken over een volledig uitgeruste keuken. De huisjes zijn gezellig en stijlvol ingericht met meubels van By Boo! 
Op het landgoed kun je o.a.  gebruikmaken van fietsverhuur, een binnen -en buitenzwembad, bowlingbanen en een wellness salon met de mogelijkheid voor massages. Wil je liever lekker tot rust komen in de natuur? Het landgoed ligt aan de rand van de Veluwe, omgeven door mooie bossen en heidevelden. 
Op 10 minuten rijden vind je het gebied Kootwijkerzand. Bezoek het gebied bij Radio Kootwijk en wandel de heideroute, een grote aanrader! Ook Nationaal Park Hoge Veluwe is nabij. Wil je lekker met de hond wandelen zonder dat je je zorgen hoeft te maken dat hij kan ontsnappen? Het Leesten is een prachtig natuurgebied. Er is een echt hondenbos met een hondenlosloopgebied én een natte neuzenroute.

Noord-Brabant
Aan de rand van Leenderstrijp in het Leenderbos ligt dit sfeervolle, vierpersoons huisje. Het natuurhuisje ligt echt in het Leenderbos op een eigen stuk grond met bos en speelweide en is helemaal omheind.
Het vakantiehuis is sfeervol ingericht en beschikt over een comfortabele zithoek met ruime hoekbank. Er is een open keuken dat van alle gemakken is voorzien. Er zijn 2 slaapkamers met tweepersoonsbedden. 
De reviews van gasten aan dit huisje zijn zeer goed, enkele voorbeelden:
"De natuur is gewoonweg geweldige! Je loopt vanuit je huisje zo het natuurgebied in. Wat een rust en ruimte! TOP!"
"Fijn huisje van alle gemakken voorzien. De enorm grote tuin is heerlijk vertoeven. Door omheining ook een walhalla voor de honden om lekker rond te struinen."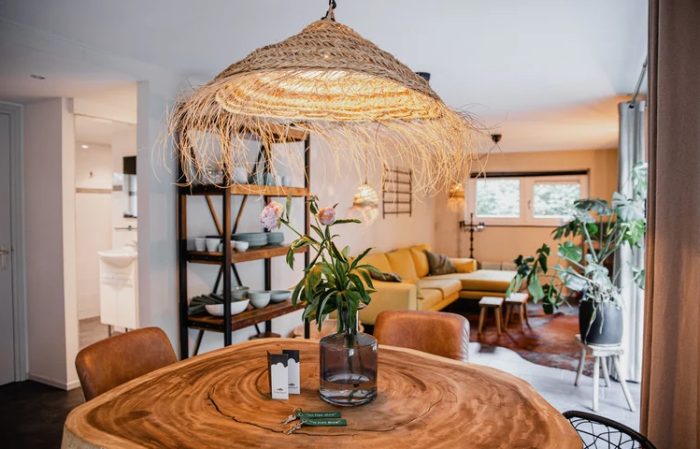 Zeeland
Wil je een weekend weg met de hond nabij de kust? In de polders van Groede op het eiland Zeeuws-Vlaanderen ligt het volgende toffe vakantiehuis. 
Het huis is geschikt voor 5 personen en heeft 2 slaapkamers. Vanuit het huisje heb je een mooi uitzicht over de polders. Dat wordt lekker genieten van rust en ruimte en de mooie stranden bij Breskens of Cadzand. 
Het huisje ligt op een anderhalve hectare groot terrein met een uitgestrekte tuin en bos met diverse intieme zitjes om te genieten van het prachtige weidse landschap. Groede heeft een pittoresk centrum met smaakvolle restaurantjes. Zin in een dagje shoppen? Dan liggen plaatsen als Sluis, Brugge en Knokke op korte afstand. 
Limburg 
Op 5 minuten lopen van het centrum van Valkenburg ligt het gezellige Landal park: Kasteeldomein de Cauberg. Kasteeldomein de Cauberg is gelegen op de top van de Cauberg. Het domein bestaat uit sfeervolle villa's en appartementen. De groene heuvels in de omgeving nodigen je uit voor een prachtige wandeling.
Maastricht ligt op slechts 10 kilometer van het vakantiepark. Het gezellige centrum van Valkenburg vind je op slechts 5 minuten lopen van het park. 
Kasteeldomein de Cauberg beschikt over diverse appartementen en vakantiehuizen waar honden toegestaan zijn. Zoals deze 6-persoons luxe villa met 3 slaapkamers. Deze luxe villa beschikt over een sauna, een open haard, een overdekte veranda met een Green Egg barbecue en buitenhaard. Verder is de villa van alle gemakken voorzien. In de herfstvakantie een weekendje weg met de hond? Er zijn nu nog beschikbare villa's! 
Wacht niet te lang met boeken! Wil je een weekend weg met de hond? Bovenstaande huisjes zijn nog beschikbaar! Alvast veel plezier! 
Ben je benieuwd naar onze andere tips in Nederland? Lees dan ook eens andere blogs over toffe plekken in Nederland. 
Disclaimer: De foto's in dit blog van toffeplekken.nl zijn eigendom van Natuurhuisje.nl, DeIJsvogel.nl, Landal.nl, Mölke.nl. In onze blogs worden affiliate links gebruikt. Het aanklikken van deze links brengt je direct naar de desbetreffende site. En kost jou als bezoeker niets.